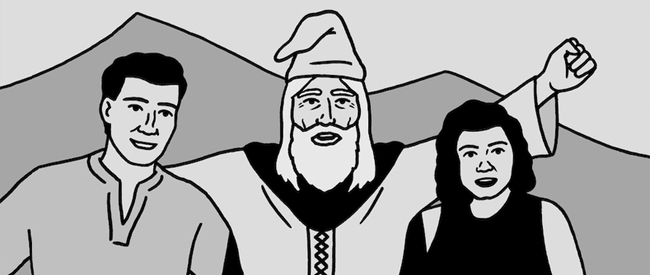 Way back when, Otto Von Bismarck famously said something along the lines of "laws are like sausages – it is better not to see them being made". I've no doubt someone has paraphrased that to include comics by now – and also, probably, TV series.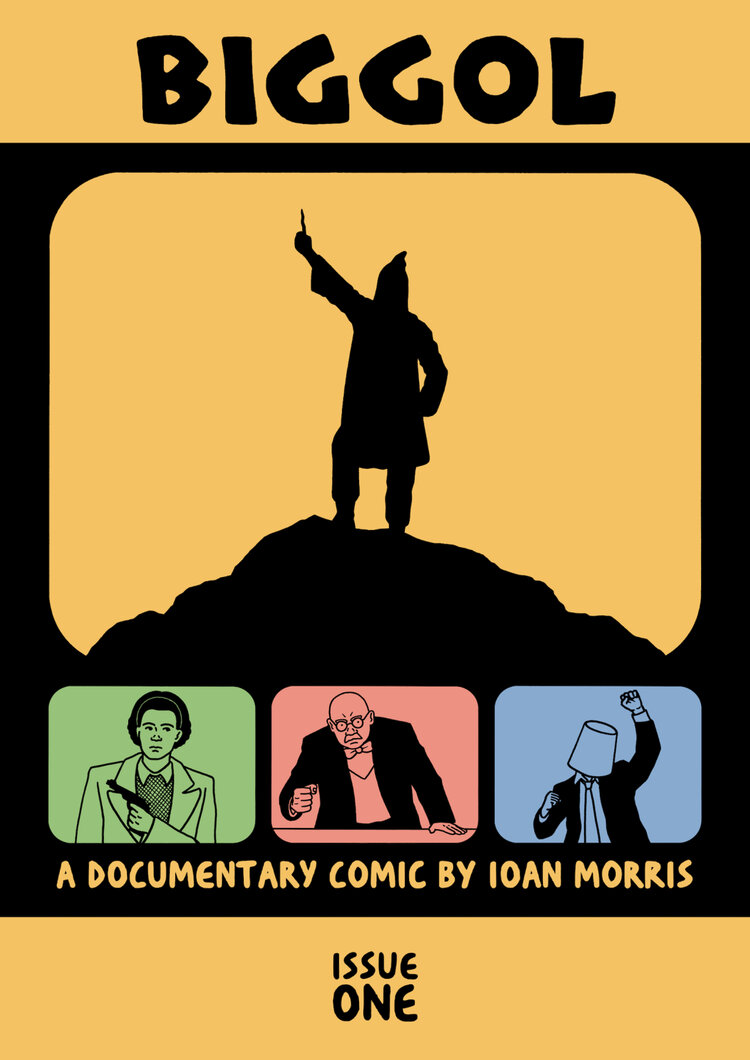 Fortunately, Welsh cartoonist (and composer for Doctor Who audio drama) Ioan Morris has disregarded that hypothetical advice with the launch of Biggol – "a documentary comic" that mines the strata of vintage British TV to come up with a very enjoyable comic gem.
The opening issue – the first of five – takes us into the genesis of the family fantasy drama Biggol – "one of the greatest and most influential television series every broadcast". We see its origin in the strange creative method of Cecil McRae (the visionary head of drama at British Television) and its chaotic casting process.
However, in this issue at least, the show becomes a bit of a McGuffin as Morris spins his own history of British film and TV in the 1950s and 60s. He skips back and forth with great energy, including teasing excerpts of shows like Come Hither My Lad, Call Me a Cobbler and Bobbies, as well as the kitchen sink/new wave film The Broken Lintel. His affection and enthusiasm for the medium and the period are clear, and pay off in a steady string of gags.
We trace the progression of various characters before, during and after the show. As well as McRae, they include the egotistical star of the show, Peter Webb; lily-livered story editor Percy Francis; and – the undoubted star of the issue – producer Evelyn Morley, a hard-bitten force of nature who blows her way through the story like a hurricane.
Morris uses a very clean, high-contrast style that seems a little more confident and fluid than his previous comic, the more mainstream Best Imitation of Myself. The bold art and offbeat tone of the humour make Biggol reminiscent of Michael Kupperman, albeit with a very British spin. 
This is a densely packed and inventive opening issue, with Morris getting the tone and the voice of the book spot on from the opening page. Even if you're not an aficionado of vintage genre TV, there's enough dry humour and bite in this debut issue to put a smile on your face. I can't wait for the drama – on and off the screen – to unfold.
Review by Tom Murphy
Follow Ioan Morris on Twitter here. For more on his work visit his website here. You can buy Biggol #1 from Carp Publishing Endeavour here, priced £3.50.