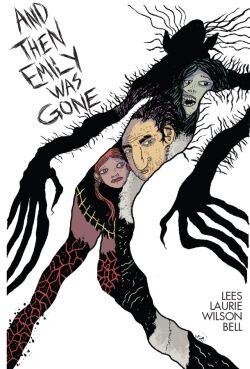 Greg Hellinger, a former policeman who is now haunted by visions of monsters wherever he goes, is a troubled man. His world is about to get a lot more complicated, however, when it collides with that of missing teenager Emily Munro's. A resident of the remote Scottish island of Merksay, Emily disappeared after claiming she had an encounter with the supernatural creature of local myth known as "Bonnie Shaw". Seeking out the infamous copper with second sight, Emily's best friend Fiona persuades him to help her find her missing pal. But something sinister is waiting for them on Merksay, something that seems to have an ominous hold on the local community…
The first issue of John Lees and Iain Laurie's And then Emily Was Gone contains what amounts to just the opening chapter in an ongoing narrative, and that means I have to adopt slightly different rules when assessing it. In general terms my criteria for judging relative merit or otherwise in a  first chapter  rests on whether the requisite plot hooks to entice the reader into picking up the next issue have been provided, if protagonists we can empathise with/are intrigued by have been established and, of course, that vital mesh of creative vision between writer and artist.
With that in mind I have to say that And then Emily Was Gone #1 was a frustrating read because, to employ a rather trite metaphor, all the requisite boxes above were well and truly ticked, and just when I'd become wholly drawn into the book's premise the mandatory cliffhanger arrived like a particularly unwelcome party pooper to spoil all my fun.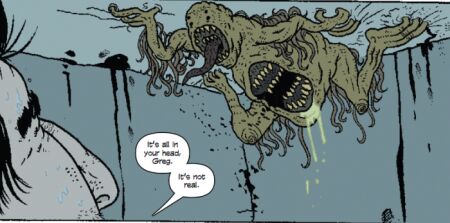 Let's start with Iain Laurie's visuals because when you're looking for an artist who does menacing and creepy in the current British small press scene there are few who can equal his ability to bring a threatening undercurrent of the disturbing and malevolent to the comics page. I've reviewed a number of Iain's collaborations with Craig Collins in 'Small Pressganged' in the past including, relatively recently, the violent semi-slapstick of their carnage-filled comic Metrodome, and am well aware of that extra baleful edge he can bring to an already very dark comics offering. I'd liken his disquieting work on Emily to that of a possessed Paul Grist with a twist of Jose Munoz; from his horrific conception of Bonnie Shaw and the nightmarish creatures that frequent Hellinger's every waking moment, through to the more subtle ways that he imbues Merksay with a sense of intimidating isolation, this first issue is a triumph for Laurie in terms of building up the book's foreboding and portentous atmosphere.

Writer John Lees does a solid job in teasing us with smaller parts of the overall greater mystery. There are subplots that I won't spoil here but they all add up to that overarching implication that something is very wrong indeed with the community on the island beyond just the possibility of a child-snatching bogeyperson (as if that wasn't unsettling enough!). Shades of The Wicker Man of course but the cast are so well delineated, the tension so palpable and the grim mood so enhanced by Megan Wilson's appropriately gloomy colouring that Lees has you totally fixated on this enigmatic isle and its fateful secrets by issue's end.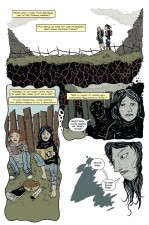 If you're a fan of Rol Hirst's Too Much Sex & Violence then I suspect And then Emily Was Gone will be right up your (poorly lit) alley. I'm rather intrigued by this one. The creative team seem in perfect synch in their objective of providing a story that is both intense and unnerving, and I'll be watching out for #2 with a mixture excitement and even a little bit of trepidation. The less good news is that, for the moment, the book is a little trickier to track down as it's not available to buy online. If you're attending the U.K.'s Thought Bubble festival in November, however, you will be able to pick up a copy there, and it's also available in a number of Glasgow comic shops. When I have further news about distribution I'll let you know here in 'Small Pressganged' of course…
For more on John Lees and And then Emily Was Gone check out his blog here. You can find out more about Iain Laurie's illustration here.