"The story of one man's journey from a geeky, awkward, Jewish, shy teenager in Cape Town to a geeky, awkward, Jewish, shy adult in Oxford"  is how Ian Norris's autobiographical comic Fixed Up endearingly describes itself. To date three full colour issues have been published, in a largely traditional American comics style format with 24 pages of story and retro style mock ads filling each edition out.
The basic premise of the book is that each episode is an examination of Norris's largely disastrous relationships, and how every instance of him becoming "fixed up" ends in ignominy. Bookended by a framing sequence set in present day Oxford, the main events of Fixed Up so far have been set in South Africa adding a slightly different cultural perspective on those gauche adolescent years (though one we have also seen this year in Willem Samuel's excellent Mengelmoes from Soaring Penguin Press). Beginning with his schooldays as a 12-year-old in #1 and progressing through his teen years, a gap year in Israel in #2 to his entry into college in #3, we share in Norris's failings, blunders and doomed encounters with everyone he dates. The one main lesson he learns from each relationship is that he really isn't terribly good at them…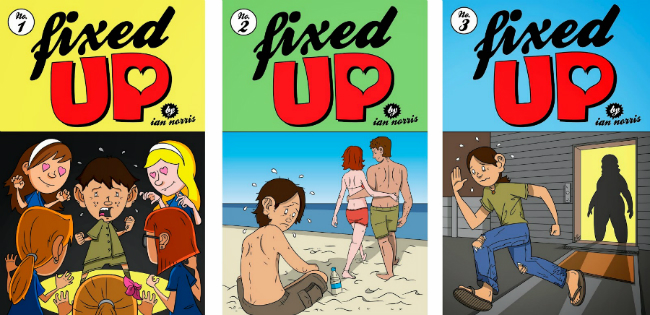 Worries that the book's conceptual foundation sounds potentially misogynistic in tone should be set aside from the outset. Yes, that back cover tagline "For a while my life was pretty simple, everything was good, and I was happy… then I turned twenty-one, got a girlfriend, and got miserable" sounds a little dubious on a first glance but much of the misery that the book's central character suffers is undeniably of his own making. In that regard Fixed Up is pointedly self-deprecating in tenor and Norris holds back nothing in his warts and all depiction of his younger incarnation's sometimes awkward, often inconsiderate, and occasionally duplicitous behaviour.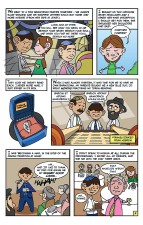 As an illustration of this, in the first issue his clumsy conduct with his first girlfriend Natalya leaves the reader in no doubt that Norris is his own worst enemy. Indeed, the dark humour in the opening episode will make you squirm in embarrassment in places as the graceless lad's catalogue of social ineptitude with his newfound "love interest" racks up. A double date at a pizza restaurant where the girls are completely ignored and the boys chat about cricket; unanswered love letters; his own bar mitzvah where he pointedly snubs Natalya; and the mortifying case of the two matching heart-shaped necklaces (right). As he says in this opener, "I was a real shit. Hell I was a twelve-year-old boy."
An abjectly cynical The Wonder Years would almost sum up Fixed Up. There are coming of age themes here that are universal but they're given an extra layer of discomfiting poignancy by the author's complete lack of reticence in revealing almost every exquisitely humiliating detail of his past. An early innocuous sexual encounter on a beach in Israel, for example, on the aforementioned gap year comes to a premature end in the most humiliating of circumstances, while a later performance problem with girlfriend Karen is at the entire other end of the functional spectrum. And even when the reader gets the feeling Norris is being strung along himself (as in the third issue), sympathy is hard to extend because the narrative implies this repetition of past mistakes is both his own fault and perhaps even a poetic comeuppance.
With an appealingly elegant and clear cartooning style presented in densely packed layouts, Norris ensures he touches base on an emotional level with his readership throughout. The constant pop cultural references – a mock Charles Atlas 'Hero of the Beach' advertisement, Ian Norris action figure ads, and so on – are also fun, if perhaps a little played out, but do add considerably to Fixed Up's unashamedly self-mocking stance. But the greatest strength of the book is that Norris achieves something quite unusual for a small press autobio comics practitioner – a carefully structured story with clearly delineated chapters and a well-paced narrative. He may have cast himself as a self-absorbed protagonist but Fixed Up itself is not the self-indulgent, rambling affair that many associate with this strand of storytelling. Rather, it's a compelling page-turner which is all the more remarkable given the unsympathetic light in which its author often portrays himself!
For more on Fixed Up visit the blog here. Fixed Up #1-3 are available to buy here priced £3.00 each.
For regular updates on all things small press follow Andy Oliver on Twitter here.