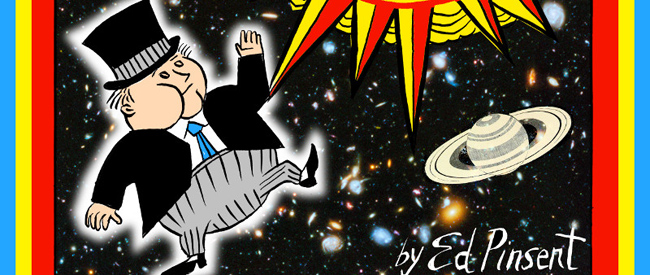 The return of Windy Wilberforce – and his creator, small-press pioneer Ed Pinsent – heralds a refreshing reunion with what feels like an old acquaintance.
I used the phrase about Phil Elliott a while back, but there's no argument that Ed Pinsent is just as worthy of description as one of the godfathers of small press comics, in the UK and beyond.
Not only did he pick up the editorship of the seminal Fast Fiction anthology from Elliott, but he also took over the distribution service of the same name from Paul 'Man at the Crossroads' Gravett.
During those heydays of the late 1980s and early 1990s he was also producing a prolific flurry of his own work: sometimes playful and whimsical, sometimes altogether darker and more mythic, but always executed with charm and craft.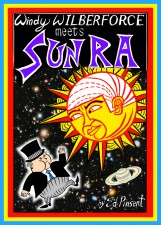 Back in the heady autumn of 1986, his Astorial Stories zines were the first small press comics I bought (at the short-lived but way-ahead-of-its-time comics boutique Meanwhile… in Camden Town). And a few years later, I found myself reviewing his work on a regular basis for the reviews zine Zum.
In recent years Ed has focused more on his exploration of experimental music, through his multi-platform Sound Projector project, but I've been thrilled in the past couple of years to see him back in print with some new comics work.
The protean character of Windy Wilberforce – a tubby little avatar of intellectual curiosity – has been a marker in Pinsent's work for years. Here, as suggested by the title, we see him take a slightly unexpected detour into the world of jazz. After recording an artistically successful but commercially disappointing album, he finds himself facing hard times in the Big Apple.
However, when a copy finds its way into the hands of eccentric genius Sun Ra, Windy's life moves in a strange new direction. After Mr Ra astrally engineers a meeting between the two men, Windy finds himself hired as the librarian and archivist to the Arkesta – while also invited to re-record his 'Provenance' album with the Arkestra's rhythm section.
From there, the story flies into the sort of free-wheeling Quixotic orbit you might expect from a jam between Ed Pinsent and Sun Ra, mixing nods to jazz history with galaxy-spanning bouts of astral projection, tea with John Cage and hazy riffs of cosmic awareness.
Ed's comics work has retained all of its signature style and charm, and his book, teased out in light-hearted and energetic little one- or two-page chapters, is guaranteed to brighten your day.
Ed Pinsent (W/A) • Self-published, £5, September 2015
Note: It's worth mentioning here that – as you'd expect from a fully fledged archivist – Ed's site is a treasure trove of UK small-press history, including downloads of a number of his out-of-print comics. That lot should keep you going until some publisher does the right thing and compiles a comprehensive collection of what is an essential body of work.