Debuting at Thought Bubble! Today we return to the environs of Scene City in the latest issue of Rob Cureton's music industry satire…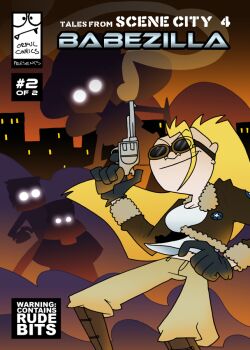 When last we left Rob Cureton's Tales from Scene City former Pop Tarts reality TV show winner turned serial killer Brittina Lovely was bumping off her successors from the programme with a view to gaining her ultimate revenge on pop music mogul Slimey Cowbell. But the diminutive impresario had even bigger problems – his attempts to create the ultimate pop star had gone horribly wrong, resulting in the gigantic robotic behemoth Babezilla going on a devastating rampage across Scene City…
Tales from Scene City #4 is a significant issue for the direction of this series. Not, perhaps, from a narrative perspective but more from a creative one. And that's because this is the issue where everything seems to fall into place – the one where Cureton gets the firmest grasp yet on the potential of the book's set-up and where the early promise of his rock/pop parody is most solidly realised.
The humour in this issue largely centres on Brittina becoming involved in a giant robot death match with "Babezilla". There are some cute asides from the characters, expertly timed comedy (below right), some wonderfully OTT cartoon violence, and even a pop cultural reference to Dean Gaffney in the mix (below left). The sight gags work particularly well this time around with Cureton exhibiting a pronounced confidence to his page construction and his bulbous-eyed caricaturing as appealing as ever.
For those new to the concept, Tales from Scene City is set in the titular city where every district is populated by aficionados of a different musical movement. When I last reviewed the book I highlighted two aspects that, if strengthened, I felt could help take the comic to the next level. Firstly, I wanted to see more interaction between the residents of the various locales within Scene City but, most importantly, I thought a more established cast of regulars would go a long way to generating reader identification and provide a less disjointed feel to the various stories.
With #4 I feel Cureton is providing us with both. There's a small group of characters that I suspect we have not seen the last of, and a "worldview" for Scene City itself, beyond that original cute premise, is slowly but surely beginning to develop. Indeed, of all the issues to date this is the one where it most feels like Cureton is really enjoying the mayhem he's directing; there's a palpable sense of slapstick joy to TFSC #4, of an artist having fun and revelling in the absurdity of the world he has created. TFSC may not be the deepest of small press comics that I review here but it is one of the purest pieces of escapism I've covered, and the riotous sense of authorial glee on evidence in this fourth offering is positively infectious…
For more on Rob Cureton's work check out his site here. You can pick up Tales from Scene City #4 from Rob at Thought Bubble at Table 98 in New Dock Hall, and no doubt soon after at his online store.