Rob Cureton's Tales from Scene City is set in the eponymous locale of the title wherein each district is inhabited by devotees of a different musical movement. In the issues to date Cureton has explored the regions inhabited by the Emos and the Ska kids in the first issue, and we met a memorable undead version of Jimi Hendrix as the main feature in the second. It's a storytelling conceit that you will have seen versions of before but it's one that provides plenty of opportunity for Cureton to make his less than veiled observations about the often ridiculous nature of the trends, social affiliations and industry manipulation that surround the music industry.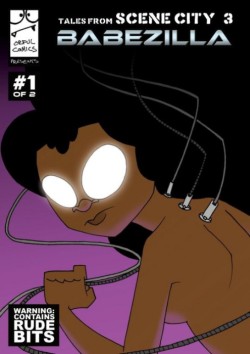 In this third issue – the first part of a two-parter titled 'Babezilla' – the objects of his lampooning wrath are the manufactured talent-challenged wannabes of singing-based reality television programmes. Music biz mover and shaker Simon Cowbell (I'm sure little further explanation as to exactly who is being satirised is required here!) is overseeing the lab-based creation of his latest "perfect pop star" while elsewhere in Scene City escaped psychopath, and former winner of the Pop Tarts show, Brittina Lovely, is bumping off her successors in the public's affections. While Cowbell is unaware that he is Lovely's intended final target of revenge he's about to have far more pressing concerns on his hands when something goes drastically wrong with his newest constructed pop protégé…
If you're a regular Scene City reader already then you will be aware that Cureton's targets are often obvious (but warranted) ones and he's never had any pretensions of sophistication with his jesting in these pages. It hardly needs stating, though, that neither thing is necessarily a drawback in a comedy strip (cue references to the better decades of Mad here); blunt humour can be just as effective and funny as the more nuanced variety after all. While the execution of this particular barbed parody, with an over-the-top Cowell caricature literally responsible for the creation of a chanteuse Frankenstein's Monster, may be perhaps just a little too on the nose for some, those who regularly grimace at Saturday night TV will obviously find much to sympathise with in Cureton's cutting commentary. Just because an object of ridicule is an easy one it doesn't mean it's not a deserving one, and his mad music mogul take-off certainly has its moments.
Cureton's cartooning style lends itself well to his subject matter. It's lively and energetic with his goggle-eyed, often panicked-looking cast already having a strong visual appeal even before the gags are played out. Another comics creator with a background in animation who brings the best of both worlds to his illustrative style. This is a comic strip I could easily see crossing media.
Covers from issues #1 and #2 above
What I would like to see in future issues from Rob is twofold: the continued building up of an established cast to provide a stronger point of reference for the reader and a little more on the social inter-relationships of the various sectors of the city. He has a nifty little premise here and I think there's a lot of room for some classic 2000 AD-style black comedy in that set-up. Tales from Scene City #3 is by far the most polished issue of the series to date, far more layered than previously, and with a greater structure in terms of subplots. I look forward to seeing what's next on Mr. Cureton's playlist…
For more on Rob Cureton check out his site here. You can purchase Tales from Scene City #3 priced £3.00 from his online store here.