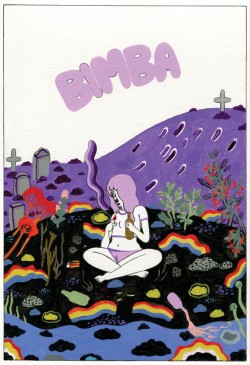 In her own words British comics artist Donya Todd created the anthology Bimba as a showcase for "kick-ass female artists". The first issue features not just Todd's work but also strips by an intriguing mix of small pressers and established creators; from the likes of those great stalwarts of the U.K. self-publishing scene Lizz Lunney (Depressed Cat) and Philippa Rice (My Cardboard Life) through to some exciting new talents whose names were unfamiliar to even this dedicated disciple of all things SP!
Bimba's debut gives its participants the general theme of "Girl Gang" to work with and then lets them run with that, providing a quirky mix of stories revolving around partygoers, warriors, super-heroines and dolphins… to name just a few. The titular Bimba and chums are the slightly psychedelic lead strip courtesy of Donya Todd herself. If you've ever experienced it before then you'll know that one of the great joys of Todd's work is the delicious incongruity between style and content inherent therein. The worlds her characters inhabit are childlike in appearance, yet that same apparent stylistic naivety is merely a cunning mask for the knowingly morbid and often unrepentantly explicit narratives she constructs . It's an unlikely juxtaposition that always provides a fun, if brisk, read and I particularly enjoyed this approach on 'The Suffragirls' – a group of misogynist-busting, partying super-heroines – in Bimba #1. Should I write another annual round-up of U.K. small press books in 'Small Pressganged' this year then Sexist Squirrel from this feature is already odds-on for Best Breakout Character 2013…
Above – work from Donya Todd, Emma Raby and Sophia Viney and, below right, Lizz Lunney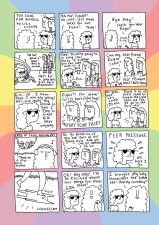 Emma Raby's tale 'The Attack' is a historical short about a group of women defending their village from invasion that had me immediately bookmarking her website for future reference. The medieval style of art and the very restricted use of colour both highly effective in this four-pager. On another tangent altogether, Sophia Viney's 'Brain Dead Brain Hunt' focusing on the adventures of a group of female zombie knitted toys brought a chuckle with its gratuitously silly charm and garish use of colour. Lizz Lunney fans will enjoy seeing Lizz tackling bullying and peer pressure with her usual inimitable aplomb in 'Too Cool for School' (look for a nice little "Lunney-verse" character cameo here!), and Sarah Burgess's 'Boys Club' is a succinct but clever metaphorical piece that is probably the best representation of the theme of Bimba in the whole issue.
Like its fellow all-female small press anthologies Team Girl Comic and The Strumpet, Bimba embraces an eclectic array of styles, approaches and subject matter within its pages. What perhaps distinguishes Bimba from the polish of The Strumpet, or the sense of inclusivity that has defined TGC to date, is a kind of raw in-yer-face energy and a cheeky wit that gives it a likeable character and tone all of its very own. Another must-have addition to the mass of U.K. anthology comics out there at the moment!
You can buy a copy of Bimba #1 here priced £10.00 and check out the Bimba site here and the Tumblr here.
Follow Andy on Twitter for regular small press updates.