One of my 'Six UK Small Press Creators to Watch in 2015', Danny Noble is not just a brilliantly witty autobiographical cartoonist she's also a self-published novelist and singer with the Brighton-based ska 'n' soul group The Meow Meows. I first discovered her work when she submitted Monday Morning, her collection of slice-of-life comics strips, for review in this column last year and was hugely impressed by a book I called "a heady mix of everyday humiliation, blasé inebriation and random slovenliness". In fact I was so taken by it that it made my annual list of 'Ten UK Small Press Comics You Need to Own!' for 2014, despite the material within being a few years old.
As regular 'Small Pressganged' readers know, this year I am actively championing six talented British creators whose self-published work I believe needs to be pushed up to the next level of recognition. Danny Noble (pictured below right) is deservedly one of those names, alongside Rozi Hathaway, Jess Milton, Emma Raby, Alice Urbino and Adam Vian. 
With an ever burgeoning social media following and a noticeable buzz about her work, Danny's star has most assuredly been on the rise this year. I'm delighted, then, that she's the first artist to be featured in my returning strand of 'Small Press Spotlight on…' interviews as we resume our regular creator interviews in this column. Join us as Danny and I chat about hangovers as an art form, Oliver Reed's nether regions, and possibly even a little bit about comics as well…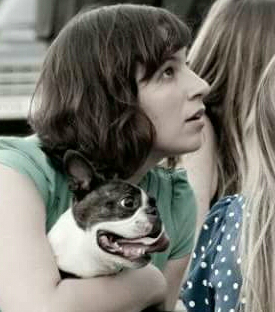 ANDY OLIVER: Your position in my 'Six UK Small Press Creators to Watch in 2015' list is a little different given that while the other five creators are relatively new to the scene you have actually been self-publishing comics since 2002. In 2014, though, you returned to the small press with a triumphant huzzah. What pulled you back into the comics world with such a bang?
DANNY NOBLE: My heart never really left the comics world but I accidentally became a chef for fifteen years. And worse, a manager of other chefs. Ugh.. In 2014 I finally escaped the kitchens and found work as a child wrangler. As a result my shoulders are no longer up by my ears and I've found time to get some drawing done.
The primary aim of this 'Six UK Small Press Creators to Watch in 2015' series is to bring artists I feel are deserving of far more attention to a greater audience. With that in mind could you give us a brief overview of your comics offerings to date and the genres you work in?
My first comic, Charlie Crackers is about a bunch of drunks who write Christmas cracker jokes in a fictional American 1950s town until The House Of UnAmerican Activities calls them in for questioning. (I think that makes it sound more sophisticated than it is. It's daft). From then on my work became more autobiographical.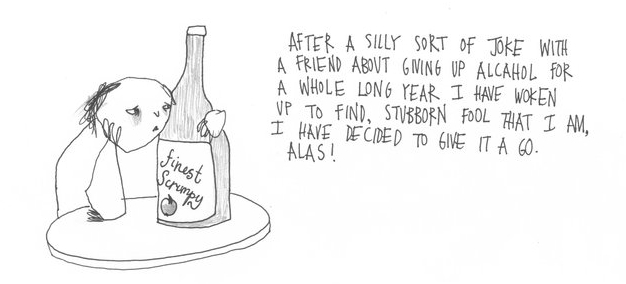 Monday Morning is my online strip about life and hangovers. I keep returning to it whenever there's time. A Year Without Cider (above) is a daily picture diary recording the ridiculous year I gave up drinking out of sheer bloody-mindedness. Hangover Farm, another booze-stained romp is a longer and more fictional comic, though it definitely borrows from my life. Stuck in a Van with a Band is the story of a chaotic, glorious, disastrous tour I did with my old band Ska-Gal & The Hands of Ra.
Cartoons from the comic that was almost titled Hello Handsome…
Hullo Handome (sic) is a record of the handsome men I see on public transport and the reasons I cannot marry them. Its title is also is a rather exquisite example of my godawful spelling and my refusal to redraw anything. My most recent strip Was It…Too Much for You? tells the story of naked Oliver Reed and naked Alan Bates as they share a flat in the city. But it's not entirely not about me. So there you go. My back catalogue. Christmas crackers and myself. My friend George described something I did as Booze-noir and so if you need to edit this down, you can just put that.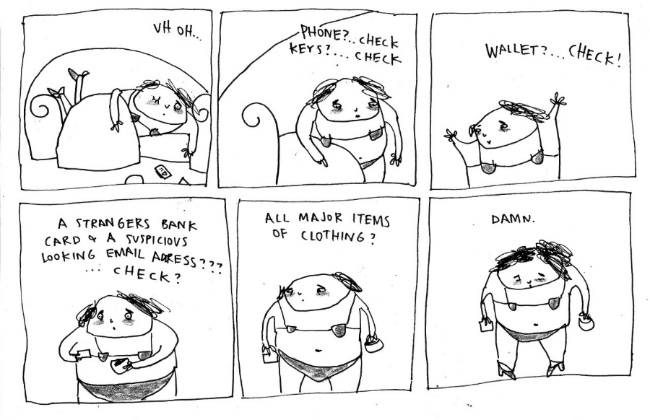 Danny's prolific output on her Monday Morning strip (above and more examples below) can be read online on her tumblr here…
A lot of your work is autobiographical, whether directly or obliquely. What first inspired you to start recording snapshots of your life in pictorial form?
I compulsively kept (godawful) diaries when I was little, and so I guess I just forgot to stop. Then it became therapeutic. Monumental embarrassments became funny stories. Devastating heartbreaks became scribbled punchlines. Everything is easier to cope with in panels.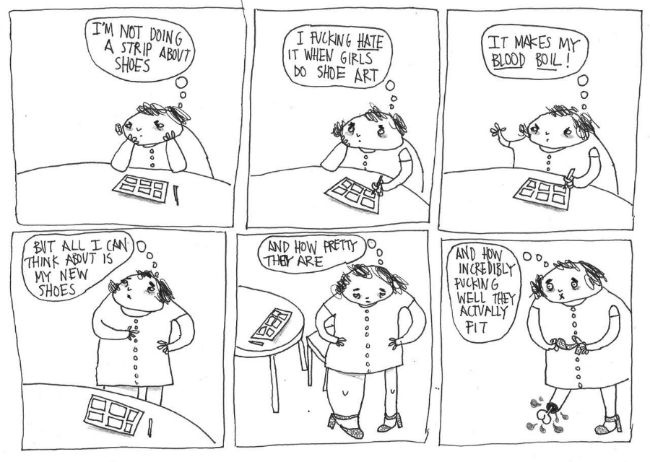 You've studied illustration and sequential design at both undergraduate and postgraduate levels. To what degree did those studies inspire your comics practice?
The student bars at both establishments offered cheap drinks that definitely led to a wealth of scrapes that I plundered for my books. While most of my friends cleverly made use of the resources and experimented with printmaking, film, sculpture and all manner of witchcrafts, I just carried on drawing like I always had. But I like to think that just by being around some brilliant artists, both staff and students, I picked some stuff up through osmosis.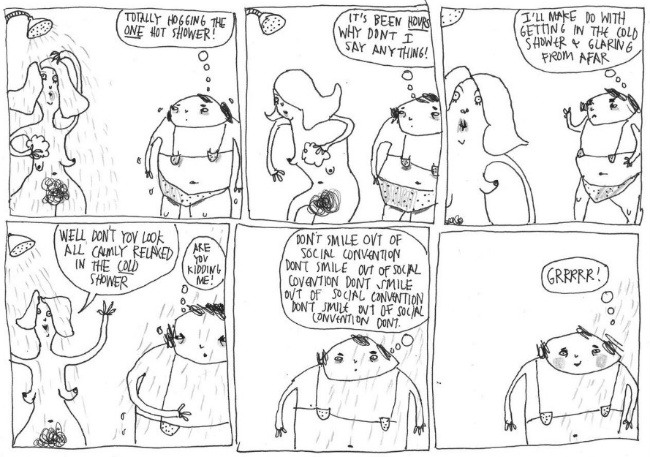 Looking through your comics back catalogue I was immediately struck by how versatile your work is in terms of presentation. You've adopted a number of different methods of on-page delivery to showcase that irreverent Noble wit over the years – illustrated diary entries (The Very Important Year), newspaper-style short strips (Was it… Too Much for You?) through to longer-form comics (Hangover Farm). Is it a case of wanting to constantly experiment with narrative styles for your comics? Or are there particular storytelling strengths in some formats that you feel better suit different material?
Ha! I think that's the first time I've been described as versatile! I'm just pen and Tipp-Ex on paper! But yes…I love stories. It's all about the story for me. So maybe I subconsciously try and find the most effective way of telling it. One of the reasons I love Twitter (despite it being one of the most infuriating, misogynistic, insane places to spend your time) is the 140-character limit. It forces you to edit and be economic. The same goes for an illustrated diary, or a single panel image. Having to imply what has gone before or what will come next. To have a sense of story and time in a frozen snapshot. Having a disparity between the text and the image to add high drama or comedy!
However, one of the things I love most about comics is the way you can control the way someone's eye travels across the page, speeding up, slowing down, fading away or stopping abruptly. So sometimes it's best to tell a story arching over several pages
Or maybe it's just that I didn't really come from a comic background so I don't really know what I shouldn't be doing, so I do it all anyway.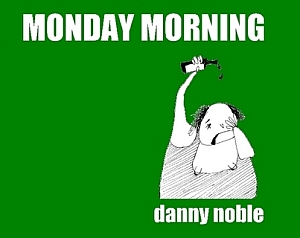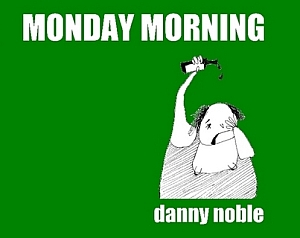 I called the collection of your Monday Morning strips (right) "a genuinely laugh-out-loud catalogue of booze-related personal disasters, resigned reflections on modern living and inadvertent public slumber" when I reviewed it at Broken Frontier last year. As with anyone working in autobio comics, and given your – shall we say – unflinching portrayal of your on-panel persona's alcohol-induced misadventures, do you ever have any misgivings about putting that work out into the world?
Thank you Andy! I love that description. Your reviews are really an art form. We should stick you in a gallery with a barrel of ale and a pen.
It's funny 'cause in many ways I'm quite a private person, but I keep insisting on exposing myself all over the internet! I have ridiculously supportive understanding and spectacular parents. I hope they know that I embellish somewhat and I will often sacrifice the truth for a good story.  I suppose the only thing is I worry that they might worry. As for everyone else, I think I must forget they're reading it!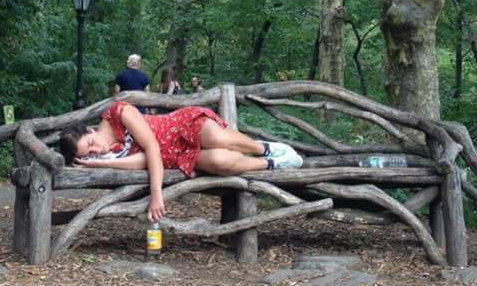 Inadvertant public slumber – a major recurring theme of the Noble oeuvre…
You've described your cartooning as having "a kind of inky, smudgy style", and I also noted in that aforementioned review that it has a scratchy but highly expressive feel which perfectly complements the slacker comedy of your strips. How do you feel your art has evolved over the years? Have you consciously adapted your style to the nature of your material?
I don't think it's consciously. I just have no patience with labouring over images. So I'm not precious, I do work quickly and I think you can catch the essence of something with the slightest of lines. As well as conveying the story the most important thing in drawing for me is facial expression. I always catch myself horrendously mimicking whatever face I am drawing.
But I also love how a character sits in a space. How people move in cities and trains and tracks. And those big nightmare crowd scenes Breugel and Bosch painted; I sometimes wish I could make stuff like that.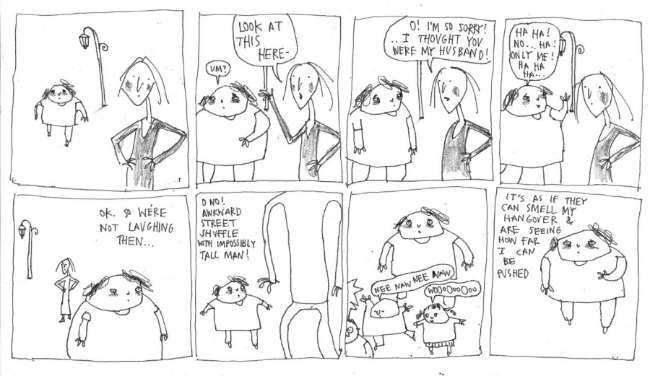 One thing I was particularly taken by in the Monday Morning collection was your pacing and sense of timing – especially your use of dramatic pauses to ramp up the comedic effect (see example below). Are those unique narrative possibilities inherent in the comics form something you particularly enjoy playing with?
Absolutely definitely! I am a massive film geek. I started drawing comics through storyboarding. Apart from Bill Watterson and Raymond Briggs, I didn't know many comics artists when I was younger. But I loved, loved, loved films. When I write dialogue I can hear it clearly in my head, and when I draw panels I see it pulsing, if that makes sense. And being a technical dullard this was the closest I could get to directing and editing..


But now I think good comics have a whole other level to storytelling to film. Like I said before, the way you can guide the reader's eye across a page, the way you can leave visual clues and gags that might not be discovered on first reading. Something truly unique. So I make comics because they are an extraordinary medium, not just 'cause I'm too much a dullard to make films. However I would still go entirely giddy if I could go in to some rotten-carpeted flea-pit and see one of my stories on a big screen.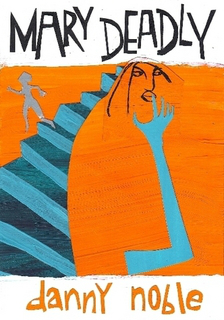 I want to turn to something outside of comics now and talk about your novel Mary Deadly (left) because it shows an entirely different side to your creativity, and one that may surprise those who only know your writing through the more raucous tone of your comic strips.
Mary Deadly's central premise, your use of language in the book, and one of the most beautiful and poignant representations of friendship I've experienced in any medium all ensure the reader is fully invested in your protagonist's world. Could you tell us a little about the book's genesis and how you approach writing for such a different discipline?
Funnily enough I started writing Mary Deadly as a script for a full length graphic novel. Then I got totally engrossed in the words and was too impatient to comic-fy it. The original idea was a joke I made, having been a sickly child and a most unhealthy adult. If I was a superhero I'd be Hypochondriac Woman.
I had the initial scene in my head for years and when I finally started writing it became something very different. I had a couple of things happen in the meantime that really affected my heart and the book was really my way of dealing with them. More public therapy I'm afraid! It exploded out of me, that book. It sort of wrote itself.  I surround myself with the most wonderful bunch of beautiful bastards, but I have a few friends who really have saved me time and time again in a billion different ways, so it was also my way of telling them they are top of the pops.
Not just a comics creator, Danny also sings with the band The Meow Meows. Check out the video for their song 'Siberian Soup' from the album 'Somehow We Met'. Danny wrote the lyrics to this track which acts as a tribute to Russian anarchist punk rock group Pussy Riot.
Comics creator, novelist, singer in The Meow Meows… you're something of a Renaissance Woman. Is there an artistic medium you'd like to make your mark on that you haven't to date?
Whythankyouverymuch! I'd quite like to try cave painting. I mostly draw small things on cheap paper on my lap in front of the telly. I'd really like to do something MASSIVE! Graffiti or murals or backdrops. But still telling stories. My Monika has been encouraging me to a) use colour and b) write for children. So I've bought a bunch of colouring in pencils and YA books. I might try and be a bit less boozy and sweary and see what happens. And then also if anyone wants to make a film of my work and cast Maxine Peake in it, I could write a screenplay. Yes. That please.
Danny also provides the art for The Meow Meows' album covers above.
Anyone following you on social media since the beginning of the year will be able to attest to how your Was It…Too Much for You? daily strips have become a highlight of their day. For the uninitiated, can you explain the premise behind the further adventures of the Women in Love-style incarnations of Oliver Reed and Alan Bates?
I've always loved Oliver Reed, and a couple years ago when I first saw him naked wrestling with Alan Bates in Women in Love I was quite besides myself. I drew a Monday Morning strip about it (below). Then naked Oliver Reed kept popping up in my work from time to time. I was at a party a few months ago and a friend suggested I draw more Oliver Reed. The moment he said it I felt myself lifted and happy. I had a purpose. I needed to bring Oliver Reed and Alan Bates' cocks to the people.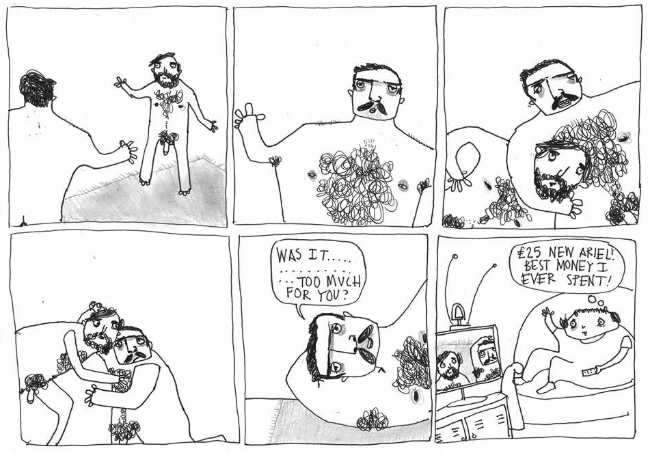 My Ollie and Alan, they're not really the actors, they're not really the Women in Love characters. They're just drunk deranged hairy toddlers. By the fourth strip they had entirely taken over the script and I am now often as surprised as anyone by what they're up to.
Much of your work to date has been shorter form. Do you have any ambitions to produce a full-length graphic novel in the future?
Yes definitely! I've read some smashing ones recently and I'd love to have room to be sad and funny and mysterious in a more substantial story. I have a couple ideas. I just need to avoid pubs and get going.

Since the beginning of the year Danny has been updating her Was It…Too Much for You? strips daily for those following her on social media
Where can we next expect to see your work in print, both in solo projects and in group efforts?
I'm making printed versions of Monday Morning and Was It…Too Much for You?. I've snuck something into the next Dirty Rotten Comics anthology, which I've heard great things about. And I'm sending something nightmarish to Keara Stewart for her zine. I'm self-publishing my second novel Ruby Mundy and I shall be spamming you all with information about all of these things very soon.

Last year you made a return to the exhibiting side of the small press circuit with an appearance at Sean Azzopardi's Crouch End Comic Art Festival (CECAF). What shows will Noble fanpeople see you at this year?
Being an artist type lacking in logistical aptitude, I have missed a few application deadlines for comic fairs! But I'm very excited to be going to The Lakes International Comic Art Festival with comic maker Matt Boyce, and we're still waiting to hear back from Thought Bubble, Alt Press Takeover, Brighton Illustrators Fair, Crouch End Cartoon Arts Festival and something amazing in Helsinki. I'm also putting something up in the Walthomstow Art Trail.

And finally, Danny, as I'll be asking all of our 'Six UK Small Press Creators to Watch', what targets have you set for yourself for 2015? Where would you like to be with your comics practice by the end of this year?
Full-length graphic novel! My new year's resolution was to stalk Avery Hill Publishing and their progeny, so I've proceeded with that. I'm hoping to get them drunk and persuade them to work with me. I also have my eyes set on Myriad Editions, a publishing house from my home town Brighton.  But in one manner or another there will be a longer Noble in the near future. I'd definitely like to write more outlandish plots not concerning me and my people. I'm confident using dialogue and creating characters, but my plots are all over the place! I have a third words-only novel I'm finishing off which is very far from anything in my life so I'd like to work that way in comics too. I'm working on a book of illustrated lyrics and short short stories. But mostly, I suspect, 2015 will be more of Oliver Reed's cock. I'd love to get it in a national publication. To have people reading that strip over their cornflakes.
For more on Danny Noble's work visit her site here and her tumblr here. You can buy copies of Monday Morning here and her novel Mary Deadly here. You can find out more about The Meow Meows here and buy their albums here. And, finally, you can also follow Danny on Twitter here and 'like' her Facebook page here. 
For regular updates on all things small press follow Andy Oliver on Twitter here.