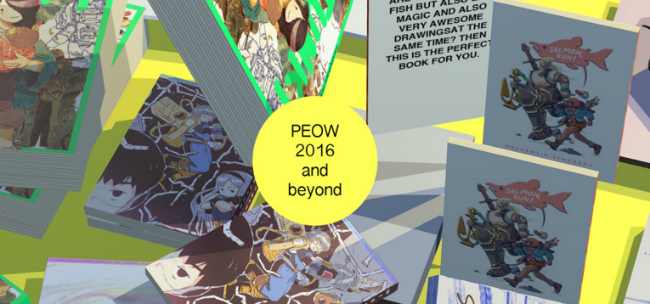 Swedish micropublisher Peow! Studio has been steadily building a name for itself over the last few years with its catalogue of riso-printed minicomics and anthologies. Comprising a showrunning team of Patrick Crotty, Elliot Alfredius and Olle Forsslöf, they've published work from such exciting voices in indie comics as Disa Wallander, Hanna K, and the Decadence Comics team.
Last year saw multiple Ignatz nominations and a hugely successful Kickstarter campaign that will see them move to offset printing in 2016 with books from the likes of Wai Wai Pang, Guillaume Singelin, Mackenzie Schubert, Mathilde Kitteh and Luca Oliveri. In the first of my 'Small Press Spotlight on…' interviews of 2016 I chat with Peow!'s Patrick Crotty about what the future holds for this much acclaimed publishing operation…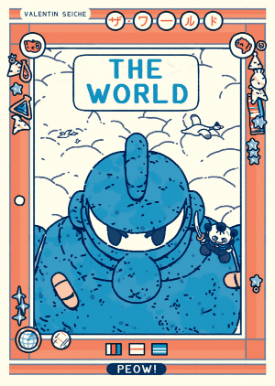 ANDY OLIVER: Over the last three years Peow! Studio has evolved from being a small collective of artists into an acclaimed and respected micropublisher in its own right. To begin with, could you tell us about the circumstances behind the formation of Peow!?
PATRICK CROTTY: If you wanna know a funny secret, it's that PEOW just stands for our names, Patrick, Elliot, Olle… and.. the W is just there to make it more of an acronym. Maybe it's for "World". I dunno. But you might already know, we're from Sweden.
PEOW started because the three of us had similar interests in comics and video games and illustration. At first we just tried to be like a micro-illustrators agency just for ourselves, but on the side we did other fun stuff, and a lot of which involved comics. We just liked a lot of the same things, and we felt that the Swedish comics scene wasn't putting out anything that we really liked.
Don't get me wrong, there are a lot of good comics being made, but it just wasn't the stuff that we liked to read. So we decided instead of waiting for a change to happen, we ourselves would just publish the comics we wanted to read, and that's kinda where we started getting into books.
Riso-printed work from Peow! including Disa Wallander's The Nature of Nature, Hanna K's New Frontier and anthology Time Capsule
For those in the Broken Frontier audience discovering you for the first time via this interview can you give our readership an overview of the kind of artists and projects you've published to date?
Well, we've worked with Lando and Tsemberlidis (of Decadence), Jane Mai, Valentin Sieche, Hanna K, Natalie Andrewson (Lemon & Ket below), Violaine Briat, Disa Wallander to name a few. A lot of the people we have worked with have never been published before, so they are still new to the book scene, but they're all spinnin' around on tumblr. That's how we find a lot of the artists. But we feel all of our books have somewhat of an adventurous vibe, and they are all pretty straight to the point.
What I mean by that is that, is that we try to make sure our books are understandable, and easy to digest. Even though we're indie, we're not far into the art comics spectrum I mean, if anything, we feel that we're making "mainstream" comics in an indie scene.
Your last two books – Ville Kallio's Bio-Whale and Valentin Seiche's The World (below) – are very different in terms of narrative approach, and showcase the stylistic diversity of the comics you have published to date. How would you describe the Peow! publishing philosophy?
Our philosophy, if anything, is that we just make comics that we really really, really want to want to read by artists that we think are amazing. Like… it's funny, but each year my top comics of the year are the books we publish, because it's like… exactly what I want to be reading. Haha, I'm joking a bit, but it's actually kinda like that.
But all three of us have our different quirks and preferences, so that's how our range of books can be a bit mixed, but at the roots, we still have a general heart that is in the same place for everything we make. But it has to be fun and good and a story that we think leaves you feeling satisfied once you're done reading the book. That's what we aim for and we're getting more and more into editing because…well… it's also better for the artist to have a book that is as polished as it can be.
What have been your greatest challenges in establishing Peow! as a voice on the comics market? Has it been a steep learning curve?
The most challenging thing is everything. Because everything that happens is new. We didn't come from a publishing background, so, every single time we do something, it's completely new territory for us. It's really exciting though and, I mean, a lot of stuff is common sense but I think we've been doing a good job because we've always been pretty level-headed when it comes to investments and spending. We don't do massive print runs to "save money because it's cheaper to print more" and we save money whenever we can.
Sample pages from Ville Kallio's Bio-Whale from Peow!
It's become very obvious in the UK and North America over the last few years that the self-publishing and small press scene is a burgeoning and rapidly expanding one. How does that compare to the comics world in Sweden? Are you seeing the same kind of forward momentum for the medium there? 
No. Nothing exciting is happening here. 🙂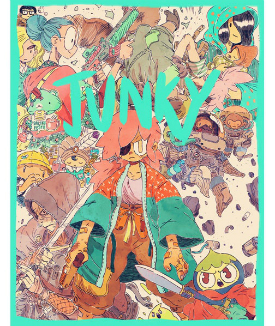 Your output throughout your initial years was riso-printed. What do you feel the riso look added to the feel and tone of your books during that time? 
We did the best we could with the riso. For multicolour books it's a fun printing method, because of color economy, and really pushing to get maximum value from using just 2 or 3 colors. Also, giving the artist some limitations can also help with a creative process and giving a better overall vibe to a book; the inconsistencies in the printing make results feel more DIY, or like everything went through a weird instagram filter.
It's a great tool for making books on a smaller scale and really interesting when you push artwork made specifically for the riso. Anything printed on riso is very obvious, especially, because the papers are always going to be uncoated, and, while the colors are different from digital printers, all riso places still have the same riso colors, and they become really obvious after a while. All in all I think but it still comes down to the story and the comic behind the printing, because many people actually don't even know what riso printing is, so… it doesn't even matter  to those people. One of our books even got one negative comment in a Swedish review because they thought the riso thing was a "gimmick" because you could achieve a similar look in Photoshop. Ugh! Haha!
Following on from that, you recently ran a very successful Kickstarter campaign for some of next year's new releases. One of your aims was to move to offset printing. Did you feel you'd outgrown the riso approach if you wanted to continue expanding? Or was it a more aesthetically based decision?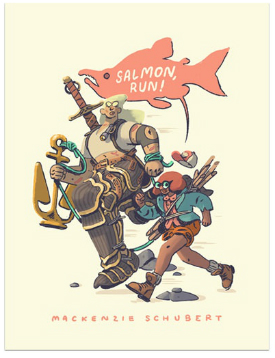 Well, since our print runs have been increasing, and our books are becoming longer, we felt that the riso was not the best option for printing our books. Also, if something broke down in the middle of printing, it would be really problematic for us because we can't get the machine repaired in Sweden. It's complicated, but basically, if the riso breaks, we're dead in the water.
Also, the long books just take more and more time to print, and that time could be used for something else. So offset is a very smart and practical choice, and now our options for aesthetic choices for book design are endless. It's a really exciting time for us to be making books!
A lot of your back catalogue is currently out of print. Will the move to offset allow you to visit the possibility of reprinting some of those comics? 
Offset printing really makes it easier for us to reprint, but this is if we set up the original book for offset printing. All our future books, if we sell out, then we can just get in touch with the printers for a reprint, and no time off our back! Phew! Easy!  I don't think we will be reprinting out old books in offset, because they are still smaller in page count than the books we will be printing in the future, but who knows.
We've tossed around the idea of doing a collection of all of our early works in one book, but I don't know how we would do that if we would like to keep the printing and colors and formats as close to the originals as possible, so I still don't think we're going to be doing anything like that anytime soon.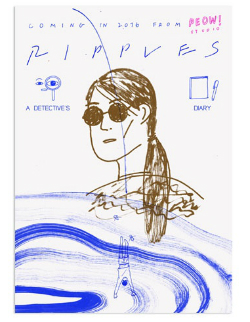 Upcoming projects include one from Wai Wai Pang whose travel diary comics I reviewed not so long ago at Broken Frontier here. Ripples looks to be a very different offering indeed. What's the premise of the book and what attracted you to her work? 
Ripples is one of the books I'm editing and I really really liked her work when I first saw it (thanks to Hannah Chapman [Comic Book Slumber Party] for pointing it out to me!). I am super into good kinda niave-istic drawing that is very…. childlike, but the contrast of her writing and very structured layouts and grids are super interesting. The drawings are fun and loose but detailed when they need to be, and it reminded me a lot of old manga – kinda like a vibe of Yoshihiro Tatsumi. I had an idea that her style would work for a detective book. So. I actually asked her if she would be interested in doing a detective book and that's how that started!
Returning to that notion of the eclecticism of your output, the other four books on the Kickstarter campaign include sci-fi romance, concept art, magic realism and bizarre fantasy. What can readers expect from Guillaume Singelin's Junky, Mathilde Kitteh and Luca Oliveri's Wrecked Hearts, Mackenzie Schubert's Salmon, Run!, and your own Internal Affairs?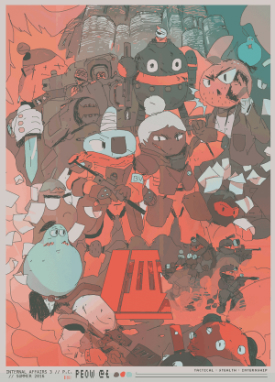 Thats' a pretty broad question! A lot of the comics are still being worked on, so I can't say too much of what to expect! Well… Guillaume's book is a giant artbook, Wrecked Hearts is the sci-fi romance book, and it's… a bit more funny and lighthearted than I ever expected it would be. It's great. Mackenzie's book is just a very left field fantasy that he just owns outright. It's really fun, with a lot of designs and concepts that we don't get much of these days. Internal Affairs (left), is my book, and it's turning into one massive action set piece. Keep an eye on our tumblr for more info on this, at peowstudio.tumblr.com.
What else can we look forward to seeing from Peow! in 2016? What other books and creators have you potentially got lined up?
And, as we come to the end of 2015, where would you like to be by the end of the next twelve months as a publisher? What are your aspirations for Peow! in that time?
Well, Olle Forsslöf is working with Rui Tenreiro on a fable-like book called The Ogre. I've seen a lot of it and really like what's going on there. I can't wait till we can share more of that book. Jane Mai is going to be working on something new with us and we have a handfull of secret projects that we arent even allowed to talk about. But *finger crossed* we've been talking with Giannis Milonigiannis a loooong time and I finally think we're gonna be working together on a book.
In the next 12 months I want some of our books to be on peoples bookshelves, a few "top 10 comics of 2016" lists, and maybe one NYT bestseller, and Hollywood producing an adaptation of Wrecked Ship. I also want to be working on a hardcover collection series of BERSERK, and a Peow video game project. Not too much to ask huh? But the more dreams you have, the more chances you have of making at least one come true.
For more on Peow! Studio visit their site here and their online store here. You can follow them on Twitter here and Patrick Crotty on Twitter here. 
For regular updates on all things small press follow Andy Oliver on Twitter here.