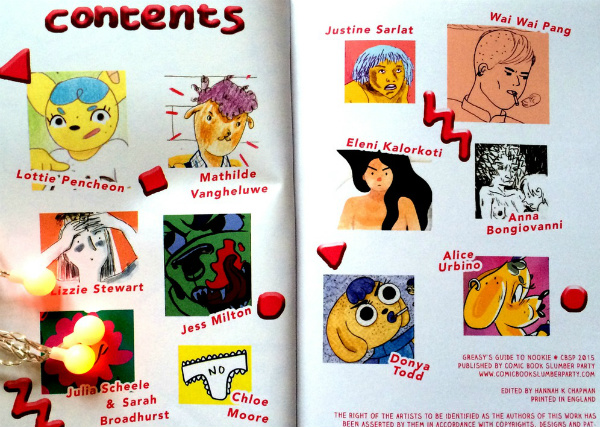 After their British Comic Awards nomination for Fairytales for Bad Bitches it seemed a given that the Comic Book Slumber Party collective would return to their signature character Greasy with a similarly structured anthology. While that previous offering gave its contributors an opportunity to present some suitably skewed versions of classic children's tales Greasy's Guide to Nookie focuses on altogether more adult subject matter, adopting the irreverence of its predecessor while making some telling points along the way.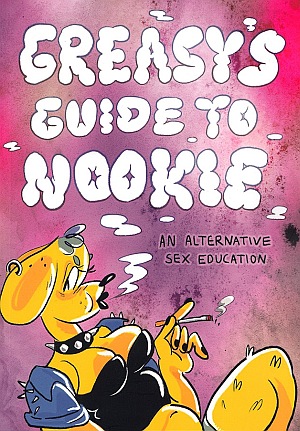 The initial printing of this Hannah K. Chapman-edited book sold out relatively quickly. So it's top news for all of those who missed out the first time around that a second edition will be available this weekend at ELCAF. As with the Fairytales collection, Greasy's Guide to Nookie uses a framing sequence to weave in and out of short tales from a host of international creators, all of whom have varied approaches to the subject matter and often wildly diverse styles.
This time Greasy has hijacked a sex education class to give the assembled pups the real lowdown on the topic. This results in nine stories covering "self-pleasure, where babies come from, losing your virginity and SO MUCH MORE!". Some of these shorts are essentially standalone stories while others feature Greasy as a central or supporting player, ensuring a constant re-imagining of this most memorable of protagonists.
Lottie Pencheon gives us the predominant interpretation via those framing sequences. Her depiction delights in subverting children's story book-style illustration to give us an ever morphing Greasy who ranges from the hyper to the laconic as she introduces each new creative act on the bill. The two pages below give some indication as to how her almost slapstick visual characterisation wonderfully runs the gamut of expressions and emotional responses. As with any anthology working to this kind of structure there are points when some of the lead-ins to stories will inevitably feel a little contrived or tenuous but Pencheon's pages are the glue that holds the entire narrative together with an engagingly anarchic humour.
Greasy's Guide to Nookie is more than simply some kind of Carry on Greasy though. Its uncompromisingly open wit is in obvious abundance but there are more serious points being made here in both Pencheon's pages and some of the individual stories which range from the ribald to the discursive to the utterly heartbreaking.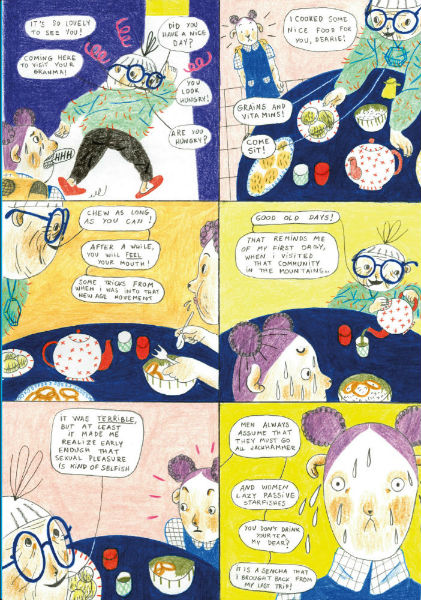 Mathilde Vangheluwe (above) reminds us that sexuality does not disappear with age for example when Greasy makes a visit to her grandma, and the One Beat Zines team of Sarah Broadhurst and Julia Scheele emphasise the "education" motif of the anthology to dispel common myths about vaginas. Scheele's jaunty cartooning and Broadhurst's lyrical prose marking this two-pager as one of the highlights of the book. 'Giant' by Lizzy Stewart, whose comic Dog Walk I was so impressed with here in March at BF, is in a similar vein with its drily witty allegorical account of a giant woman's search for love.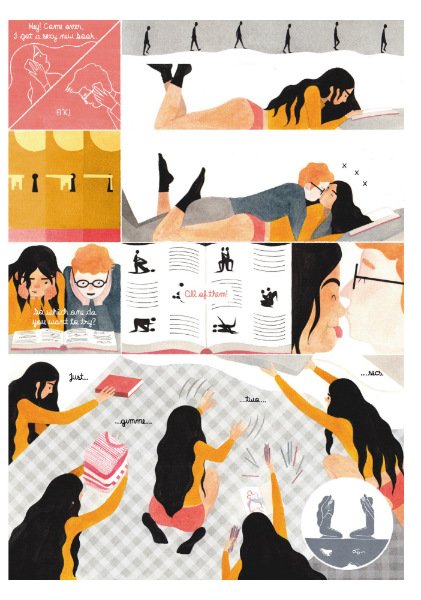 The standout offering of the book, however, is Eleni Kalorkoti's two-pager (above). It's the first piece of pure comics I believe I have seen from Kalorkoti whose work I am more familiar with from her zines and cover art on Avery Hill's Reads. It's an exceptional strip, embodying both playfulness with the form and a pronounced sense of graphic design, as two lovers discover the value of the spontaneous over the contrived. Two of the original Broken Frontier 'Six Small Press Creators to Watch' are on good form too. Jess Milton gives us the moodily atmospheric 'Cherry Jam' (below) for example, with oddly noirish, fluid visuals and a defiant use of visual metaphor, while Alice Urbino provides a gloriously eye-catching cover featuring Greasy.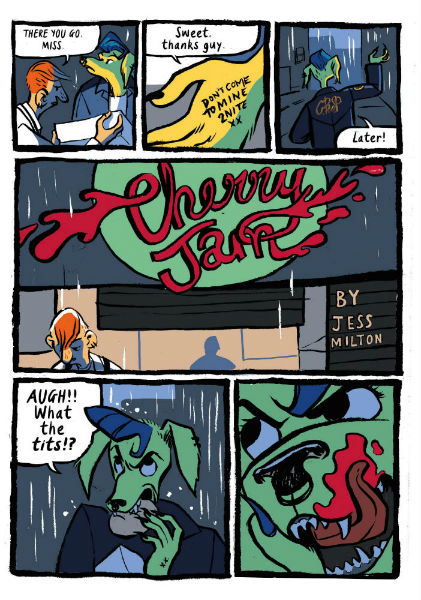 Of the longer-form tales Wai Wai Pang (below), whose Ripples is being published this year by Peow! Studio, connects with the readership with the sheer raw honesty of her pages while Anna Bongiovanni, whose Out of Hollow Water from 2dcloud so impressed me back in 2014, evokes feelings of the most profound loss with impressionistic and potently expressive artwork. Donya Todd, of course, does what only Donya Todd can with 'The Sperm Riders', another example of her magnificently warped imagination as we discover exactly how Greasy was conceived.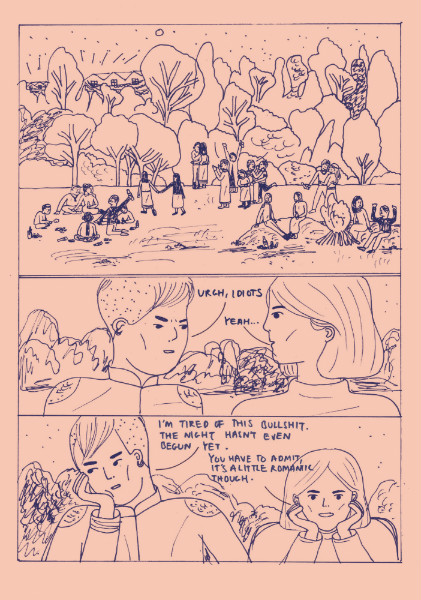 In some respects the work in Greasy's Guide to Nookie has a slightly disparate feel in comparison to its predecessor; the scope of its subject meaning that it doesn't gel as a whole in the way that Fairytales for Bad Bitches did, and the cheekiness of the overarching framing plot feels at times at emotional odds to the tone of some of the individual creators' stories as a result. However, those occasional disconnections in mood certainly don't detract from the quality of the work on offer here. Comic Book Slumber Party's role in showcasing international women creators, and providing a platform for newer creative voices, has been invaluable over the last few years and proved just how effective creative collectives can be in bringing deserving talent to an expanded audience. Let's hope we don't have too long a wait until there's another collection of Greasy's outrageous adventures on the shelves…
For more on Comic Book Slumber Party follow them on Twitter here. You can buy Greasy's Guide to Nookie this weekend at ELCAF priced £12.00 or from One Beat Zines here. 
For regular updates on all things small press follow Andy Oliver on Twitter here.