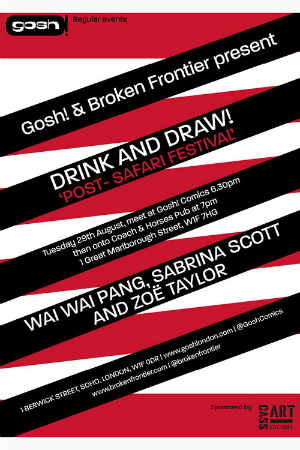 It's fast approaching that time of the month again when we look forward to another guest-artist filled D&D! The Gosh! Comics and Broken Frontier Drink and Draw is back on Tuesday August 29th and we have the quite frankly awesome talents of Sabrina Scott, Zoë Taylor and Wai Wai Pang on hand for our post-Safari Festival special evening.
We're once again at our current home, upstairs in the Coach and Horses pub on Great Marlborough Street. Your convivial co-hosts for the night are myself (Broken Frontier Editor-in-Chief Andy Oliver) and Gosh's very own Nora Goldberg. The evening begins at 6.30pm at Gosh on Berwick Street before we head off for our sketching and drinking antics at 7pm. Don't forget you can join the official Facebook event here.
One of the great joys of the Drink and Draw is, of course, the opportunity it affords us to introduce artists to new audiences and vice versa. Making the trip all the way from Canada this time around is one such creator, Sabrina Scott, the force behind Witchbody, a book which she describes as "a meandering synthesis of autoethnography, magic theory, and philosophical speculation."
Originally created for her Masters thesis in Environmental Studies and Sustainability Education, Sabrina has said of the project that she "wanted to make something that was an exhale containing my soul, and so I decided to make a comic book about magic. Magic is my lifeblood, it is my lens, it is how I feel and interact with others. It is all of those things, and more." You can find out more about Witchbody on her site here and be sure to pick up a copy on Tuesday.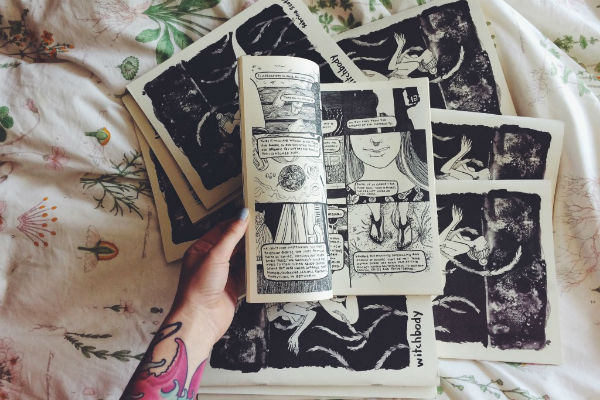 Zoë Taylor's Joyride – a mysterious tale of an enigmatic woman's post-party car theft and subsequent illegal road trip – was published last year by those fine boundary-pushing folk at Breakdown Press. Taylor's graphic novella is told with hauntingly minimalist art. I reviewed the book here at Broken Frontier recently noting that "whether the reader takes Joyride as a metaphor for liberation, a frenetically paced drama or a nuanced but oblique character study is ultimately their own decision. What isn't lacking in clarity, however, is Taylor's skilful manipulation of the page and the sparse but resonant nature of her visual style."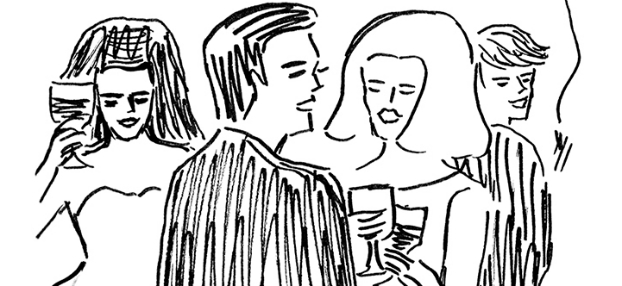 And, finally, we're also delighted to have Wai Wai Pang on board for our August extravaganza. We've been following her comics for a couple of years now at BF from the self-published Itinerary April 2015 Japan #1 to her Comic Book Slumber Party contributions through to her recently published detective mystery graphic novel Ripples from Peow! Studio which I reviewed here at BF this very week saying of it "Combining an intentional and structured artistic naivety with a sophisticated and ingenious understanding of how to adapt the form to the detective genre, Ripples is a charming and undeniably appealing debut longer-form work."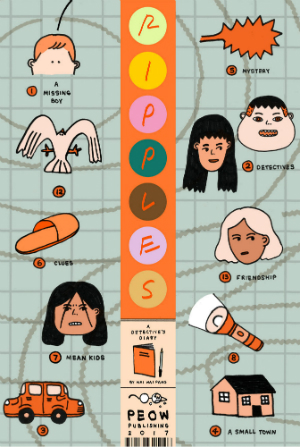 If you can't make the night we'll be tweeting the drawing themes with the hashtag #GoshBFDD for those who want to join in online!
Join us on Tuesday night, then, for another fun evening of drinking, drawing and comics camaraderie. We kick off at 6.30pm in Gosh with a chance to get hold of signed comics and books from all our featured creators before moving over to the The Coach and Horses for 7. We look forward to seeing you then!
You can join the Facebook event group here.