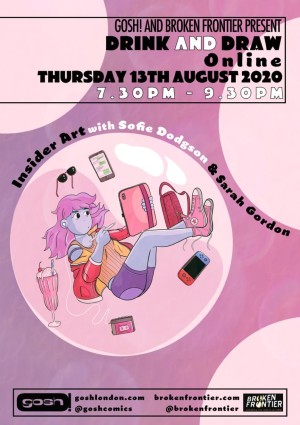 It's time for more bacchanalian bonhomie this Thursday August 13th as our fortnightly online Gosh! Comics and Broken Frontier Drink and Draw returms. As usual we're back again at 7.30pm BST on Twitter. Not only do our digital D&Ds keep all those who would meet at The King's Arms in Soho, London every month (in those halcyon pre-lockdown days) in regular contact, they also allow us to expand our reach for the event to a more global audience.
(Poster art, right, by Will Humberstone).
So, once again if you're joining us online, here's the "rules"…
We're using our regular pub format, adapted for a digital platform. So if you've never attended one of our monthly sessions this is how it will work. Our guest artists will each choose a drawing theme for three sessions across the evening. We'll post each of these prompts with the hashtag #GoshBFDD in three batches at 7.30pm (GMT), 8.15pm and 9.00pm from both the Gosh! Comics Twitter account and the Broken Frontier Twitter account. You have 30 minutes to draw something fitting that theme, after which we'll spend 15 minutes picking a winner before the next round begins. Don't forget to post your drawings with the #GoshBFDD hashtag so everyone can see and join in. And also so we can easily retweet!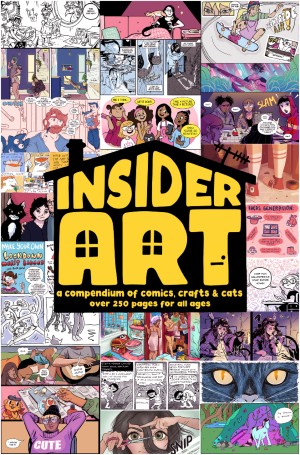 And this fortnight's Twitter meet-up is a very special one! We're theming it round the Insider Art digital anthology, a project initiated by the legendary Shelly Bond (Black Crown, Vertigo) to benefit female and non-binary comics retailers as they struggle with the ramifications of the pandemic. As I said when I reviewed the book this week at Broken Frontier it's a collection boasting work from over 100 female and non-binary creators including comics, prose, illustration and crafts to get readers through lockdown and beyond. Each section is overseen by a different editor or editorial team, with the anthology's thematic structure taking on the form of the individual rooms of an "art house".
I described Insider Art as "one of the key releases of 2020." in that BF review here and you can also read an interview with two of the editors, Sofie Dodgson and Chrissy Williams, here at BF. At just $10 for around 270 pages of material from an incredible line-up of international creators (including many oft-featured Broken Frontier favourites like Cat Sims, Rachael Smith, Jayde Perkin, Sarah Gordon, our own Jenny Robins, Donya Todd, Takayo Akiyama and Karrie Fransman) it's a must-support compilation of graphic grooviness. You can buy a digital copy here and find out more on the Insider Art site here.
Guest artist Sofie Dodgson is one of the Insider Art editors. Sofie's colouring skills are also to be seen throughout Insider Art and she curated the crafts section of the anthology. You may be familiar with her colouring on characters like Tank Girl and on the Eisner Award-winning series Bitter Root from Image Comics (below).
Sarah Gordon is a British Comic Award-nominated creator whose beautifully illustrated work has been seen in a whole host of self-published comics including Box of Things, Strip, Queen Rat and the wonderfully bleak Sad Pictures to Colour In. She has also been a part of renowned anthologies like Solipsistic Pop and ink + PAPER and Meanwhile… Her recent project Vicious Creatures collected a number of her horror minicomics in one edition. You can buy Sarah's self-published work online here.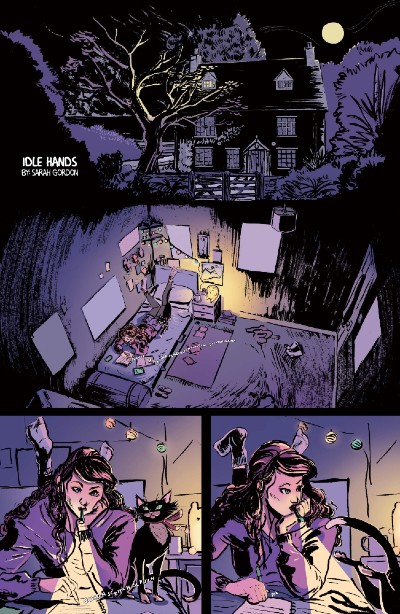 We'll see you all again on Thursday! Whether you're a regular or a newbie all are welcome so please do join in and be part of our international Drink and Drew fun! And if you enjoy this event why not check out the Gosh! Comics webstore here?