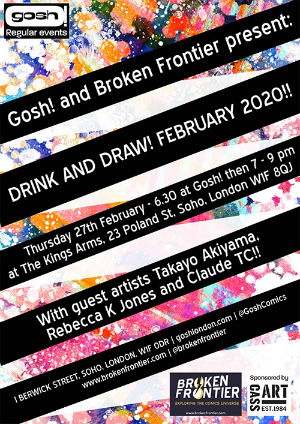 It's time for the second Gosh! Comics and Broken Frontier Drink and Draw this week on Thursday February 27th, and this time we have faces old and new on the guest artist list! We welcome the thrilling threesome of Takayo Akiyama, Rebecca K Jones and Claude TC. at our regular monthly meet-up, sponsored by Cass Art.
You can find us upstairs in The King's Arms on Poland Street. The fun begins at 6.30pm at Gosh! on Berwick Street before we head off for our sketching and drinking antics at 7pm and, as ever, your co-hosts for the night are myself (Broken Frontier Editor-in-Chief Andy Oliver) and Gosh's very own Tom Humberstone.
A quick intro to this month's guest creators…
Rebecca K. Jones has been featured on a number of occasions here at Broken Frontier and you can read an extensive interview with her here on the site. She has self-published comics like Cat Disco and contributed to a number of notable anthologies including Tiny Pencil, Dirty Rotten Comics and SelfMadeHero's The Corbyn Comic Book.
A couple of years back her graphic-novel-in-progress Boomerang – a semi-autobiographical story about youth unemployment in the early 2000s – was shortlisted for the Laydeez do Comics Prize. You can read a review of an early chapter here at BF.
London-based Japanese creator Takayo Akiyama is a versatile artist whose practice includes illustration, comics, printmaking, t-shirt and textile design. Her children's book work includes the Thames and Hudson So You Want to Be a … historical series and her frantically paced and ever engaging small press comics count the Awesome & Possum series among their number!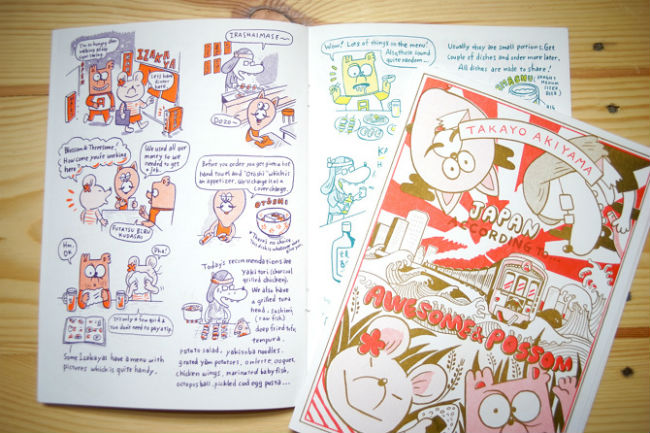 And finally we have the ever inventive imagination of Claude TC on show at this month's D&D. Claude's prolific online and small press comics output includes Journey into Stupid and People of World. Claude has also contributed to anthologies like Dirty Rotten Comics. You can read a review of his Seller on the Threshold here at BF.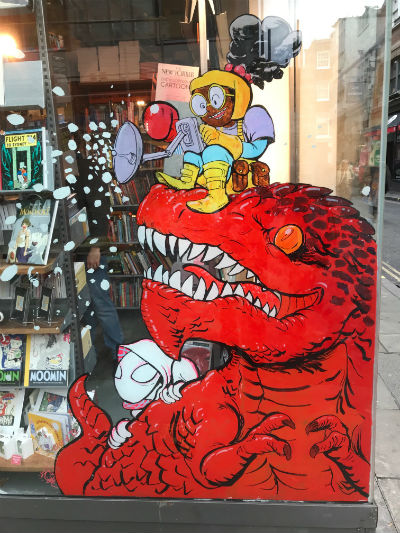 Claude was also the genius behind the Christmas window paintings at Gosh! Comics last year (above) which deserves a special mention in itself!
Join us on Thursday February 27th, then, for another fun evening of drinking, drawing and comics camaraderie. We kick off at 6.30pm in Gosh with a chance to get hold of signed comics and books from all our featured creators before moving over to The King's Arms for 7. We look forward to seeing you then!