While not all the Broken Frontier team will be at Thought Bubble this year, we will be there in spirit. Long-term friend of the site Nora Goldberg has organised a very special exhibition of the history of our ever popular Gosh! Comics and Broken Frontier Drink & Draw. And to top it off Nora will be hosting a Drink & Draw evening on the Friday of Thought Bubble to mark the event. Full details below and don't forget to keep an eye on the Thought Bubble site too for all the festival programming details.
Broken Frontier is bringing the famous Gosh/Broken Frontier Drink & Draw night to Thought Bubble! With 6 years, over 200 guest artists (yes I counted!), and every pub in Soho under our belt we are bringing a little of this amazing community to Yorkshire. The origins of the night began with a fruitful collaboration by Gosh! Comics and Broken Frontier; the Drink & Draw ethos emerged from the idea of giving an opportunity for attendees to mix with artists from across the comics publishing landscape. It provides a night for us all to find our artistic muse in an informal and relaxed setting – I'm sure the drinks have nothing to do with it!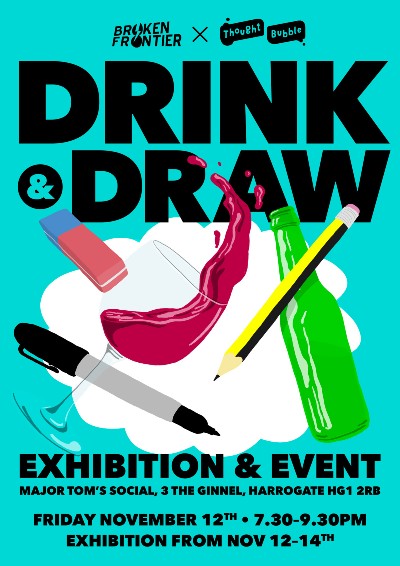 Quickly becoming one of the most successful social events on the monthly London comics calendar – from humble beginnings it's grown into a true and supportive community with an established core of regulars but an ever-welcoming atmosphere for newbies. Pre-pandemic in-person nights would see our pub venue bursting to the seams with artists, sitting or even standing on every imaginable surface. The event has thankfully been able to adapt to lockdown and has been hosted online over the last 18 months, providing an essential lifeline for many isolated creators.
The value of this has been immeasurable, matched only by the sheer volume of art created on these nights. Which is why we are extremely excited to spotlight the history of the Gosh! Comics and Broken Frontier Drink & Draw with a pop-up art exhibition of original work created through the years! Over the Thought Bubble weekend you will be able to see some of the wildly imaginative art produced by our many guest artists since 2015. The exhibition will be hosted at Major Tom's Social from November 12th -14th.
We also cannot wait to start off Thought Bubble with an in-person Drink & Draw. The format of these relaxed evenings sees each of the guest artists choosing a drawing theme for three 20-minute drawing sessions. After each one we show the drawings around the room (no obligation for the less ostentatious attendees!) with a winner being selected by that round's guest creator.
We will be hosting three guest artists appearing at Thought Bubble at this special Drink & Draw. Seats are limited, so this event will be ticketed! But the main area of the pub will be free to socialise in (and maybe enjoy a few pints?). Please follow Broken Frontier @brokenfrontier on social media for more details and tickets can be ordered online here.
Drink & Draw Event
Friday, November 12th
19.30 – 21.30
Drink & Draw Exhibition November 12th -14th
Friday 12pm–1am
Saturday 12pm–1am
Sunday 12–11:30pm
Major Tom's Social
The Ginnel
Harrogate
HG1 2RB, UK