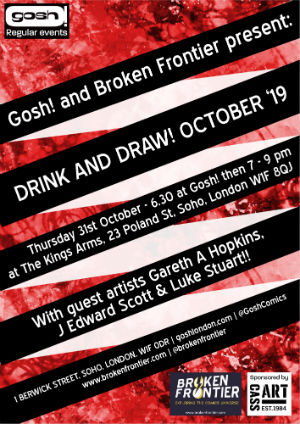 We'll be trick or treating next Thursday October 31st for this month's Gosh! Comics and Broken Frontier Drink and Draw. Time for an Autumn spook-tacular as we welcome guest creators Gareth A Hopkins, J. Edward Scott and Luke Stuart to our regular monthly meet-up, sponsored by Cass Art.
You can find us upstairs in The King's Arms on Poland Street. The fun begins at 6.30pm at Gosh! on Berwick Street before we head off for our sketching and drinking antics at 7pm.
A quick intro to this month's guest creators…
Gareth A Hopkins is a creator constantly exploring the farthest reaches of what comics can do as a narrative form. Our Jenny Robins interviewed this champion of abstract comics delivery here a couple of years back at BF when he rather splendidly described how he'd wanted one of his comics to read "like the sound of a piano falling down stairs." Apart from his own comics like The Intercorstal, Petrichor and Found Forest Floor Gareth has also contributed to anthologies like Jazz Creepers and Komisk. His chilling ghost story A Hill to Cry Home (incorporating the poetry of Erik Blagsvedt) was recently reviewed here at BF.
J. Edward Scott is the artist behind the minicomic series The Blade of Arozone which combines allegorical fantasy with contemporary social commentary. We reviewed the first issue here at Broken Frontier earlier this year, saying of it "It's Scott's intricate pages with their multiple panels and heavily detailed environments that will perhaps be the biggest draw at this juncture. His angular characters, often depicted with a caricatured grotesqueness that fits the brutality of the setting, have a Kevin O'Neill vibe to them while the supplementary back matter's map of the realm promises an intriguingly larger narrative game plan for the book."
Gosh's very own Luke Stuart makes his Drink and Draw guest artist debut this month! Luke spoke of his work in this interview with our Ally Russell at BF saying "I'm most broadly influenced by horror culture, queer culture and history, so I suppose my basic aesthetic is a mash-up of all those things." You can see more examples of Luke's work on his Instagram here and we're obviously rather excited at the prospect of the first member of the Gosh team to take on a guest artist role at the Drink and Draw!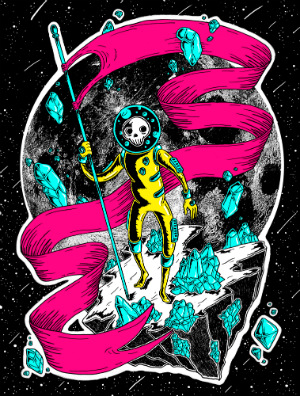 Join us on Thursday October 31st, then, for another fun evening of drinking, drawing and comics camaraderie. We kick off at 6.30pm in Gosh with a chance to get hold of signed comics and books from all our featured creators before moving over to The King's Arms for 7. We look forward to seeing you then!