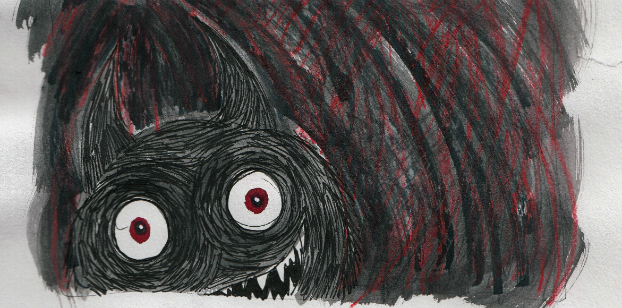 There are two standard approaches to the concept of the comics anthology and both have experienced conflicting fortunes in recent years. While the one-shot anthology compilation of complete, "told in one sitting" tales has never been a more viable vehicle for introducing new creators to a broader readership, the serial anthology – featuring a collection of ongoing strips in chapter presentation – has largely fallen out of favour.
It's a singular shame given the decades-long comics tradition of stories in instalment form. But it's probably unsurprising given the ever changing face of pop cultural consumption in a world where immediacy is everything. There are still welcome hold-outs however that remind us that, as a method of delivery, serialised strips have more than simple nostalgia going for them. Avery Hill's Reads is one such group effort, featuring an eclectic mix of material from a number of their regular creators including British Comic Award winner Tim Bird (Grey Area: From the City to the Sea) and BCA-nominated EdieOP (Maleficium). It comprises four strips of around 8 pages each.
One of those offerings is an old AHP favourite and I would have to argue that if there's one book from the Avery Hill catalogue that has never received quite the level of recognition it deserved it's Owen D. Pomery's first volume of The Megatherium Club. Perhaps that's because its publication was in that midway period when Avery Hill were making the rapid transition from enthusiastic hobbyists to one of the most important new players in UK indie comics. The Megatherium Club is a welcome addition to the pages of the anthology and one that underlines Pomery's versatility as a writer when compared to the existential angst of his Between the Billboards (also collected by Avery Hill).
Pomery's bawdy period spoof takes inspiration from a real group of scientific adventurers/hellraisers who operated out of the Smithsonian Institute in the 19th century. In this second set of tales, the Club have been caught in a cycle of ever more humiliating oneupmanship with their hated rival, the palaeontologist Othniel Charles Marsh. This reaches a moment of brilliantly absurd farce in #3 as an attempt to humiliate their nemesis at a dinner party goes hideously wrong. Hallucinogenic substances, a stuffed stoat and frisky molluscs all play a role somewhere in the proceedings…
Pomery's witty juxtaposition of retro visuals and modern idiom, his playfully anachronistic badinage, and the exasperated narrator's voice all combine to make The Megatherium Club a splendidly funny romp. They deserve a third outing after Reads concludes with its fourth issue and it can only be hoped that comes to pass.
When I reviewed the first issue of this volume of Reads I felt The Bullpen to be the weakest strip within its pages. With the second two parts of this thinly-veiled re-imagining of the behind-the-scenes politics of the Silver Age of comics, though, this feature has come into its own. Writer Luke Halsall engages the reader's sympathies as the office machinations and power plays surrounding the creative partnership of "Jack and Bill" begin to build pace with an inexorable familiarity.
On the artistic side, Tim Bird seems to relish the chance to work with subject matter outside of his normal purview and Halsall gives him plenty of opportunity to provide some deft metafictional flourishes to his pages in #2 in particular. There's still a feeling , though, that the small page count The Bullpen has over the four issues of this anthology just won't be enough to do all the intrigue and creative subterfuge it touches on full justice in terms of pacing or expanded characterisation.
There are few imaginations in UK comics as endearingly bizarre as EdieOP's. She's been a long-time favourite in 'Small Pressganged' since I first covered her self-published comics a few years back and her fiendish narratives always prove to be the darkest and most delicious of tonics. In #2 she uses her deceptively innocent visual style to give us the story of Muriel (top banner image) – a coughed-up hairball demon from hell – whose day out shopping in the mortal world leads to random carnage and supernatural violence wherever he goes.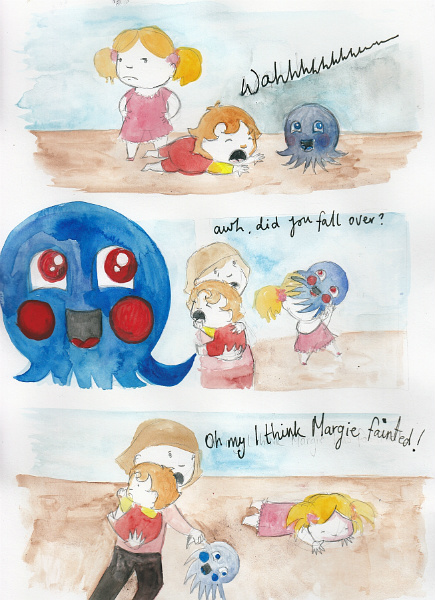 'My Friend Armi' (above) in Reads #3, though, is perhaps the quintessential EdieOP comic strip. It follows the story of a cutesy but sentient cuddly toy who gets over-protective about its owner as they grow from childhood to adulthood. This is a short story that feigns ambiguity with a knowing wink, daring you to imagine the worst and providing some hideously creepy scenarios that are made all the more disturbing by their childlike presentation. As hypnotically entrancing as ever, these tales display exactly why their author has received such notable critical acclaim over the last year or two.
Finally Ricky Miller and Tim Bird's Hitchcock & Film continues to trace the life and works of the seminal director. Balance is the key word to this fourth fixture of Reads with Miller's script by necessity having to impart large chunks of exposition that would threaten to swamp the art if a less confident creative duo were involved.
Where Miller and Bird's partnership works so effectively here is the manner in which Bird's visuals so often utilise the language of comics to thematically complement Miller's discussion of his subject. There's some skillful touches in this regard in both #2 and #3 – a reflective panel on Hitchcock's use of distorted perspectives, for example, or a playful use of the conventions of speech balloons in comics to signify the coming of sound to the movies (below left). Even the very nature of film, of spooling images on a reel, parallels the sequential nature of comics in a slightly meta way in a section that also plays with the passage of time by cleverly alternating scenes from Blackmail and Psycho in a neat piece of technical foreshadowing (below right).
Again, as with The Bullpen though, there's a sense that this creative team could say so much more about Hitchcock's work with a greater page count than the one they'll have in four issues of this anthology. Hitchcock & Film deserves not just a collection but also an expansion at some point further down the line.
One of the neatest aspects of this series has been the opportunity it's given us to see Eleni Kalorkoti's cover interpretations of the characters within its pages. In #2 and #3 it's been her takes on The Megatherium Club and the films of Hitchcock that have led the proceedings with her elegant sense of design and composition giving the series an eye-catching aesthetic on the comic shop shelves.
While the intermittent serial nature of titles like Reads are an increasingly harder sell in the current marketplace there's no denying the consistently high quality of the work in this second volume of the title. Next month sees the fourth and final issue and the culmination of all the strips herein. If you've yet to try out a book that has collected work from some of the undeniable rising stars of the UK indie scene then you'll be pleased to know that AHP are offering a special bundle of all four issues of the comic when that last issue hit stores in May.
For more on Avery Hill Publishing check out their site here and follow them on Twitter here. You can buy Reads from their online store here with that special 25% discount bundle offer available here. 
EdieOP and Owen D. Pomery are contributors to the Broken Frontier Small Press Yearbook which launches at London's Gosh! Comics on April 29th and will be available to sign copies on the night. EdieOP is also a contributor to the Broken Frontier Anthology which has its European launch the same night. Full details here and on the Facebook event page here. Small Press Yearbook pre-orders are available online here priced just £6.00 plus postage.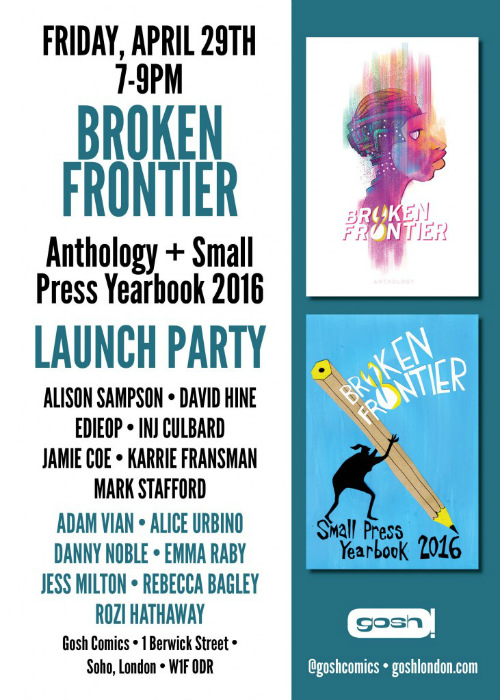 For regular updates on all things small press follow Andy Oliver on Twitter here.