Given how beautifully rendered her pencilled pages are it's easy to overlook one of the subtler aspects of Katriona Chapman's storytelling. It's something that is undoubtedly one of her greatest strengths though – her ability to tell us everything we need to know about a character's emotions or state of mind through a single look. In her new Avery Hill graphic novel Breakwater the power of that visual characterisation is vitally important in propelling the story forward and establishing the relationships it explores.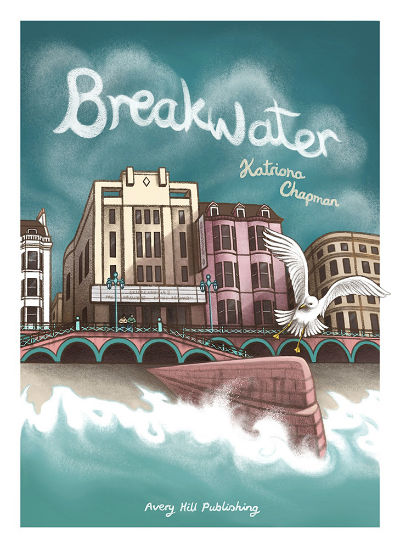 Set largely in the environs of the rundown Breakwater cinema in Brighton the book's focus is on introverted, forty-ish employee Chris and her growing friendship with new recruit Dan, a young gay man she strikes up an immediate rapport with. Despite the chosen solitude of her existence Chris finds herself letting Dan further and further into her world. As the weeks progress, though, she begins to discover the hidden complexities of Dan's life, including his mental health issues and troubled past. With their professional relationship evolving into something far more complicated Chris must face some hard decisions about their friendship.
During this time we also meet the wider cast of Breakwater including kindhearted but often absentee owner Ted, long-timers Jeff and Rose on the kiosk, and immature but likeable junior employee Craig. Chapman's pacing is deft in execution. Initially we find ourselves welcomed into the world of this eccentric cast, observing their daily routines, the colourful customers they deal with, and their working relationships. It's a gradual build-up, though, that allows us to invest in and feel a part of the characters' lives, making the events to come all the more affecting in their intensity.
Chapman also creates a defined sense of place as we explore the interiors of the Breakwater with the characters, discovering its unused spaces and crumbling Art Deco magnificence, reminding us of a rich history now lost to time. Intermittently Chapman stops and pauses with full-page or double-spread studies of the building further underlining its place as supplementary cast member. Even in these early sequences, though, there are hints and warnings as to what is to come.
Thematically there is overlapping ground in Breakwater with Chapman's previous book Follow Me In. But where Follow Me In's travelogue set-up ensured a vibrancy to its colourful pages, regardless of its bleaker subject matter, Breakwater's more mundane setting is perfectly suited to the grey tones of her monochrome pages. In contrast it also has a wider cast of players whose own satellite existences cycle around the main players giving a more ensemble feel, and further defining Chris and Dan by their own interactions with the duo.
Breakwater is a poignantly observed character piece but it's also a quietly powerful examination of friendship, its responsibilities and, crucially, its boundaries. For all its subtler nuance in many ways it's Chapman's most sophisticated book yet and a fitting finale to what has, yet again, been an outstanding year of releases from Avery Hill.
Review by Andy Oliver