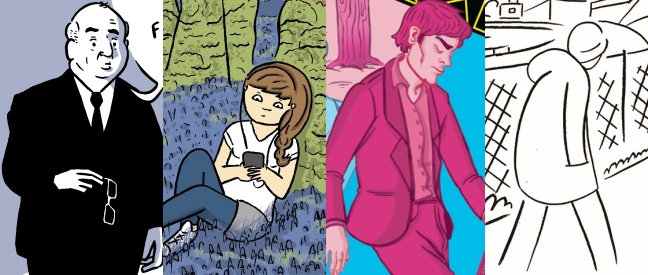 Four eagerly anticipated titles from British micropublisher Avery Hill Publishing officially launch at London's Orbital Comics this week on Friday 11th July. Those making it to Newport Street are promised an evening of signing, sketching and drinking in the company of AHP creators Tim Bird, Gill Hatcher, Simon Moreton, EdieOP, Owen Pomery and Julia Scheele.
All this week we're running reviews of those books – anthology title Reads, Ricky Miller and Julia Scheele's Metroland (with back-ups by Rebecca Strickson and Jazz Greenhill), Gill Hatcher's The Beginner's Guide to Being Outside, and Simon Moreton's Days. But to get you into the mood for Friday's festivities I want to also seize the opportunity to revisit and provide links to some of our past 'Small Pressganged' AHP coverage from the last two years. It's a chance to remind ourselves of what's already out there from the  team. and to trace the evolution of Avery Hill from a group of school friends embracing the DIY culture to one of the most exciting and polished small publishers on the UK comics scene…
To order the comics featured in this article visit their online store and check availability here.
Reviews
Reads Volume 1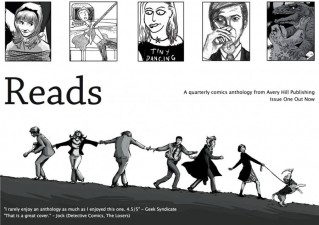 The first volume of Reads was always an unpredictable affair. A heady mix of established small press names, creators on the rise, and lesser known lights, its occasional lapses were always balanced by a gently self-mocking editorial voice. It was an anthology where the AHP gents were clearly finding their feet and making their first tentative steps into expanding their comics output beyond their Tiny Dancing artszine. But if the result of perfecting one's craft is always as memorable as the recently released Reads Volume 2 (review to come this week at BF) then it's well worth the occasional missteps. And let's not forget that Reads Volume 1 gave us the likes of original work from Paul B. Rainey, the debut of Owen D. Pomery's raucously brilliant The Megatherium Club, and the always thoughtful narratives of Tim Bird.
Read reviews of Reads Vol.1 #1-2 here, #3 here and #4 here
Small Pressganged soundbite: We've long since passed the point where a number of the many excellent British comics anthologies that we still class as "small press" effectively became prozines. Thankfully we still have Reads, Team Girl Comic and others to fill the void they once inhabited and provide a platform for creators whose work may not be quite as honed but is certainly no less rewarding.
Grey Area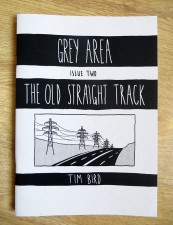 Tim Bird's psychogeographical work was a hair's breadth away from inclusion in my Celebrating 2013: Ten UK Small Press Titles You Need to Own round-up column last year, and his AHP output has crossed over into both strands of their publishing philosophy with Infrastructure, his illustrations of scenes on his travels/explorations within the M25, being part of the AHArts line this year. Grey Area, his so far sold-out series that, to date, has examined the London's nocturnal worlds and the motorways of the UK, will be of great appeal to anyone who appreciates the pioneering work of Oliver East and Simon Moreton. Look out for the upcoming third issue…
Read reviews of Grey Area #1 here and #2 here
Small Pressganged soundbite: Bird overlays the vast sprawling motorway network of Great Britain with a mystical and arcane pseudo-reality, transforming it into a kind of sprawling entity in and of itself. Separate journeys become parallels to human existence while individual voyagers along these roadways weave in and out of each other's stories, becoming footnotes in the continuity of other lives.
The Megatherium Club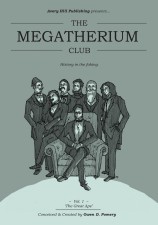 I can think of no better way to spotlight the versatility of Owen D. Pomery than to compare his pensive, haunting and emotionally wrenching self-published book Between the Billboards (recent review here at BF) with the bawdy, boisterous, pseudo-historical silliness of The Megatherium Club. Chronicling the adventures of the historically real group of scientific adventurers, but with a distinctively contemporary Carry On… vibe, this is a genuinely laugh out loud tale of a group of would-be hellraisers who, ironically, couldn't actually organise the proverbial in a brewery. Between the Billboards was another title on that Celebrating 2013: Ten UK Small Press Titles You Need to Own list.
Read a review of The Megatherium Club Volume 1: The Great Ape here
Small Pressganged soundbite: With a level of absurdity that is almost painstaking in its presentation The Megatherium Club is a comic that combines rapidly paced set pieces, wily wordplay and some wonderfully gratuitous gags.
The Festival
I first discovered Jazz Greenhill's work via a Comica Festival Comiket back in the days when the fair was held in the Bishopsgate Institute. It was there that I picked up a copy of her minicomic Source of Distraction. No online store where readers could buy Jazz's comics, though, meant I was not in a position to review it. I was delighted then when last year I heard AHP were set to publish her first longer-form work The Festival. This charming story, told in the lanscape format, of three young siblings exploring a music festival at night was startlingly confident in construction. We need more Jazz Greenhill comics and I'm very pleased to see she's contributing to AHP's Metroland series. The Festival also featured in my Celebrating 2013: Ten UK Small Press Titles You Need to Own annual round-up.

Read a review of The Festival here
Small Pressganged soundbite: The Festival is quite beautifully played, underlining that strange mix of rivalry, conflict and concern that characterises the youthful brother-sister relationship.
Seasons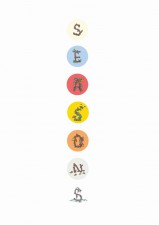 Mike Medaglia's understated, spiritual approach to the comics page was the driving force behind the acclaimed anthology Wu Wei last year which featured the cream of the UK small press scene between its covers. Seasons has a similar philosophical aesthetic, exploring the seasons of life by linking them inextricably to those of nature in a series of four gentle but highly evocative tales. Another book from Avery Hill to be featured in my Celebrating 2013: Ten UK Small Press Titles You Need to Own round-up. Beginning to see a pattern here? 
Read a review of Seasons here
Small Pressganged soundbite: The triumph of Seasons is that it's a comic that you perceive on an emotional level rather than an analytical or intellectual one. It speaks to the reader because it's such an evocative re-creation of shared experiences that we all understand.
Maleficium
EdieOP's first full-length graphic novel Maleficium will not be published until later this year but we did run some exclusive preview art from it a few weeks back. I've described Edie as "my major self-published find of 2013" in this column in the past and… guess what? She also featured in that Celebrating 2013: Ten UK Small Press Titles You Need to Own round-up. Her work has a deceptive visual innocence but with a bitingly morbid wit to it. You can find out more about her comics from all my EdieOP coverage at Broken Frontier here.
See a preview here
Small Pressganged soundbite: A nefarious imagination is only one part of the recipe for success for EdieOP's tangled tales though. What really brings them to melancholic life is the ingeniously beguiling and childlike artwork that lures you into her narratives with an inoffensive charm, only to spring its grotesque visual trap on you when you are wholly incapable of escaping its clutches.
Related interviews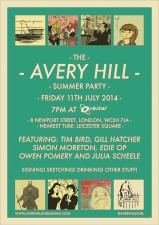 As part of my ongoing 'Small Press Spotlight on…' interviews in 'Small Pressganged' I've interviewed a number of creators associated with Avery Hill.
Avery Hill publishers Ricky Miller and David White talk about their publishing plans and AHP's creators – part 1 here and part 2 here
Owen D. Pomery talks about Between the Billboards and The Megatherium Club here
Mike Medaglia talks Wu Wei here
Gill Hatcher talks Team Girl Comic here
The Avery Hill Publishing Summer Party will be held at London's Orbital Comics this Friday 11th July. Full details on their events page here. You can find out more about AHP from their website here. To order the comics featured in this article visit their online store here and check for availability.