The intersection between place, time and memory has been an integral part of Tim Bird's Grey Area series from Avery Hill Publishing over the last few years. In Grey Area: From the City to the Sea – the last British Comic Award-winning entry in the run – Bird explored that theme from the perspective of our relationship with our environment in a centuries-spanning travelogue that reminded us that the echoes of the past were not beyond the bounds of our perception.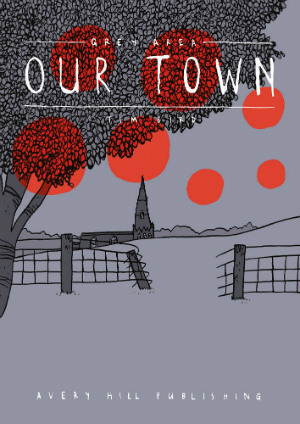 This fourth, self-contained issue is something of a diversion from Bird's approach to date, focusing on a direct connection to a sense of space and location and adopting a more traditional narrative structure.
When I picked Grey Area: Our Town as our 'Comic of the Week' prior to its Bristol Comic and Zine Fair debut I said that it was a book that cemented Bird's place as one of the leading players in the new wave of British comics. While his solo output is perhaps not as prolific as some of his contemporaries his storytelling and mastery of the form has developed markedly between each issue of Grey Area.
Our Town is the story of three characters: the first two are a couple who we observe at different points of their lifetimes and the third is the place they met which becomes as important a player as its human counterparts – a vital component in their relationship as mutual worlds come together, memories overlap and lives converge.
We follow this threeway union as childhood bonds are formed with the titular surroundings, as the two central characters' existences collide and coalesce within its environs, and then in later life as they revisit that locale for one final moment of symbiotic release and appreciation.
Throughout, a simple origami bird acts as both catalyst for this coming together of souls and as a recurring motif to symbolise their shared experiences, given extra significance by Bird's carefully considered colouring choices. If From the City to the Sea was notable for the creator's striking and moving individual imagery then Our Town is a testament to his sequential pacing. Tight, multi-panelled pages that seem quietly introspective but nevertheless foreshadow later thematic explorations with subtlety and nuance.
There's a delicacy, almost a fragility, to the pages of Our Town but also a corresponding potency and evocative intensity. It's a beautifully paced and a gorgeously touching tale in its own right but its true power is in the poignant connection it makes with its readership, reminding us of the places that shaped us, the emotional investment we make in them and those who share those feelings with us. Bird's lyrical. mellifluous narration carefully underscores that link.
In the years that I've been covering his work Tim Bird has evolved from an artist of undeniable but raw potential to one of the UK scene's finest practitioners of pure comics craft.  Once again, Avery Hill's commitment to their stable of regular creators has reaped dividends because Our Town represents Bird at his most confident as a graphic storyteller yet.
For more on Tim Bird visit his site here and follow him on Twitter here. You can buy Grey Area: Our Town from the Avery Hill site here priced £7.00.
For regular updates on all things small press follow Andy Oliver on Twitter here.