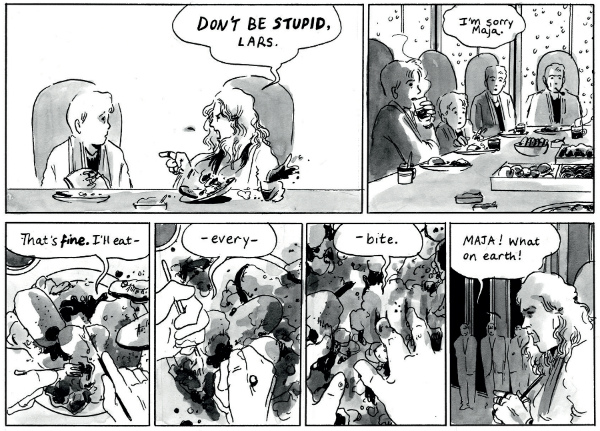 I have been particularly fortunate in the years that I have been writing 'Small Pressganged' here at Broken Frontier to be able to not just cover a number of astonishing new talents but also follow their creative development as their styles evolve and they become more confident in their storytelling craft. Seldom, though, have I encountered an artist whose debut print work is so assured in composition, and so mature in realisation, as Tillie Walden's is in the pages of her first full-length graphic novel The End of Summer. The book is brought to us – you will be unsurprised to hear from that build-up – by that always impressive micropublishing force Avery Hill Publishing.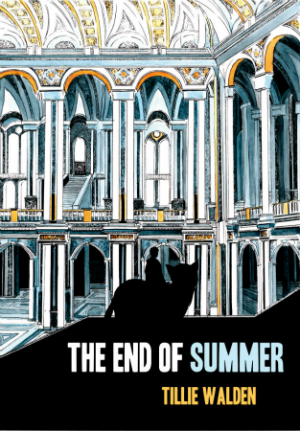 While The End of Summer is ostensibly a dark fantasy tale, its dramatic roots lie in very recognisable themes of familial conflict and identifiable fears. Set within the walls of a sprawling castle that is almost a world unto itself, it follows the degenerating relationships between a well-to-do family. It's told largely from the perspective of one of the youngest children, the ailing Lars, whose sickly condition means he relies on riding his giant cat Nemo as a mode of transport.
When we join this cast of characters they are preparing to close themselves away from the three-year winter that is enveloping the castle's outside boundaries in its freezing grip. Lars, tended by his faithful servant Hector, is convinced he will not live long enough to see this bitter season's end. A large proportion of the narrative is focused on his attempts to deal with the tedium of the clan's confinement, his failing health and his close but troubled bond with his insubordinate and wilful twin sister Maja who is determinedly rebelling against the strange conventions of the household.
As the months progress the extreme personalities and fractured interrelationships of this strained family unit and their own ways of dealing with their enforced exile within the castle's walls come to the fore. These include a disturbed and obsessive brother whose mania will lead him down a very twisted path, a mother who must battle to hold their lives together, and an older brother and heir finding love for the first time. As tensions grow and revelations build up, events proceed to their inevitable fatalistic conclusion…
The End of Summer is by no means a straightforward reading experience. Walden has no reservations about making her audience work a little harder to understand every layered nuance, to comprehend the full implications of each situation, and to discern the motivations behind all the characters' actions in their broadest sense. In this regard this is a graphic novel that doesn't simply reward re-reading… it positively demands it. Intriguingly, though, rather than detracting from the experience this obscurely constructed storytelling style is actually a thematic boon mirroring, as it does, the complexities of the cast's personalities and the child's eye view of many of the events depicted.
The taut atmosphere and that air of tragic predestination that permeates the pages of The End of Summer is one of the book's greatest dramatic triumphs and that's in no small part due to the story's setting. Walden's elaborately designed castle interiors have a haunting quality that is fascinatingly contradictory in the response it elicits from the reader; both echoing and cathedral-like in their expansive environs and yet claustrophobic and imposing at the same time. Allied with her careful attention to the overlapping sub-plots of the individual family members, as they escalate towards their inescapable conclusions, it lends a sense of inexorable doom to the proceedings.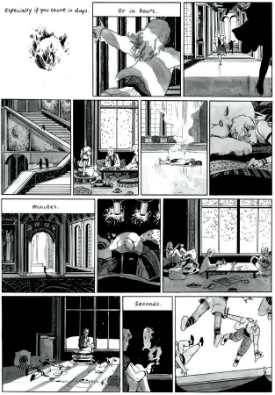 When I interviewed Walden earlier this year at Broken Frontier here she spoke candidly about the autobiographical side to the story, the way that Lars and Maja's connection was drawn from her relationship with her own twin brother, and how her past health issues had fed into her depiction of Lars' convalescence. She concluded by saying "It's funny for me to think of the book as fantasy, because even though it takes place in an otherworldly place and it doesn't resemble modern life, it's ultimately a very personal story for me." Any reader with even a passing familiarity with her comics will be aware of how that propensity for imbuing her work with direct autobio elements has lent such a raw honesty and empathetic authenticity to her back catalogue to date.
Walden's debut full-length work speaks so articulately to the reader not just because it's a delicate character study, or through its grimly fantastical fantasy realm, but simply because there's so much going on here that is instantly relatable, despite being dressed in the trappings of the bizarre and the extravagantly grotesque. It's a comic that will take you back to childhood fears – loneliness, betrayal, a loss of control, and the crumbling collapse of the family unit – and immerse you once more in those feelings of helplessness and powerlessness that characterise our younger days.
For many who have discovered Tillie Walden from the growing press profile she's had this year, though, it will be her stunningly crafted visuals full of intricate detail and beautiful pacing that will have been the immediate draw to her work, and The End of Summer will not disappoint on that score. But beyond that gorgeous and ornately realised style there's the most innate understanding of the form on show here in terms of narrative transitions and page layouts. Just look at the example above right of her depiction of the passage of time that turns an abstract concept into almost a brooding character in its own right, or her panel design in the scenes of Lars at death's door early in the story (below), or any number of juxtapositions of recurring motifs throughout with the events they pertain to.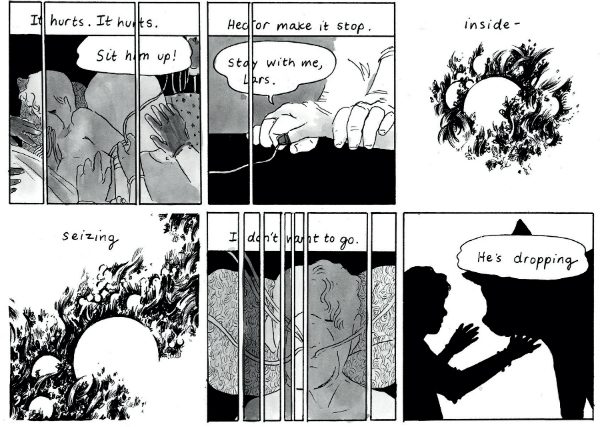 This book is a major coup for Avery Hill Publishing who will, no doubt, be able to say in years to come that they launched the career of one of the medium's future foremost practitioners. You're unlikely to read anything else this year that so fully manipulates the pure mechanics of the comics form to the degree that The End of Summer does. It really is that remarkable a piece of work and Tillie Walden really is that remarkable a prospect.
For more on the work of Tillie Walden visit her website here and follow her on Twitter here. You can buy The End of Summer from Avery Hill's online store here.
For regular updates on all things small press follow Andy Oliver on Twitter here.