One of comics' hidden geniuses UK artist Hurk (often Lord Hurk though he now appears to have embraced the zeitgeist and renounced his peerage for his latest book) has long been due far greater renown for his witty, absurdist flights of fancy. As those involved with the UK small press scene will already be aware Hurk has been self-publishing comics (Bazoik, Affordable Amazement) and contributing to numerous anthologies for around two decades. His second graphic novel Jinx Freeze was published at the end of 2021 by Avery Hill Publishing. It's his second full-length book after 2016's Ready for Pop from Knockabout, and notably his first in full colour.
Trying to describe the plot of Jinx Freeze is something of a task in itself. It's kind of the equivalent of (and I mean this in the very best way) an artist throwing as many different coloured cans of paint onto a wall as possible and seeing what the end result is. Characters dip in and out, storylines weave, diverge and digress, and frequent sidesteps into surreal cutaway moments punctuate this graphic novel. And, quite frankly, anything else would be a disappointment. The rejection of narrative coherence is an integral part of the fun (there's even a recap page about two thirds of the way through to underline the fine points of the manic goings-on of the previous 90 pages) and very much vital to the frenetic, frenzied workings of Hurk's approach.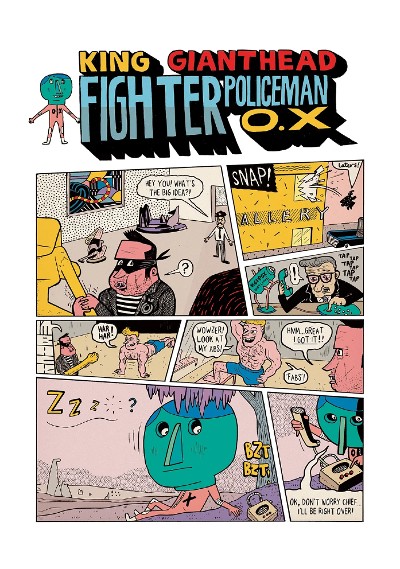 Ostensibly Jinx Freeze is a crime caper but it's one that is infused with multiple elements of other genres, pop cultural references, and wacky slapstick. On the Riviera, part of a sculpture on loan from the Gurgleheim Museum (yes you read that right) has been stolen and the hapless local police are clueless about how to recover it. The heroic King Gianthead Fighter Policeman O.X is also of little use as he's lost in a dream world. Modern Tahzrn can't contact his jungle pals for help as his sidekick Igor Jnr. is using all the broadband. And Danny Kildare, Space Priest is recuperating after an unfortunate mishap.
Throw Marge (at Large), stunt rider Yvonne McEvil, private detective Shitplank and many, many other super weird characters into the mix and events become ever more convoluted. Meanwhile at the centre of it all, in the pop-up event The Great Exhibition of 11851, visitors are mysteriously disappearing and extraterrestrial influences may be involved…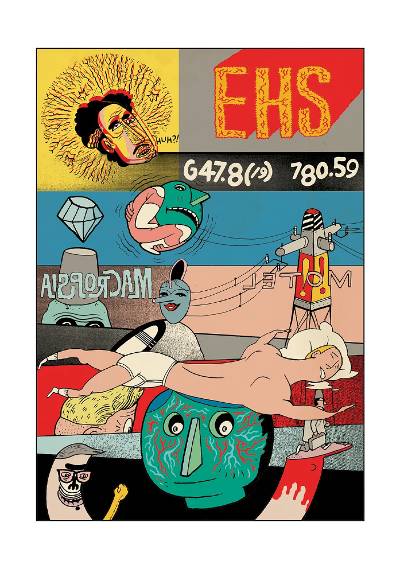 Hurk structures every sequence of the book as a specific character or organisation's own comic strip, each with its own title header that feeds into the overarching story. His wild imagination has a frequent meta quality, not simply in its structural compositions and semi-regular winks in the reader's direction but also in the shape of characters like comics podcaster and self-publisher Crash Bellenderson, whose pretentious comics criticism and tedious autobio comics will no doubt induce a nervous laugh or too from some of us on the indie comics circuit. There are also a number of eccentrically British references that will be enjoyed by those of a certain age including the 1970s kids TV homage character Clarsley the Lion, and afterlife appearances from Thora Hird and Richard Whitely.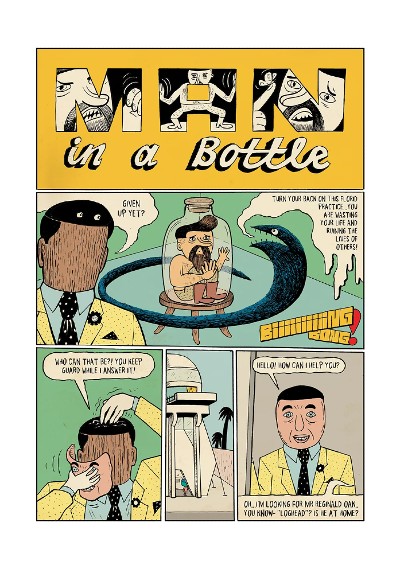 Hurk's skewed panel layouts and grotesquely angular protagonists all add to the affected unreality of his work but one of the aspects of his art that never quite gets the respect it deserves is the sheer sense of design that goes into it. There's a reason he was nominated as 'Best Artist' in the 2021 Broken Frontier Awards after all. Jinx Freeze is undoubtedly Hurk's greatest achievement to date; a madcap foray into a meandering mindscape of outlandish oddballs from one of the UK's most underappreciated masters of the form.
Hurk (W/A) • Avery Hill Publishing, £12.99
Review by Andy Oliver