After a summer break the Gosh! Comics and Broken Frontier Drink and Draw is back this month just in time for UK festival season with a stellar line-up of creative talent. Joining our regular Artist-in-Residence the incomparable Danny Noble (Was it… Too Much for You?) – and co-hosts Tom Oldham from Gosh! and myself, Andy Oliver, Broken Frontier Editor in Chief – are acclaimed graphic novelist Karrie Fransman (Death of the Artist) and rising star Mike Medaglia whose One Year Wiser from SelfMadeHero has been one of the big crossover hits of 2015.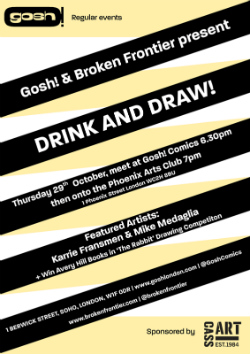 Our October meet-up also offers our aspiring artistic attendees the opportunity to win copies of Rachael Smith's The Rabbit from Avery Hill Publishing, recently nominated for a British Comic Award and described here at Broken Frontier as "a deliciously dark, endearingly whimsical and tenderly observed tale of childhood rites of passage." We're tying in to Avery Hill's fan art competition which includes the chance to win original Rachael Smith art. More details here on the AHP site but we'll be looking for your interpretations of Craig the Rabbit from the book on the night.
As ever we kick off on Thursday 29th October in 6.30pm in Gosh! Comics when you can buy books by our guest artists and get them signed. Then at 7pm we move to the Phoenix Artist Club on Charing Cross Road for an evening of themed drawing activities and convivial drinking fun. We look forward to seeing you then!
More on our guests below…
Karrie Fransman
"There are still so many untapped opportunities to play with the medium!" – Karrie Fransman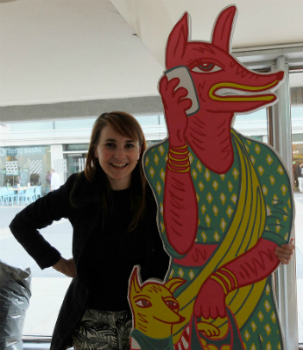 Karrie Fransman's name has become synonymous with boundary-pushing comics that tirelessly explore the endless possibilities of the medium in all its glorious forms. Her debut graphic novel The House that Groaned was published in 2012 by Square Peg and was nominated in the Best Graphic Novel category in the 2012 Broken Frontier Awards.
She was also one of the creators involved in Ravi Thornton's graphic memoir HOAX: Psychosis Blues, a contributor to Keara Stewart's anthology A Bit of Undigested Potato, and her short comic Over Under Sideways Down for Refugee Week won last year's Broken Frontier Award for Best One-Shot.
Her latest graphic novel Death of the Artist was published by Jonathan Cape this year and described by me here at BF as "very probably her greatest achievement yet as one of UK comics' most dexterous exponents of the singular narrative opportunities of the form."
You can read a full Broken Frontier interview with Karrie here.
Mike Medaglia
"There is a very rich visual and thematic tradition in eastern philosophy and religions, and drawing on all of that for inspiration feels like I have a bottomless well of places to explore in my work." – Mike Medaglia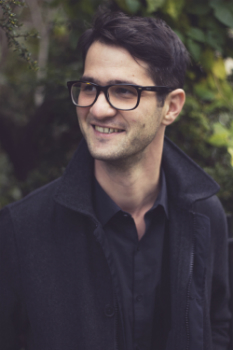 Mike Medaglia has become renowned as an artist whose combination of spirituality and eastern philosophical influences have given his work a unique character in UK comics over the last few years. We first covered Mike at Broken Frontier when he launched his much praised multi-creator anthology Wu Wei a few years back.
Mike's comics have been seen in collaborative efforts like The Comix Reader, A Bit of Undigested Potato, To Arms! and Tempo Lush Tales. His comic Seasons, published by Avery Hill, made my 2013 list of 'Ten UK Small Press Comics You Need to Own!'.
One Year Wiser, his inspirational collection of illustrated meditations, was published by SelfMadeHero this year. He has also been working on his webcomic Last Days of Nobodies.
You can read a full Broken Frontier interview with Mike here.
Danny Noble
"I was at a party a few months ago and a friend suggested I draw more Oliver Reed. The moment he said it I felt myself lifted and happy. I had a purpose. I needed to bring Oliver Reed and Alan Bates' cocks to the people." – Danny Noble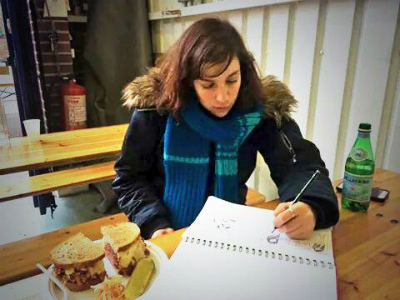 Danny Noble's drunkenly surreal adventures of a parallel universe-dwelling, perpetually naked Oliver Reed and Alan Bates in her Was it… Too Much for You? strips have undoubtedly been one of the breakout self-published strips of 2015. Danny returned to the world of comics this year after a significant hiatus and over the last twelve months or so has quickly become one of our most prolific small pressers.
Her brilliant slacker comedy Monday Morning was reviewed by me here at BF last year and was one of my selections for our 2014 'Ten UK Small Press Comics You Need to Own!' column. This year I spotlighted her as one of my 'Six UK Small Press Creators to Watch in 2015!', and she has also been a Dirty Rotten Comics and A Bit of Undigested Potato contributor and re-published her Hangover Farm stories in that time.
Her most recent book Ollie and Alan's Big Move debuted last week at the Lakes International Comic Art Festival. You can read my full Broken Frontier review of it here.
You can read a full Broken Frontier interview with Danny here and her thoughts on her work in a creator's commentary here.
For more on the Rachael Smith's The Rabbit competition visit the Avery Hill Publishing site here.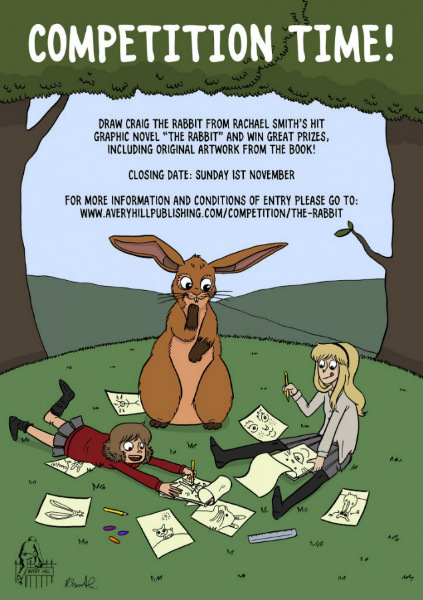 The Facebook event page for the Drink and Draw is here.