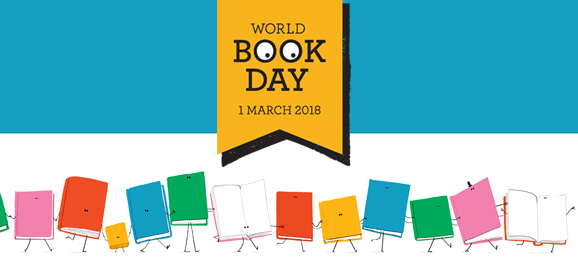 It's World Book Day in the UK today (for the rest of the world it's late April!). Last year we asked comics folk for their graphic novel recommendations and we always grasp WBD as an opportunity  for evangelising about the unique storytelling qualities of comics. After all, there's a far wider potential readership out there still filled with those erroneous preconceptions that this amazing, expressive, and empathetic medium is somehow inherently unsophisticated in construction and content.
So today we're going to give a quick shout-out here and on social media to just a tiny handful of books that we suggest could be ideal entry points into the form's possibilities for those new to sequential art, and perhaps change the minds of the naysayers about the communicative power of sequential art in the process.
Below we've provided you with quick summaries, soundbite quotes and links to past Broken Frontier reviews so you can investigate ten excellent examples further. What all these books have in common is that – whether in a subtle and nuanced way or an overt and ostentatious one – they all utilise the pure storytelling language of comics to weave their tales in interesting and skilful ways. And, hopefully, it's not a list that's full of the usual suspects trotted out on these occasions.
The work below ranges from the joyous to the uncompromising, the deeply affecting to the wittily experimental, and the wistful and philosophical to the informative and exploratory.  As we like to say here at BF "comics can be whatever we want them to be…" and the art of these creators is testament to that.
Death of the Artist
Karrie Fransman's Broken Frontier Award-winning book (Best Graphic Novel 2015) traces events and their repercussions surrounding a fateful weekend away for five old university friends, recounting their individual perspectives in a variety of different media and styles, including illustrated prose, photography and retro-style comic strip art.
BF soundbite: "A book that represents an awe-inspiring reminder of the complexities, the inventiveness, the eloquence and the articulacy of the language of comics."
Read the full review here
Karrie Fransman and friends (W/A), Jonathan Cape, (2015)
A Thousand Coloured Castles
A suburban mystery story wherein pensioner Myriam's suspicions that all is not well in her neighbourhood are tinged by the bizarre hallucinations that make up her everyday life living with Charles Bonnet Syndrome. Illustrated with a distinctively atmospheric crayoned technique.
BF soundbite: " This re-imagining of twee middle class suburbia, as seen through the fractured lens of a distinctively Brookesian eyeglass, is a visual triumph."
Read the full review here
Gareth Brookes (W/A) • Myriad Editions, (2017)
As the Crow Flies
Melanie Gillman's ongoing story was first published in webcomic form before a successful Kickstarter brought the first volume to print. It follows a week in the life of queer 13-year-old Charlie Lamonte at Camp Three Peaks – a rural Christian retreat where teenage girls follow in the footsteps of a group of 19th century pioneering women by retracing their annual all-woman pilgrimage. As the only black member of the trip, though, Charlie's already faltering religious convictions are put to the test as the week progresses and she and fellow camper Sydney begin to challenge the camp ideals that surround them…
BF soundbite: "A book that, as the Kickstarter promotional material pointed out, can now be found in print by the "real Charlies and Sydneys of the world" and one that, in microcosm, speaks to us all about the unconscious biases and entrenched inequalities that permeate every strata of our societal structures."
Read the full review here
Melanie Gillman (W/A) • Iron Circus, (2017)
For the Love of God, Marie!
Jade Sarson's Myriad First Graphic Novel Competition-winning book details the life of the non-conformist free spirit Marie, from her Catholic sixth form college days in the 1960s through to the 1990s, and explores her very individual approach to life, love and making people happy.
BF soundbite: "For the Love of God, Marie! simply oozes positivity, love and compassion. A truly joyous graphic novel from one of the UK's fastest rising indie comics stars."
Read the full review here
Jade Sarson (W/A) • Myriad Editions, (2016)
Becoming Unbecoming
Una's autobiographical account of gender violence is set against the backdrop of the 1970s and the hunt for the serial killer the Yorkshire Ripper. As these events play out in the wider world, on her own individual stage the young Una is about to experience a series of violent acts that will reshape her very sense of identity.
BF soundbite: "Delicate in construction yet uncompromising in message, Becoming Unbecoming is an astonishing testament to the potency of visual metaphor."
Read the full review here
Una (W/A) • Myriad Editions (2015)
Lost Property
Most of the books on this list have been Broken Frontier Award-nominated and Andy Poyiadgi's Lost Property is no exception, having won the Best One-Shot Award back in 2015. Postman Gerald Cribbin is a man whose working life revolves around the safe delivery of other people's belongings. But when Gerald receives a call from the local Lost Property Office to tell him one of his possessions has been handed in he makes an incredible find. There, in the environs of this strange little store, is every item he ever mislaid or parted company with. What strange trick of fate led to this bizarre set of circumstances, and why? What long buried dreams will they bring to the fore? And just how will this unexpected discovery change his life forever?
BF soundbite: "Lost Property is a comic that is the most articulate of advocates for the argument in support of the unique narrative possibilities of the form."
Read the full review here
Andy Poyiadgi (W/A) • Nobrow Press, (2015)
Brooklyn Dreams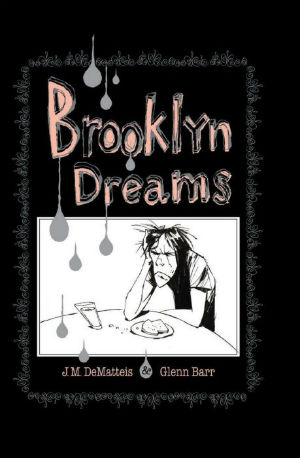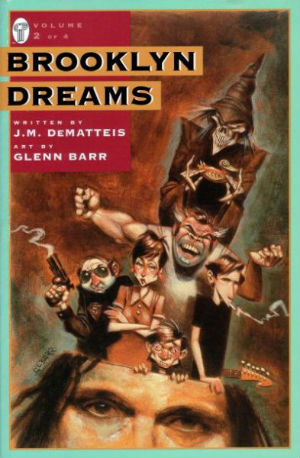 Originally published in 1994 by DC's short-lived Paradox Press imprint, J.M. DeMatteis and Glenn Barr's Brooklyn Dreams is one of the finest examples of the (semi)-autobiographical strand of storytelling to ever grace the comics page. An account of growing up in Brooklyn in the 1960s and the 1970s it's also a book about about memory and our perception of it; an examination of not just what we remember but how we choose to remember it; and a celebration of why embracing a flawed but vibrant interpretation of our pasts is sometimes preferable to a rigid adherence to the cold mundanity of reality.
BF soundbite: "The slice-of-life genre has rarely been so cleverly fashioned or uniquely fabricated as it is by DeMatteis and Barr within the pages of Brooklyn Dreams."
Read the full review here
J.M. DeMatteis (W), Glenn Barr (A) • IDW Publishing (2012)
Crawl Space
Daisy and Jeanne-Claude have a secret that underpins the bonds of their friendship. In the dark recesses of the basement of Daisy's house there's a portal to a fantastic otherworldly dimension of polychromatic, psychedelic life. As the friends explore this strange reality they discover they are becoming shaped by its influence. But their relationship will soon become tested as Jeanne-Claude begins to introduce more and more of their schoolfriends and peers to its marvels, and Daisy starts to question just how genuine her newfound popularity really is…
BF soundbite: "Crawl Space is a book that subverts the conventions of the form yet in the process reminds us of everything that makes the medium so tangibly unique"
Read the full review here
Jesse Jacobs (W/A) Koyama Press (2017)
Out of Nothing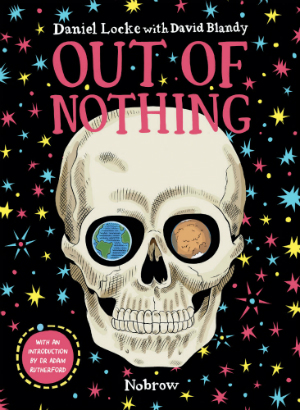 Presented from the point of view of an observing time-traveller, Locke and Blandy's Out of Nothing  is essentially a history of ideas from the beginning of time to the far future, a chronicle of the birth of creativity and an exploration of how the evolution of our very imaginations would in turn shape and change our environments.
BF soundbite: " One of the most fascinating books Nobrow have published to date and one that underlines just how effective the form is in breaking down and exploring profoundly layered ideas with clarity and immediacy. This is graphic science at its very best."
Read the full review here
Daniel Locke and David Blandy (W), Daniel Locke (A) • Nobrow Press (2017)
I Love this Part
If we're pushing a feature with the selling point of "the language of comics" then we simply cannot omit a Tillie Walden book from this list. Our review of I Love this Part was of the original release but Avery Hill Publishing have since put out a new deluxe hardcover version. Walden's powerful use of visual metaphor is inspired in this stylised slice-of-lifer that focuses on the burgeoning relationship between two girls in a small US town. Lazy afternoons of shared youthful pursuits and mutual teenage anxieties slowly evolve into a far more intimate union as initial friendship becomes something far closer and more complex.
BF soundbite: "Touching, poignant, occasionally funny, and quietly devastating… I Love this Part is a comic of rare, raw and precious beauty."
Read the full review here
Tillie Walden (W/A) • Avery Hill Publishing (2015)
For more on World Book Day visit the site here