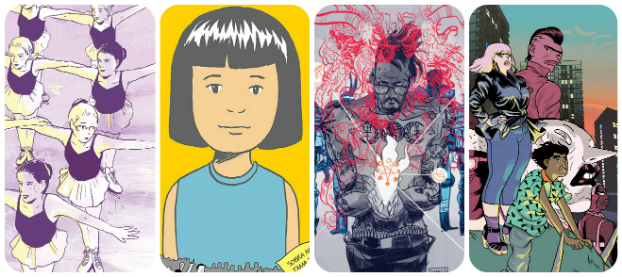 It's nearly Wednesday, and you know what that means: a fresh load of comics and graphic novels! With so many publications hitting your local comics store, comics events or digital storefront, the BF team are here to lead you through the woods with our weekly staff picks. Satisfaction guaranteed!
Comic of the Week
Spinning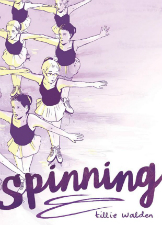 I think we've probably exhausted all the superlatives now at BF when it comes to describing the talent of Tillie Walden! (And I'm sure I've probably even expressed that exact same sentiment here previously.) But that in no way diminishes from the sense of excitement we have here on the site this week at the publication of Spinning – Walden's much anticipated graphic memoir – from First Second in the US and SelfMadeHero in the UK.
A couple of years back we were lucky enough to get the first exclusive coverage of Tillie's debut graphic novel The End of Summer courtesy of Avery Hill Publishing and it's been an absolute joy to see the practice of an artist whose work was already so accomplished as a teenager go on to evolve and grow to such a remarkable degree during that time. She was our 2015 Broken Frontier Breakout Talent Award winner and it was a privilege indeed for me to interview her in front of an audience as part of our Broken Frontier Panel at ELCAF this past summer.
Spinning is a coming-of-age story that looks back on Walden's childhood as a competitive figure skater – a pursuit that became an all-consuming part of her life for a decade. It's also an autobiographical account of identity, escape, coming out and accepting life's transitions. Creators with Tillie Walden's command of the medium come along once in a generation. Her intuitive understanding of the mechanics of the form is astonishing in both its confidence and delivery and Spinning isn't just one of the most eagerly awaited books of 2017 here at Broken Frontier… it's one of the most eagerly awaited books of the decade.
This is not hyperbole. This one you don't want to miss.
Tillie Walden (W/A) • First Second/SelfMadeHero, $17.99/£14.99
– Andy Oliver
Duran Duran, Imelda Marcos and Me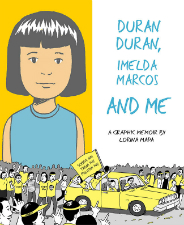 Lorina Mapa's graphic memoir about growing up in the Philippines in the 1980s uses the pop cultural reference points of Duran Duran and Depeche Mode in its account of  the EDSA Revolution.
Told from the author's perspective, after she returns home following the death of her father, it jumps chronologically to present a very personal story of a father-daughter relationship set against the backdrop of a pivotal point in the country's history.
Lorina Mapa (W/A) • Conundrum Press, $18.00
– Andy Oliver
Retcon #1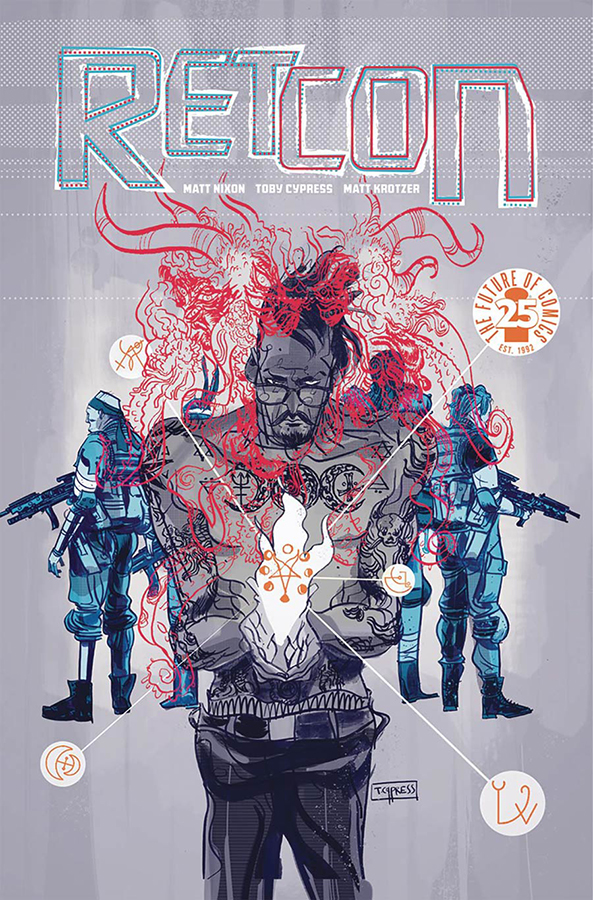 Retroactive continuity is a literary device typically used by introducing new information which contradicts established continuity in order to impose a new interpretation. We've come to know it in comics as a "reboot". But what happens when a series that never existed before gets rebooted?
Join Chris "The Animal" Dodges, The Skinwalker, Merry Sue and the rest of the paranormal soldiers on a psychedelic journey through time as they discover that their past missions and reality as they know didn't exactly turn out as they thought.
Matt Nixon (W), Toby Cypress (A) • Image Comics, $3.99
– Tyler Chin-Tanner
Dalston Monsterzz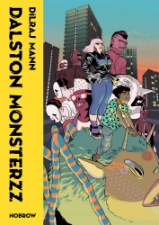 Launching this week at London's Gosh! Comics on Friday September 15th (full details on the Gosh! site here) Dalston Monsterzz is the long-awaited and eagerly anticipated debut graphic novel by Dilraj Mann.
Set in a near future Dalston, after the monsters emerged, it takes place in a world both recognisable and fantastic – an urban environment where strange creatures, gang warfare and hidden truths co-exist. Illustrated in Mann's fluid style, with a breathtakingly gorgeous colour palette, Dalston Monsterzz is one of Nobrow's key releases of 2017.
Dilraj Mann (W/A) • Nobrow Press £14.99
– Andy Oliver
Sax Rohmer's Dope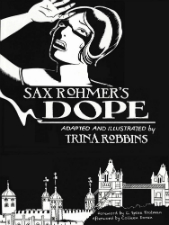 It's an exciting time to be a Trina Robbins fan with the release of her illustrated memoir Last Girl Standing from Fantagraphics Books, and this week her adaptation of Sax Rohmer's Dope – work that Robbins herself reportedly considers to be some of her very best – is published in a collected edition.
Rohmer's 1919 book was based on the real life circumstances surrounding the death of the actress Billie Carelton and was groundbreaking in its depiction of the international drug trade. Originally serialised in the 1980s in Eclipse Magazine, Dope is now available in this handsome hardcover edition from IDW.
Trina Robbins (W/A) • IDW Publishing, $24.99
– Andy Oliver
The Realm #1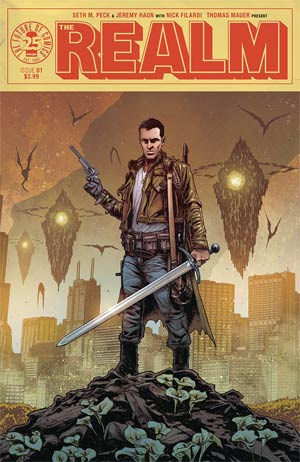 Post-apocalyptic urban fantasy meets high fantasy in The Realm #1, which promises to be a non-stop action thriller. Fifteen years ago, the creatures of myth overran our world, and orcs, dragons, and nameless horrors tossed the planet into chaos. Amid the violence and mayhem, what's left of civilization fights to survive. As a powerful sorcerer accumulates a huge fighting force, a small band of warriors sets out on a journey to reclaim the Earth.
Writer Seth Peck (X-Men) and artist Jeremy Haun (The Beauty) unleashed your worst Dungeons & Dragons nightmares on modern civilization—and civilization lost. It's an intriguing concept as their band of heroes is equipped with modern weaponry along with the useful list of close fighting and ranged weapons you expect to find in high fantasy tales. Urban fantasy and high fantasy are going to form a fun blend in this title. If you're familiar with the Shannara series from Terry Brooks, you're going to dig Realm.
Seth Peck (W), Jeremy Haun (A) • Image Comics, $3.99
– Karen O'Brien
Dreams in Thin Air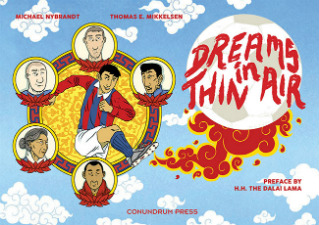 Bringing fascinating true events to the comics page Dreams in Thin Air tells the story of the Tibet national football (or if you're in the US then soccer) team. It follows the efforts of journalist Michael Nybrandt who, having discovered the Tibetan people's love of the game, came up with the idea of the team to raise awareness about their country's plight under China's occupation.
This would see them eventually overcoming the political and bureaucratic obstacles put in their way to play their first (unrecognised) "international" match against Greenland. Presented in an appealing landscape format with accessible and engaging visuals this is another book well worth checking out from the ever eclectic Conundrum Press.
Michael Nybrandt (W), Thomas Mikkelsen (A) • Conundrum Press, $25.00
– Andy Oliver
Nick Cave: Mercy on Me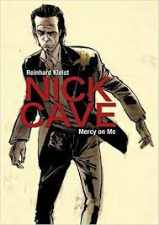 German creator Reinhard Kleist has carved out a deserved reputation as a graphic biographer with books like his acclaimed Johnny Cash: I See a Darkness, Castro and The Boxer.  His latest offering looks at the life of the supposed Prince of Darkness of the rock music world, Nick Cave.
Mercy on Me follows Cave's life from his childhood in Australia to early musical self-expression through to the highs and lows of his career fronting The Bad Seeds. Whether you're an established fan of Cave or an appreciative follower of Kleist's work this is another essential entry in SelfMadeHero's biographical comics series.
Reinhard Kleist (W/A) • SelfMadeHero
– Andy Oliver