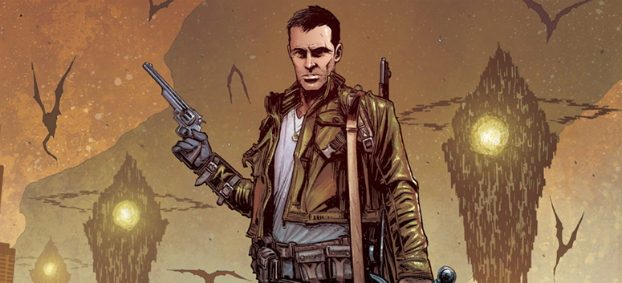 Set some years after the Earth was overrun by creatures of legend and the subsequent collapse of civilisation, The Realm is a comic that fuses its magical elements with the grittiest pseudo-reality. The very obvious (and admittedly rather lazy) comparison would be to say that it resembles a merging of the fantastical mythology of role-playing games like Dungeons & Dragons with the resigned nihilism of The Walking Dead. It's certainly a grimly fascinating contrast to the upbeat energy of its Image stablemate Scales & Scoundrels which also follows a disparate group of questing characters in a fantasy environment.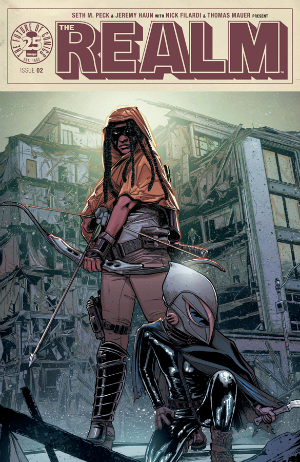 Writer Seth M. Peck and artist Jeremy Haun build up a steady air of suspense in these first two issues, giving us insights into a technologically-free society that has regressed to violent tribalism and lawlessness, and keeping some of the presumably more startling monstrous presences tantalisingly just off-camera. At the centre of the story is Will Nolan, a man charged with guiding a group of scientists across this ravaged country to Kansas City.
Aiding him is his mysteriously armoured partner Rook and the archer Molly who employed him. As their journey begins they come face to face with some of the perils of this frightening new world. But what is the mysterious cargo the group are transporting? What part will Eldritch, a sorcerer toying with dark arcane forces, play in events? And who is the mysterious helmeted warrior whose path seems destined to cross with the travellers?
Essentially The Realm is a variation on any number of post-societal survival stories but one that uses genre mash-up to put a new spin on familiar themes of life after civilisation has broken down. It's not particularly original in that regard but it is a neat twist on well-trodden ground with a premise that will surely allow for some spectacular convergence of the recognisably contemporary and the utterly fantastical in due course.
Haun's visuals underline this promise with flowing action sequences that bring together goblins and orcs with violent urban realism while Nick Filardi's deliberately gloomy colouring gives the book a suitably oppressive feel. There's some nice touches too in emphasising the otherworldly nature of the goblin gangs from Thomas Mauer who employs some unobtrusive but clever lettering tricks to remind us their dialogue is being translated for our ears/eyes.
Where the book is taking time to find its feet is in the area of characterisation. Visual characterisation is strong but it's such a sprawling ensemble cast at the moment that relatively little time has been devoted to fleshing them out. Many of the players feel defined more by what they do and their roles in the story, making the audience connection with them feel slightly lacking at this juncture. We're thrown straight into the action in these opening issues, however, and given there are a number of subtler hints about the characters' pasts and inter-relationships in #1-2 it would seem we can expect to see that addressed in upcoming issues.
With secrets to be revealed, subplots to be weaved together, and a familiar but eerily different world to be discovered The Realm is replete with enticing hooks and a genre playfulness in what looks set to be a gripping exploration of human survival against the most unlikely odds.
Seth M. Peck (W), Jeremy Haun (A), Nick Filardi (C), Thomas Mauer (L/D) • Image Comics, $3.99