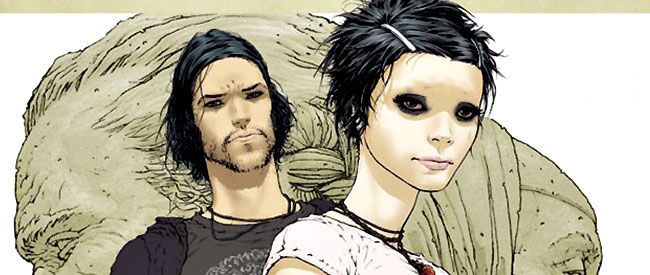 Hyped for months, the creator-owned debut of Mark Millar and Frank Quitely's deconstructionist superhero drama fails to break new ground.
I'll always love superheroes. I don't know that any of us, who are passionate about comics, even if we've adopted a more cynical view of the medium's most visible archetype, can say they don't. Spandex and capes and far-flung flights of fancy are how many – if not most of us – were first introduced to the art form. I grew up reading superheroes and along the way superheroes somehow grew up with me. The debate still rages amongst critics and industry pundits on whether this is a good thing or not but the fact remains that since 1986, the year comics were changed forever by works such as Watchmen and The Dark Knight Returns, the examination of the traditional mystery man has, for the most part, taken on a dark and disturbing quality.
For both Mark Millar and Frank Quitely, deconstructing the superhero is nothing new, which is why Jupiter's Legacy – their first creator-owned collaboration – is such a disappointment. When two names such as these come together on a project, creators who have careers founded on their ability to turn traditional graphic storytelling conventions and designs on their ear, one tends to expect something more than a refined rehash of their Authority run.
Despite a wonderfully subdued, pulpy set-up, laying the foundations for a world in which superheroes have been fighting the good fight since the early 1930s, Millar quickly returns to form, subverting the archetypal superhuman with scenes of post-modern hedonism, drug abuse, and pathetic, angst-ridden, self-entitled pastiches of familiar mainstream properties. Lacking the over-the-top, devil-may-care roguish charm of his world-building in Wanted, Millar's work on Jupiter's Legacy feels like he let the auto-pilot take over. Even the cutting, often insightful social commentary we've come to expect from Millar's work comes off as bland – almost as bland as the characters themselves, who all suffer from stilted dialogue, a lack of dimension, and too-few redeeming qualities.
Quitely's work, on the other hand, has never looked better – for Quitely, that is. I've never understood the rampant passion many fans feel for his work. The man's super-talented to be sure. His widescreen visual storytelling in the mold of Bryan Hitch and bombastic action sequences are still some of the best in the business. His design work in Jupiter's Legacy is some of the best of his career. I've just never liked his figure rendering. Perhaps this is more of a personal preference but I've always felt his facial expressions in particular distract from the superlative character designs. It's something about the eyes – they're a little too wide set; the noses often nothing more than a suggestion. The end result is a uniformity that lends an unnatural cast to the features and a lack of distinction between characters. This is most often noticeable in his female characters but a good case in point would be Walter and Sheldon from Jupiter's Legacy. If it weren't for the length of Sheldon's hair, the two would be almost identical in a group headshot.
Jupiter's Legacy isn't a terrible comic book. It's simply mediocre. There are some stand-out moments, such as the aforementioned opening sequence and a brilliant little meta-scene that fuses the process of building a panel into the story itself but they come too few and far between to save the book from a resounding hollowness and lack of opera.
At the end of the day, Jupiter's Legacy feels like a missed opportunity, not only for creators Millar and Quitely to truly push the envelope but for consumers to wait for the inevitable TPB.
Mark Millar (W), Frank Quitely (A), Peter Doherty (C) • Image Comics, $2.99, April 24, 2013.