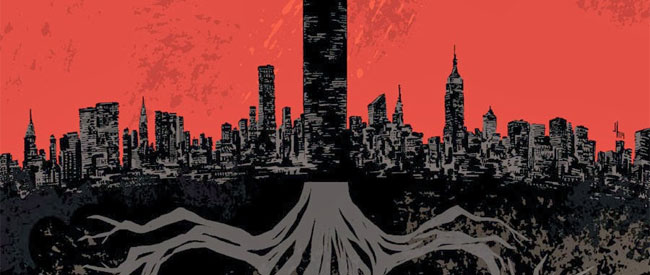 What Trees #1 lacks in high-octane 'alien invasion' action, it more than makes up for in global perspective and the promise of thematic depth.
As I've written before, I've been an admirer rather than a fan of Warren Ellis down the years (going back to his emergence from the pages of Speakeasy and Blast in the 1980s).
Even though the only work of his that I've really invested in is Planetary (with John Cassaday), I've always been aware of his attitude and energy, which seems to be humming constantly in the background of the comics universe, like residual radiation.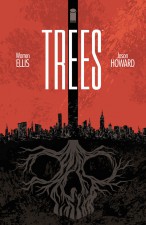 Nevertheless, the promise of a brand-new creator-owned series, in collaboration with artist Jason Howard, drew my attention – particularly as it seemed to spring from a similar set-up to one of my very favourite recent comics: the two-part Black Pillars, by Andrew White.
And I'm glad I looked, because while Trees #1 is an entirely different kind of comic from Black Pillars, it's a measured and stylish introduction to what looks like an intriguing sci-fi story.
That set-up? In the near future, it's 10 years since our first contact with alien life, in the form of the titular 'trees': huge black columns that installed themselves at various locations around the planet.
Of course there are a couple in New York, but one of the strengths of this opener is that it takes a more global perspective. And rather than offering the ubiquitous 'alien invasion' story, it seems a lot more interested in looking at how various societies on earth would respond to such a catastrophic event.
So we start in Rio, where the presence of the columns seems to provide an excuse for the police's further brutal suppression of the inhabitants of the favelas. Then, in New York (heavy with 9/11 overtones), we meet a "surreally rich" 1%-er who's using their presence as the backdrop for a mayoral campaign.
Meanwhile, in China, the area around the trees has been walled off into a de-regulated zone, an oasis of free-wheeling self-expression outside the control of the authorities. Seen through the wide eyes of a young artist who moves to the city from a small rural village, it's more 'par-tay' than Party (ahem).
Finally, on the remote Arctic island of Spitzbergen, a scientific base is studying the effect of the trees, ending the issue with the startling discovery of a new species of black flower (and possibly a call-back to the BBC's classic conspiracy drama Edge of Darkness, which posits that nature will eventually produce black flowers as part of a 'correction' to rid the world of the destructive human race).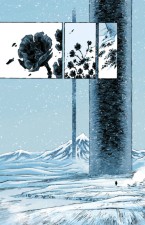 The ecological theme is taken a step further in the trees' relationship with the human race. The aliens have never attempted to communicate with us, and the placement of the columns, with no consideration for anything that might have been there before, offers a clear reflection of the way technologically (and economically) advanced societies feel free to dump their horrible shit on those less advanced, regardless of the consequences.
That theme becomes even more overt with the sudden extrusion of toxic waste from the trees in Rio, which destroys everything and kills everyone in its path. Like all the best sci-fi, this has a compelling contemporary relevance.
I've never come across the artwork of Jason Howard before (and I'm not entirely convinced that he didn't used to be in Take That), but he seems superbly equipped for the job. Dealing with four very different environments, his work is versatile, textured and convincing.
Howard seems as comfortable with teeming urban streets as he is with futuristic tech, hitting the sweet-spot of what Antony Johnston referred to as "lived-in sci-fi" when talking about his own Image title, The Fuse (with Justin Greenwood). His vivid and expressive colouring also deserves a strong nod.
Of course, the issue isn't flawless; that overfamiliar 'Ellis voice' makes itself heard amid a few characters, and there's a slightly awkward chunk of "As you know, Bob…" exposition over a few pages in the New York sequence.
However, this is a measured and intriguing introduction to a series that promises a stimulating look at how humanity deals with change and how our first contact with something profoundly alien might play out.
Warren Ellis (W), Jason Howard (A) • Image Comics, $2.99, May 28, 2014