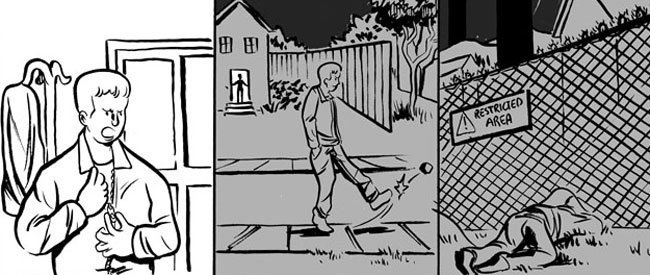 Since joining 'comics battle' site EnterVOID as a teenager, Rhode Island-based writer/artist Andrew White has been creating and publishing comics prolifically. Still only 23, the work he's producing at the moment shows a maturity, range and ambition that mark him out as a creator of note.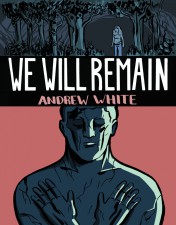 I first became aware of White's work with We Will Remain, a 44-page collection of short stories published last year by Retrofit. I covered it briefly in my feature on the publisher, but the comic warrants a closer look to highlight two of White's trademarks: the restless versatility of his clear, confident art style and his ability to examine a big theme in a number of ways.
One of White's preoccupations seems to be the limits of memory in the face of the passage of time. Do we need other people to verify our experiences to make them real, or can we rely on our own recollections? And to what extent do we recreate reality when we recall it in our memory? Operating in the liminal zone between realism and myth/fantasy allows White to examine this sort of question.
For instance, 'The Deep End', a seemingly simple story of a boy who befriends a fellow swimmer, has the feeling of a strange childhood memory stumbled upon in later life. The way the swimmer is still wearing her cap and goggles when the narrator sees her outside in her car hints at the way in which we reconstitute scenes in our minds from whatever fragments we can gather.
'Out of Focus', drawn in a much looser style, addresses the theme more directly, as the narrator struggles to recall the details of childhood holidays. 'Travel', drawn in a much bolder style, depicts the experience of an interdimensional traveller who is subjected to not only his own memories, but those of others.
The themes of permanence and the passage of time take centre stage in the title story – a remarkable eight-pager that traces the history of a sacred site from 10,000 BC to 4,019 AD. Each page consists of a background 'shot' of the site at a particular moment, over which a nine-panel grid depicts characters' interaction with it at different points in its history.
White's urge for experimentation takes a more distilled form in another strand of his work. Like Oliver East with his Rolling Stock series, White has been working on one-pagers that are published on the Comics Workbook site. These pieces highlight another aspect of White's practice that doesn't always feature in his print comics: his vibrant, almost Fauvist use of colour.
From Comics Workbook (click to enlarge)
The Comics Workshop one-pagers are often abstract explorations of a concept or image rolled out within the constraints of a regular eight-panel grid. Going through a series of these pages creates a real sense of poetic meter or rhythm, like a cycle of haiku.
White's narrative work and his more poetic explorations come together in synthesis in his main current project: Black Pillars. To be published in two parts, it's a series of linked pieces based around the inexplicable appearance around the world of huge black pillars.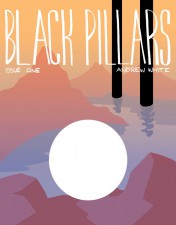 The first issue (52 pages) feels like a concept album, reminding me of Arcade Fire's The Suburbs in its domestic treatment of a mysterious catastrophe. After a silent prologue/overture of primal landscapes, each of the four main sections creates its own narrative rhythm and identity through its page layouts, with themes and images being revisited at various stages throughout the work.
In '1: On When They First Appeared', we see the pillars arrive and invade the empty places we saw in the prologue. Then, in '2: Dissolve/Fade to Black', a nine-panel grid carries a more conventional narrative, showing the strain exerted on a small community by the pillars' arrival. A wonderful spread in the centre pages of the comic manages to convey wordlessly the babble of argument, interspaced with snapshots of the town that is disintegrating socially.
'3: Recollections' sticks to a six-panel grid but introduces smudgy washes to depict the filmed reminiscences that the main character collects as he travels around, seeking the origin of the pillars. The more oblique '4: Reflections' then goes to a much more cosmic outlook, with a varied panel layout that reflects notions of contrast and duality, black and white, yin and yang.
Black Pillars is a work that guards its secrets well and engages the reader fully over multiple readings. 'Side one' of the 'album' closes with the optimistic assertion that "at some point, the storm will pass" and whets the appetite for #2.
So what's next for Andrew White? He told Broken Frontier in December: "Right now I'm hard at work at Black Pillars #2, which should be released in early 2014. It's a little longer than the first one. I'm also continuing to do one page comics for Comics Workbook as well as writing reviews there on a roughly weekly basis. Finally, I'm still serving as an editor for Comics Workbook Magazine, the next issue of which will be out in January."
Andrew White is an exciting presence in the comics world: with his restless curiosity about the form and his productive work ethic, he's a creator of whom we're going to hear a lot more in the coming years.
For further information on Andrew White and his work, follow him on Twitter at @whitecomics and visit his blog: whitecomics.tumblr.com.