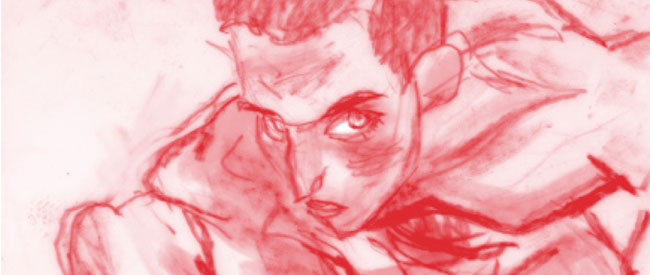 Pushing comics into the wider world of art and culture, these two pamphlets by Annie Mok and Warren Craghead are among my favourite reads of the year so far.
I know superheroes have achieved pop-cultural ascendancy at the moment, but one thing that really makes my teeth itch is the notion that comics should sit plumb in the centre of something called 'geek culture'.
As I've prattled on about before ad nauseum, I'm driven by the belief that the infinite expressive possibilities of comics should put them up there with the rest of the art forms that furnish our cultural lives. So, it only seems natural that comics practitioners should explore those connections.
Fortunately it appears that small press luminaries L Nichols (Grindstone Comics) and Kevin Czap (Czap Books) feel the same. The two of them have – forgive me – curated a five-issue run of Ley Lines: "a quarterly publication dedicated to exploring the intersection of comics and the various fields of art and culture that inspire us. Each issue features a different artist's take on a different subject matter taken from the larger context of art making, past and present."
And with the satisfying 'thunk' of a dart hitting a match-winning double, the first two issues, by Annie Mok and Warren Craghead, seem to realise that aspiration perfectly.
'Unholy Shapes', Annie Mok's contribution, projects the abbreviated life and career of Viennese painter Egon Schiele through the prism of a dissociative young trans artist contending with their own personal and artistic uncertainties.
(As the protagonist states after a consideration of the uncomfortable, distended physicality that defines Schiele's work, "I recognised Egon's push/pull with his monstrous form.")
The influence of Schiele's profoundly stylised figure work goes deep in the comics world; I think I first made the connection with some of Bill Sienkiewicz's New Mutants issues back in the 1980s. It's therefore little surprise that Mok's protagonist – an aspiring cartoonist – becomes captivated by his work.
Along the way, she puts Schiele in the context of early 20th-century Vienna, alongside fellow artists like Gustav Klimt and Richard Gerstl, before highlighting his imprint on later visual culture, from the photography of Richard Avedon to the athletic awkwardness of the young Morrissey.
She also casts a more critical eye on some of the artist's less palatable aspects, especially in the areas of relationships and sexuality. Her timely conclusion is laid bare: "The label 'genius' confers sainthood and gives a man an unassailable armor."
All of this, along with the oblique depiction of the lead character's fractured contemporary life, makes the comic a very dense little package; by the end it certainly feels like you've read more than 24 pages. However, Mok's style strikes a lovely balance between precision and chaos, never losing clarity even in the confines of an eight-panel grid on half-letter-sized pages.
In a very different comics idiom, expressionism also plays a part in the work of Warren Craghead, whose 'Golden Smoke' is the second title in the Ley Lines series.
In his work, which he posts prolifically online, he smashes together text and drawing to create an expressionistic blast to the senses, reminiscent of some of Gus Hughes's work in last year's Pictorial Histories of Leiden (from Ireland's Cardboard Press).
Much less conventionally presented than 'Unholy Shapes', 'Golden Smoke' is more like a spontaneous, feedback-laden punky thrash than Annie Mok's layered melody of past and present.
It projects forcefully its creator's ire towards mega art fairs, "where galleries from around the world can show work to half-interested celebrities and speculating collectors". More particularly, he targets the largest of them all – Art Basel, Miami Beach.
Craighead's style and approach allow him to unleash unmediated vitriol towards those who treat art as a fashion accessory or a commercial commodity. Equating this end of the art market with luxury brands' courting of the pointlessly wealthy, his scratchy one-take images take a swipe at the inconsequential chatter, ostentatious posturing and status anxiety of the Beautiful People.
Both of these issues really hit the stated aim of the Ley Lines series on the head, and they're two of the most engaging and rewarding comics I've read so far this year. They're also very pleasingly designed and risographed.
I'm looking forward to seeing the rest of the series: Cathy G Johnson will be tackling Van Gogh (May), Broken Frontier favourite Andrew White will be examining Picasso and Gertrude Stein (August) and Erin Curry will round off the series in November, with a subject matter still to be confirmed.
Unholy Shapes: Annie Mok (W/A), $5.00, November 2014
Golden Smoke: Warren Craghead (W/A), $5.00, February 2015
Individual issues and subscriptions are available here.