The last year of Retrofit subscription comics has seen not just an ever alternating series of genre releases and artistic approaches but also a constantly shifting array of formats and presentational styles. It's this selfsame diversity of content, craft and packaging that has seen  the US outfit nominated as Best Publisher by the Broken Frontier staff for the last two years in our annual BF Awards. Their output has been consistently excellent throughout and their distribution partnership with the UK's own Avery Hill has been a perfectly matched meeting of publishing minds.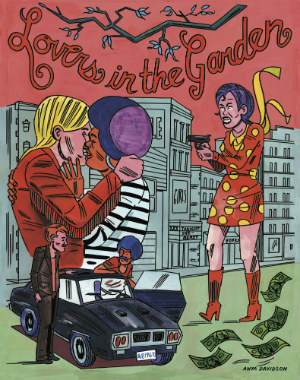 Anya Davidson's Lovers in the Garden was the latest Retrofit book to hit comics shops last week. A retro tale of lost souls and criminal enterprise in 1970s New York it's not so much a protagonist-led story as an ensemble cast piece with characters weaving in and out of each other's narratives as lives intersect and ultimately converge in spectacular semi-denouement.
Shephard and Flashback are two ex-Vietnam vets working as hitmen for crimelord Dog, a drug dealer with artistic pretensions and ruthless aspirations. Shephard wants out of his current "career" choice, something which does not go down well with Dog whose personal enforcer Mystic Blue is assigned to terminate their services forthwith. But Blue's own loyalties are not quite what they seem.
Meanwhile Shephard's lover – undercover police officer Coral Gables – is also manipulating events to get an "in" on her current investigation while alcoholic reporter Elyse Saint-Michel flits in and out of the other characters' existences trying to get the big scoop on the New York drug scene. As the betrayals mount up, and the relationships between the various players take on multi-layered intricacies, conflicting ambitions come together in an explosive finale…
Superficially Lovers in the Garden is a crime drama but, of course, on a deeper level it's a far more complex piece than that. Multiple viewpoints give us a somewhat fragmented and episodic narrative that nevertheless gradually pulls together in what is revealed to have been a carefully choreographed piece of plot structuring. While cast members are often compartmentalised in their own segments, this gives Davidson opportunity to focus on their own perspectives and world views, ensuring that individual vignettes are both focused character studies and also interlocking pieces in the greater storyline.
There's something very existential about the subtle observations Davidson makes about her cast. Motivations are often far more nuanced than easy definitions of morality and immorality. Shephard and Flashback are two of the book's most likable characters for example. Indeed the story behind their friendship and loyalty to each other is beautifully portrayed …and yet they're remorseless killers for all that.
In other strands, Coral and Elyse are both working to bring down the ostensible villains of the piece but are driven to a degree by self-interest and personal advancement – in Elyse's case in the most self-destructive fashion. Essentially, then, Lovers in the Garden is a story of surviving and adapting to circumstances, however brutal the choices that entails may be, and humanising the reasons behind those life decisions.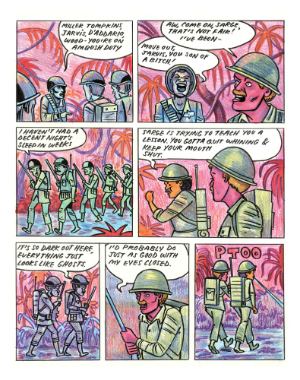 There's an energy and an accessibility to Davidson's visuals that is highly engaging, with the vibrant colouring evoking a busy period feel that ably captures the essence of the '70s that now lives in our shared perceptions of the time. Visual characterisation is strong throughout and it's interesting to note that when all the characters' plotlines finally do come together that the crucial scene constantly jumps between their varied perspectives, emphasising that sense of interconnection that has been slowly building up in the preceding 60 or so pages.
In many ways the slightly underground vibe of Lovers in the Garden is still one of the more traditionally presented Retrofit books of late. Davidson's fast-paced and compelling character piece is one of the strongest books to have come out of the 2016 Retrofit subscription releases. I can't wait to see what they have in store for us throughout 2017.
You can buy Lovers in the Garden from the Retrofit store here priced $10.00 for print or $4.00 for PDF. UK readers can buy it via the Avery Hill Publishing store here priced £8.00. Anya Davidson's site can be found here and you can follow her on Twitter here. 
For regular updates on all things small press follow Andy Oliver on Twitter here.