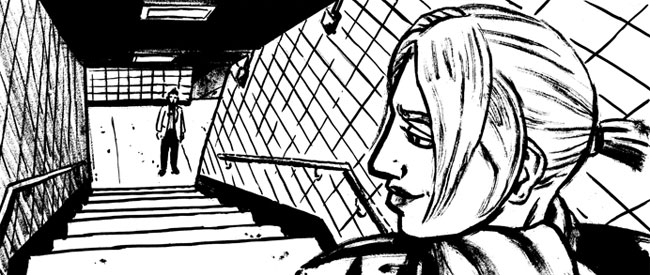 In his tale of a strange urban relationship, cartoonist and comics theorist Matt Madden creates a stylish and almost musical little narrative.
Like Scott McCloud, Matt Madden is a cartoonist who has also become known as a comics theorist, through books such as 99 Ways to Tell a Story: Exercises in Style, Drawing Words and Writing Pictures and Mastering Comics (the latter two in collaboration with Jessica Abel).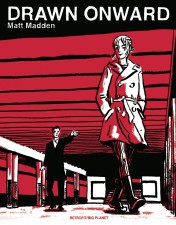 However, he remains a comics practitioner, and Drawn Onward, a 32-page tale he originally created for a small-press literary magazine, One Story, now forms part of the impressive start made to 2015 by Retrofit Comics.
As you might expect from someone who straddles theory and practice like Madden, Drawn Onward is as much a formal experiment as a standalone narrative.
Depicting the developing relationship and shifting balance of power between a young female artist and a man who seems to be stalking her on the subway, its most high-profile comics antecedent is probably the 'Fearful Symmetry' issue of Watchmen; from a pivotal central spread, the two halves of the book emanate like slightly warped mirror images, each page corresponding ironically with its counterpart on the other side of the fold.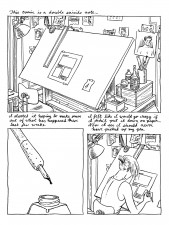 (Although that's obviously not the book's only formal progenitor: throughout Drawn Onward – from the layered title onward – Madden plants a number of cultural references to symmetry and palindromic forms. These range from the names of the subway stations, including the slightly on-the-nose Rorschach Avenue, to the book we see the artist reading – Le Début de la fin/La fin du début, a double-ended bande dessinée by Marc-Antoine Mathieu.)
The lengthy consideration that Madden has given the form also colours the reading experience in other ways, as you try to decode his narrative and stylistic choices.
From its very first line, Drawn Onward is presented as an almost self-aware comic. What does that signify about the reliability of the narrator, who is using the work "to make sense out of what has happened these past few weeks"?
S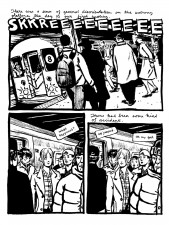 tylistically, the pages where the artist narrates her responses to the unfolding situation are executed with a much cleaner line than the (mostly underground) scenes that depict her encounters with the man. Are the 'rough' flashback pages the ones she's drawn? Can we rely on the depiction of events that she's presenting us with?
All of this formal intrigue goes some way towards making up for a lack of emotional involvement with the two characters (although the precision-engineered narrative works well as a more metaphorical distillation of the way relationships can take hold of our lives and spin them around).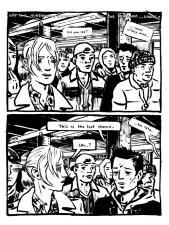 The enigmatic stalker is obviously shrouded in mystery, like the creepy agent of change in a Dennis Potter play, but unfortunately we aren't given much more to work with for the female protagonist. Our lack of identification with her also strikes the book's only real bum note: the fact that it's framed from the start as a 'suicide note' seems melodramatic at best and a bit crass at worst.
However, that's a minor gripe about an engaging and resonant piece of work that rewards the reader for his or her attention. Alongside Olivier Schrauwen's Mowgli's Mirror, this is a meaty start to Retrofit's 2015 programme.
Matt Madden (W/A) • Retrofit Comics, $5.00 (print), $2.99 (digital)