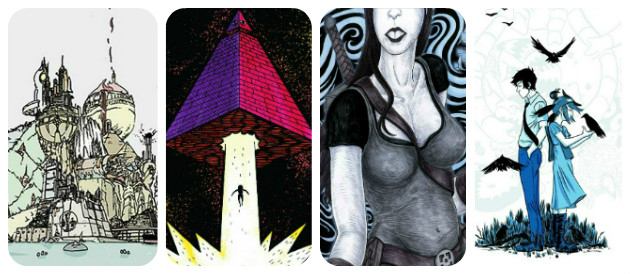 It's nearly Wednesday, and you know what that means: a fresh load of comics and graphic novels! With so many publications hitting your local comics store or digital storefront, the BF staff is here to lead you through the woods with our weekly staff picks. Satisfaction guaranteed!
Comic of the Week
Island #1
Spearheaded by Brandon Graham (Prophet) and Emma Ríos (Pretty Deadly), Island is one of Image Comics's most ambitious anthology projects yet. The oversized 72-page monthly magazine will feature three serialised long-form stories in each issue, giving readers a chance to read more of each story (20-30 pages) than they would in a typical anthology.
In this premiere issue, Graham returns to his series Multiple Warheads with a new story called Ghost Town, wherein Sexica and her werewolf boyfriend, Nikoli, push deeper into the mysteries of the wailing wall and the ancient wizard who hides within its cliffs. Ríos launches a new story called ID, which explores the struggle of three different people who consider a 'body transplant' as a solution to their lives. The issue is capped off by the story Dagger Proof Mummy by Ludroe, as well as a series of illustrations by Marian Churchland, articles that blend prose and comics, fictional fashion, and mechanical designs for things that will never exist.
Brandon Graham, Emma Ríos & Ludroe (W & A) • Image Comics $7.99
– Tyler Chin-Tanner

An Entity Observes All Things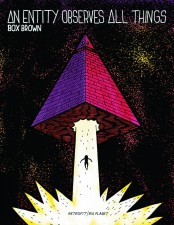 Alternative manga connoisseurs use the term heta-uma (bad-good) to refer to a particularly outré style of art – one that seems bluntly opposed to any modern standards of "realistic" representation. Box Brown has shown a similar disregard for straightforward perception in his various anthology projects and his André the Giant biography for First Second. Yet even when his characters and their surroundings look like only slightly modified from an MS Paint assemblage of shapes, there's no denying their keen emotional truth.
Given this, it's perhaps inevitable that Brown would take naturally to the freedom of the science fiction format. This collection of short pieces (including New Physics) sees the artist at play with a variety of bizarre concepts, from god-flesh-flavored waffles to the literal (and regrettable) attainment of perfection. It's obviously not the world you know, but you'll probably find yourself nodding in recognition nonetheless.
Box Brown (W/A) • Big Planet/Retrofit Comics, $12
– Paul Mirek
Rivers of London: Body Work #1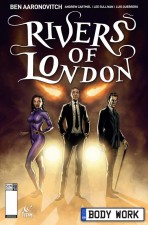 When Ben Aaronovitch published his "what if Harry Potter joined the Met Police" novel Rivers of London (or Midnight Riot in the US) in 2011, it tapped into the appetite for urban fantasy that comics publishers like Vertigo had been feeding for years. So, after five novels and sales in excess of 1m copies, it seems odd that his creation hasn't made it into comics before now.
Rivers of London: Body Work is a five-parter that fills in an original storyline between the fourth and fifth books in the series. If you haven't encountered them yet, they focus on London detective and wizard Peter Grant, who forms half of a tiny department dedicated to investigating crimes of a magickal hue. Steeped in the history and lore of London, they're a good match for fans of work like Neverwhere or The Vinyl Underground.
The series marks a bit of a Whovian reunion; Aaronovitch wrote for the TV series in the late 1980s, and his co-writer here is former Who showrunner Andrew Cartmel. Meanwhile, art duties are handled by Lee Sullivan, a polished long-time chronicler of the Time Lord in comics form.
Ben Aaronovitch & Andrew Cartmel (W), Lee Sullivan (A) • Titan Comics $3.99
– Tom Murphy
Dörfler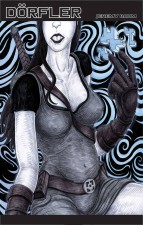 This is the debut graphic novel from writer/artist Jeremy Baum (Extravagant Traveler, Postland, Memory). A prolific self-publisher and illustrator, Baum is part of the Pittsburgh comics scene and is known for unique combinations of the material and the mystical in his characterizations. Rob Clough wrote an interesting column on Baum in April 2014 in The Comics Journal.
In Dörfler, Baum continues a familiar theme in his work, with a contrast between the natural environment and a utopian urban setting. This story concerns time, space and the stylized characters who live in the contrasting landscapes. Through illicit experiments conducted by the military, the urban denizens become political tools as their memories and identities are rendered maleable, and one woman decides to take her revenge against the totalitarian state. Meanwhile, two lovers wander the Northern Mountains, trying to distinguish their real memories from false ones.
This is sure to be an interesting full-length debut.
Jeremy Baum (W/A) • Fantagraphics Books, $22.99
-Karen O'Brien
Long Walk to Valhalla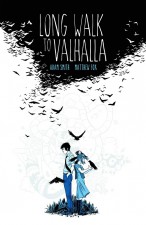 In the past couple of years, since its acquisition by former competitor BOOM! Studios, Archaia has allayed any fears of losing its singular publishing identity with the release of numerous titles that continue to explore the infinite possibilities of graphic storytelling. With works such as Butterfly, Feathers, and Lantern City, the imprint's diverse output, while a little sparser than it was, still maintains impeccable standards of quality and originality.
This latest release, Long Walk to Valhalla, is the debut graphic novel of Adam Smith, who has teamed up with Wet Black Ghost collaborator Matthew Fox (Ufology) to present a haunting and alluring tale revolving around Rory and his "mentally challenged" brother Joe growing up in rural Arkansas. When an enchanting young girl, Sylvia, descends into Rory's life years later, claiming to be a Valkyrie tasked with transporting him to Valhalla, he is forced to look backwards and to come to terms with a past he thought long behind him.
Billed as a "Southern fable" that taps into Norse mythology to create a wonderful magic realist mélange of humor, loss, and wonder, Long Walk to Valhalla is a special little book that dovetails very nicely into Archaia's eclectic catalog.
Check out a 22-page preview over at Wet Black Ghost and see for yourself!
Adam Smith (W), Matthew Fox (A) • BOOM! Studios (Archaia), $24.99.
– Jason Wilkins