Lazaretto artist Jey Levang's name will hardly be an unfamiliar one to regular visitors to Broken Frontier. Levang's work has been regularly covered here for some years beginning with their many contributions to anthology Dirty Rotten Comics – a micropublishing enterprise who so many new indie creators owe so much to for providing a platform for their work – and of course as part of our second Broken Frontier 'Six Small Press Creators to Watch' programme in 2016, culminating in a 10-page story in the 2017 Broken Frontier Small Press Yearbook.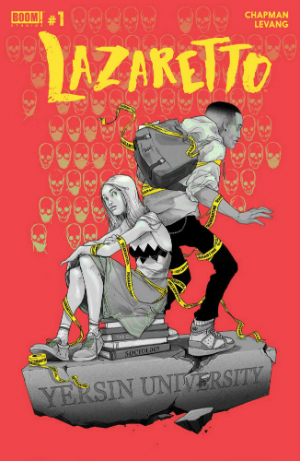 This week sees Levang join novelist and screenwriter Clay McLeod Chapman in the pages of Lazaretto from BOOM! Studios. Those wanting to find out more about the project from its creators should check out our interview with Chapman and Levang earlier this week at Broken Frontier here.
Lazaretto is the story of a small group of students at Yersin University, a campus currently dealing with an outbreak of "canine flu". But what began as a contagious irritant is about to develop into something far more grave, as the pernicious grip of the H3N8 virus begins to infiltrate the densely-packed student community and quickly spread among its denizens. As the seriousness of the situation becomes apparent, a small number of students will find themselves effectively quarantined on college grounds…
This opening chapter to Lazaretto is a carefully and cleverly paced affair. Chapman introduces us to the two key members of the cast as they arrive at university for the first time; the inescapable humanity of what is to come underlined by these snapshots into their wider lives as they bid farewell to their families. The issue centres on Charles – a young man feeling the burden of parental expectations – and Tamara, whose religious beliefs give her comfort in a new environment that threatens to overwhelm her.
The dual strengths of the story in this first part are in its pacing and its characterisation. Chapman plays to the strengths of the serial comics format here – not necessarily a given in an era of "writing for the trade" – building the threat of the virus up slowly and leaving us with an enticing cliffhanger to be picked up next month.
That would all be for naught, however, were we not to find ourselves immediately invested in the main players. But our connection with Charles and Tamara is an instantly empathetic for anyone who remembers that rite of passage of leaving home for university for the first time – the simultaneous sense of exciting freedom and terrifying isolation – making the emergence of the ticking viral time bomb around them all the more ominous as a result.
This sympathetic portrayal is embodied as much in Jey Levang's vital visual characterisation of the pair as it is in Chapman's plotting and dialogue. It came as no surprise whatsoever to us here at BF when we learnt that Levang had been picked up by BOOM! Studios. Their ever inventive panel-to-panel storytelling and often gloriously outrageous imagination seemed a perfect fit for this tense tale of the end of the world in microcosm.
Where Levang excels is in their ability to visually juxtapose the different narrative layers of Chapman's tale. On the one hand they ably capture that feeling of the recognisably down-to-earth routine of college life, but on the other they contrast it with an impending and creeping dread of what is to come. Particularly in their always intuitive use of colour to emphasise theme and mood. Complementing this, Aditya Bidikar's lettering effects further emphasise the grossness of the situation.
It's those sudden visual shifts from the everyday and the pedestrian to abrupt scenes of body horror and disquieting depictions of the graphic symptoms of the plague that ensure that even on their side of the page the reader will be squirming and wincing and feeling a need to reach for the hand sanitiser with every beat of the story. Lazaretto is a taut and unsettling read that pulls the audience directly into the plight of its protagonists from the outset, but just as importantly it is also the breakout work of a truly exciting new artistic voice. Make a note of the name of Jey Levang because you'll be hearing a lot more of in the years to come…
Clay McLeod Chapman (W), Jey Levang (A), Aditya Bidikar (L), Ignacio Valicenti (CA) • BOOM! Studios, $3.99, September 2017