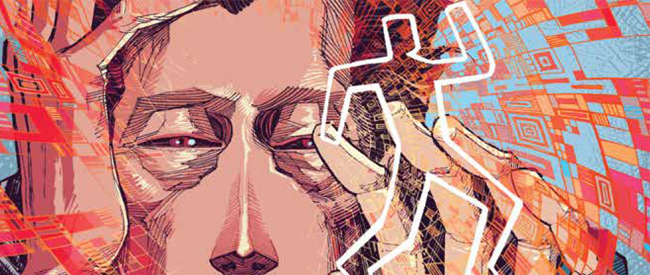 Justin Jordan (Deep State) twists the traditional detective tale into a strange, new multifaceted shape, through an engaging cast and unique premise.
Over the past couple of years, Justin Jordan has emerged as a talented, versatile wordsmith who consistently comes at his stories from unexpected angles. His latest creator-owned limited series, John Flood, arrives courtesy of BOOM! Studios and follows an unusual protagonist on a dangerous journey into the mind of the most prolific serial killer in history.
John Flood is the man who never sleeps. After participating in government-funded experiments that removed his need for sleep, John decides to use his unique powers of deduction – his ability to see patterns that normal sleeping folks miss – to jump-start a career as a private investigator.
When he stumbles upon a pattern of murder that includes upwards of a thousand victims, he hires some muscle, in the form of burly ex-cop Alexander Berry.
In this first issue, Jordan assembles an interesting cast of characters and lays down the premise of the series with craft and style. Berry in particular possesses an intriguing backstory, only hinted at in this first installment, but seeming to revolve around a controversial killing at the ex-cop's hands.
Flood's assistant Lyta is also engaging, and her impending absence feels mysterious. Jordan invests a lot of time developing her character, so it seems unlikely he'll squander such a dear investment of words and panels. Hopefully more than another notch on the serial killer's scorecard, the series would benefit from her female perspective.
It is through both of these foils and how they interact with Flood that we learn more about him. Berry reacts to his new employer's strange behavior with suspicion and doubt, mirroring the reader's initial reaction, while Lyta's laissez-faire attitude toward Flood instills a sense of confidence and stability.
Artist Jorge Coelho (Sleepy Hollow) ably services Jordan's script but stumbles a bit when it comes to facial expressions. There are some truly gorgeous set pieces, and his rendering of Flood is appropriately jagged and airy, but he tends to rely too much on stock comic book expressions. While it's understandable whatever tragedy cost Berry his career had some kind of negative emotional impact, it surely didn't remove his ability to manipulate his facial muscles to such an extreme extent.
This emotional flatness also translates into Coelho's character designs. Uninspired and lacking distinction, there appears to be little thought put into how the cast appears. It doesn't matter what genre of comics you're drawing, if the designs lack dynamism or express nothing about the character, the absence of expression impairs the connection to the reader.
In spite of only serviceable artwork, John Flood has a solid first issue, successfully laying the foundation for what should be an intriguing and dangerous game of chess between two startling intellects. It'll be interesting to see Flood's unique abilities in action, but I'll probably wait for the trade to see the show.
Justin Jordan (W), Jorge Coelho (A) • BOOM! Studios, $3.99, August 5