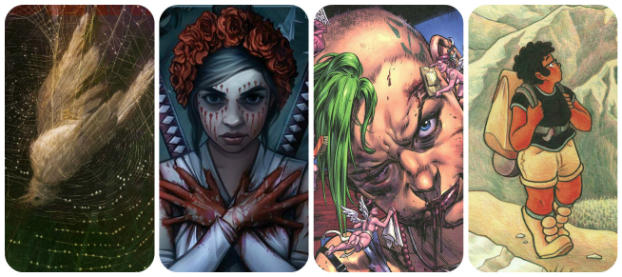 It's nearly Wednesday, and you know what that means: a fresh load of comics and graphic novels! With so many publications hitting your local comics store, comics events or digital storefront, the BF team are here to lead you through the woods with our weekly staff picks. Satisfaction guaranteed!
Comic of the Week
Best Wishes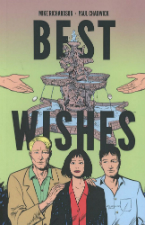 Sure to delight fans of the critically acclaimed Concrete, this sophisticated graphic novel brings Dark Horse founder Mike Richardson and Concrete creator Paul Chadwick back together in the latter's first published comics work since 2013.
When New York City holds a competition to create a new city slogan and logo, the unveiling of a fountain rumoured to have magical powers sees wishes fulfilled and lives intertwined in the most unexpected – and unintended – of ways.
A beautifully illustrated story of hope, romance, ambition and envy, Best Wishes confirms that the spirit of Dark Horse Presents is still very much alive!
Mike Richardson & Paul Chadwick (W), Paul Chadwick (A) • Dark Horse Comics, $19.99
– Ally Russell 
As the Crow Flies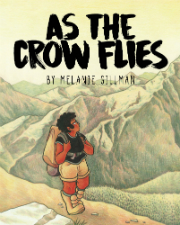 Recently successfully Kickstarted with a campaign we featured here at Broken Frontier, As the Crow Flies collects Melanie Gillman's webcomic following Charlie Lamonte, a queer 13-year-old experiencing life at a Christian summer camp for teenage girls. The only black camper amongst the group, Charlie quickly begins to question the traditions of the camp and its ideals.
This Eisner-nominated work is beautifully paced with careful, evocative colouring and delicately observed characterisation. A quietly powerful offering that you won't regret picking up in print.
Melanie Gillman (W/A) •  Iron Circus Comics, $30.00
– Andy Oliver
Redlands #4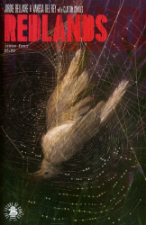 As powerful men are busy wringing their hands nervously about perceived "witch hunts," colourist extraordinaire Jordie Bellaire's writing debut with Vanesa del Rey explores a world where women really are witches, and they're in charge. Okay so it's only one town, but they are literal witches and they do very much run the show. For better and for worse, at times.
The coven who keep the eponymous town ticking over have run into some trouble as of late: a local "artist" who does not respect their authority, a bungled ritual, and an encounter with a hunky crocodile-man leave a lot of dangling plot threads for this fourth issue to pick up. Bellaire has proven herself as a natural storyteller, attacking her themes with strident ferocity, and del Rey's atmospheric colours and Emma Ríos-gone-feral figures are the perfect vessel for delivering them.
Jordie Bellaire & Vanesa Del Rey (W), Jordie Bellaire (A) • Image Comics, $3.99
– Tom Baker
The Wonderful World of Tank Girl #1: Tank Girl Strikes Again!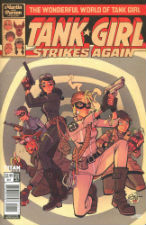 Series creator Alan Martin is following up the epic success of World War Tank Girl (it's terrific, it's available in trade, and it should be on your list of books to give as gifts this holiday season) with a new series of four stand-alone stories dubbed, The Wonderful World of Tank Girl. The first issue, 'Tank Girl Strikes Again!', assaults the shelves of your local comic shop this week.
Tank Girl and the gang return to form by attempting "to pull off their biggest caper ever, but thanks to Booga's gormless plotting, they barely escape with their lives." Sounds like the perfect formula for in-your-face mayhem that we've come to enjoy from recent Tank Girl offerings.
If you're a longtime reader of the site, it's no surprise that Tank Girl is my Staff Pick. Every issue of this run will likely be my pick. Why? Because this series is punk. Writer Alan Martin and artist-extraordinaire Brett Parsons offer no apologies whatsoever that the characters are anti everything except each other and a nice cup of tea. That aesthetic makes the misadventures of the whole unsavory lot genuine and highly entertaining. And no, you don't have to be a punk yourself to enjoy the crafty storytelling in Tank Girl, you just have to be okay that the characters are going to finish their tea, raise up their middle fingers, and cause chaos.
Loosen up, people! Read The Wonderful World of Tank Girl and live a little.
Alan Martin (W), Brett Parson (A) •  Titan Comics, $3.99
– Karen O'Brien
4 Kids Walk into a Bank TPB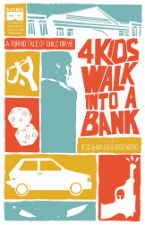 Considering that my area of interest is in championing emerging self-published talent it's a given that much of the work I review here at BF comes from a single creative vision. But it's books like 4 Kids Walk into a Bank that remind me that the alchemy of collaboration also has its own unique magic and that when a pitch perfect creative team comes together their complementary skills will produce something extra special.
This story of wannabe child bank robbers Paige and pals looking to commit a master crime before Paige's father is forced to pull the job himself has deserved every last one of the plaudits it has received. Rosenberg and Boss's contained tale is, quite simply, just sublime comics fare.
Matthew Rosenberg (W), Tyler Boss (A), Thomas Mauer (L) • Black Mask Studios, $14.99
– Andy Oliver
Coyotes #1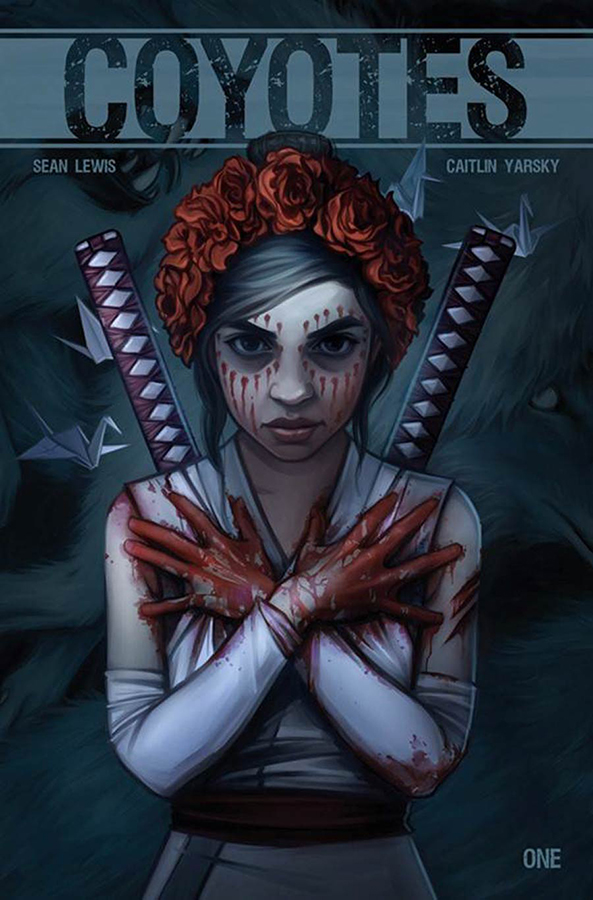 In a small border town called "The City of Lost Girls," a young girl named Analia transforms herself into the warrior known as Red in order to fight back against the legion of wolves that hunt them down.
Meanwhile, the Detective Frank Coffey, just transferred over to this beat, finds this mysterious girl with a sword among a massacre of bodies and tries his best to get answers from her. What is her connection to all of this and just what is the secret behind these supernatural wolves?
Sean Lewis (W), Caitlin Yarsky (A) •  Image Comics, $3.99
– Tyler Chin-Tanner
Combed Clap of Thunder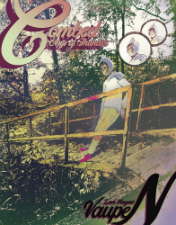 Another goodie from the most recent Retrofit Comics subscription bundle makes its way to comic shops this week in the form of Combed Clap of Thunder, Zach Hazard Vaupen's collection of short stories.
We're promised tales of "emotional and spiritual confusion" from the New York-based artist who introduces us to 'The Lonely Autocannibal the Scientist', 'Bodhisattva' and 'The Real Jesuses'. Retrofit have been such a revelation over the last couple of years bringing us exciting and boundary-pushing work from established indie stars and newer voices alike.
Every Retrofit book is a jumping-on point. Here's yours if you haven't been picking up their releases to date!
Zach Hazard Vaupen (W/A) • Retrofit Comics/Big Planet, $6.00
– Andy Oliver
Port of Earth #1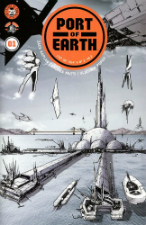 If you missed out earlier this year on reading Zack Kaplan's debut series Eclipse, then, well, you really missed out – it was a solid blend of plausible sci-fi and political intrigue, and one of the strongest debuts I've come across in several years! Not only was it exciting and provocative, it also established Kaplan as someone who doesn't mess around when it comes to doing his world-building homework.
This week Image launches Port of Earth, Kaplan's new series that promises to show us more of what this talented creator can do. The story will explore a near-future Earth where the government has given an alien race the rights to open a spaceport on our planet in exchange for advanced technology. But, this sweet deal begins to sour when the aliens fail to hold up their end of the bargain and prove to be unwelcome guests on our homeworld.
Kaplan enlists the help of incredible illustrator Andrea Mutti (whose work on Brian Wood's Rebels was excellent!) and colorist Vladimir Popov for a series that will undoubtedly touch on a variety of socially relevant themes while also appealing to all of us who love gritty sci-fi.
Zack Kaplan (W), Andrea Mutti (A), Vladimir Popov (C) • Image Comics/Top Cow, $3.99
– Matthew Box
Injection #15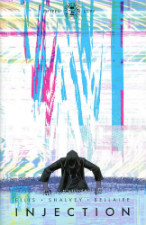 It's end-of-arc time for Declan Shalvey and Warren Ellis's occult-meets-technothriller, and you know what that means! Everything's going to go even more to pot than usual, almost certainly accompanied by some ultraviolence, some Malcolm Tucker-level creative swearing, and more obscure British folklore than you can shake a copy of The Stone Children at.
The book's third arc has seen Brigid Roth, the IT specialist of the Cross Culture-Contamination Unit (who doesn't actually need to be sat at a computer to hack things), investigating an excavation of ancient ruins down in Cornwall. Naturally, it turned out to be something bad, facilitated by the artificial intelligence created by her colleagues which is bringing ancient myths to life. And usually not friendly ones.
Warren Ellis (W), Declan Shalvey (A), Jordie Bellaire (C) • Image Comics, $3.99
– Tom Baker