It's almost Wednesday, and you know what that means: a fresh load of comics and graphic novels! With so many publications hitting your local comics store or digital storefront, the BF staff is here to lead you through the woods with our weekly staff picks. Satisfaction guaranteed.
Comic of the Week
Ei8ht #1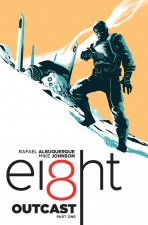 There are few artists working today with the pure storytelling smarts of Rafael Albuquerque. His collaboration with Scott Snyder on their Vertigo Comics hit American Vampire is widely considered a near-perfect fusion of words and pictures that continues to stand as benchmark for modern horror comics.
This week, Albuquerque serves as a the guiding creative force behind a sci-fi epic chronicling one chrononaut's desperate attempt to save his wife from a deadly disease, serving as a temporal guinea pig, who crash-lands in "the Meld", a pocket dimension existing outside of time and space. A repository for all the lost people and things misplaced throughout the history of the world, the Meld is a dangerous, violent realm governed by its own twisted laws and hierarchy.
It also happens to be a comic book artist's dream come true, populated by an eclectic array of just about every cool thing one could want to draw in a comic book. In the hands of an artist of Albuquerque's talent and vision, such an imaginative playground shows just how important a well-realized setting becomes to truly believable genre fiction.
With its intelligent use of a limited color palette to evoke different themes and temporal eras and a tight script turned in by co-writer Mike Johnson, Ei8ht stands apart from the plethora of high-concept sci-fi epics that have rocketed onto the shelves over the past couple of years.
Rafael Albuquerque & Mike Johnson (W), Rafael Albuquerque (A) • Dark Horse, $3.50
– Jason Wilkins
Plunder #1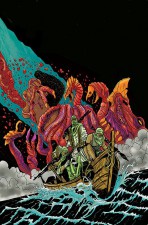 BOOM! Studios and Archaia, since merging a couple of years ago, have been putting out some entertaining and stylish books, and horror has been at the heart of that. In this four-part miniseries, writer Swifty Lang (Feeding Ground) teams up with emerging artist (and equally excellently named) Skuds McKinley for a tale of contemporary horror on the high seas billed as 'Captain Phillips meets The Thing'.
After facing off with an illegal Chinese vessel, a gang of Somali pirates tries to board what they think is a research vessel, only to find themselves in the midst of a massacre. As their worst nightmares become reality, the 14-year-old boy who went from translator to reluctant pirate not only becomes the key to survival, but must decide for himself how far he is willing to go in the name of self-preservation.
Swifty Lang (W), Skuds McKinley (A) • BOOM! Studios/Archaia Entertainment, $3.99
– Tom Murphy
Barbarella and the Wrath of the Minute-Eater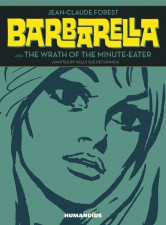 Hunky aquamen, decapitated floating heads whining on and on, narcissistic border men hitting aliens with giant roses, robotic orgasms, the battle for the planet Spectra and more bed partners for Barbarella then you can shake a stick at. I guess it's safe to say that the second Humanoids volume of Barbarella has something for everyone.
French artist Jean-Claude Forest's timeless erotic Sci-Fi classic sports a weird seventies  vibe with classical newspaper art with a rough edge befitting its erotic underpinnings.
The English-language adaptation by writer Kelly Sue DeConnick (Marvel's Captain Marvel, Avengers Assemble, Image's Pretty Deadly) is superb and Humanoids presentation is exemplary. Barbarella always manages to be inventive and sexy and it is to Forest's credit that it never gets exploitative or sexist. So give this one a try, you won't be disappointed.
Jean-Claude Forest (W/A) • Humanoids Publishing, $29.70
– Bart Croonenborghs
Secret Identities #1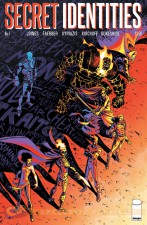 Not to put too fine a point on it, but it can be pretty difficult lately for fans of straight-ahead superhero action to find their fix in a wave of relaunches, miniseries, and earth-shattering events. Secret Identities looks like it could fill that void with the ongoing adventures of The Front Line, a super-team inspired by its creators' love of some of comicdom's most classic lineups.
Rest assured that this is no mere nostalgia trip, though. Co-writers Jay Faerber and Brian Joines both have a pedigree of smart, subversive stories, and that's definitely coming through in the series info released so far. Besides, when your team leader is the President's daughter, things can't always go according to plan, can it?
Expect this first issue to throw you right into the midst of The Front Line's next big obstacle, the team newbie known as Crosswind who's secretly plotting his cohorts' demise. This is big-screen superhero drama in the best sense with fantastic art from Ilias Kyriazis and Charlie Kirchoff, so make sure you get in on the ground floor.
Brian Joines & Jay Faerber (W), Ilias Kyriazis & Charlie Kirchoff (A) • Image Comics $3.50
– Paul Mirek
Peanuts #25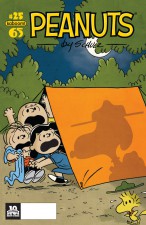 As pop cultural anniversary landmarks go – and as much as we all recognise the enduring legacy of Charles Schulz's Peanuts – making a huge fanfare about your 65th does seem a touch arbitrary, to say the least. But let's put the cynicism aside for a moment because while the figure may seem a little uninspiring as a milestone for celebration the end results are more tangible.
BOOM! Studios imprint KaBoom! is embracing these birthday festivities as an opportunity to do something a little special with their monthly Peanuts comic. While the normal format of the book is an anthology one – with largely all-new material sitting side-by-side with sprinklings of original Schulz genius – Peanuts #25 will be the first issue of the series to present a single story, in a  full-length, 32-page, no ads edition no less.
Written by Paige Braddock and Vicki Scott, with art by Scott, the story sees the misadventures of Charlie Brown, Snoopy, Lucy and company as the Peanuts gang go to summer camp. KaBoom! have been doing an excellent job of late in pushing periodical comics for kids, and at the same time providing a comforting glow of nostalgia for the more mature reader. If you haven't thought about the Peanuts cast for a while then this issue sounds like the perfect opportunity to revisit some old friends.
Paige Braddock and Vicki Scott (W), Vicki Scott (A) • BOOM! Studios/Kaboom!, $3.99
– Andy Oliver
Dark Horse Presents #7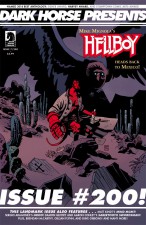 When you add up all releases from its various volumes, Dark Horse's stellar anthology reaches its landmark 200th installment. That's no small feat for any comic, let alone an anthology a format that's often a though sell when released periodically.
Luckily, Mike Richardson and crew know how to put together a great bang for your (five) buck(s) month after month, with a continuous string of great contributions from long-standing members of Dark Horse's stable to newer voices and stories by established creators joining in on the fun. All that has resulted in three Eisner Awards and three Harveys, as the publisher continues to school the competition on how anthologies are done.
This issue is no different with a new Hellboy in Mexico adventure by Mike Mignola, some Groo by Sergio Aragonés, Mind MGMT action from Matt Kindt and a tale drawn by Dave Gibbons.
Various (W/A), Dark Horse Comics, $4.99
– Frederik Hautain
Wonder Woman #39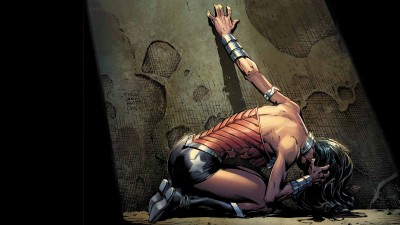 Princess Diana is heading back home to Themiscrya, and she is in for the surprise of her life. Last issue, the Amazons elected the newly resurrected Donna Troy as their queen. Well, sort of. The crone Derinoe is up to no good and has engineered the return of Donna Troy to stir up trouble for the God of War.
Writer Meredith Finch has placed an interesting side focus on Diana's new role as the God of War and the toll the mantle will take on her. She has already been reminded by Hessia that it's not just a title she holds, there are serious consequences involved that Diana denies. When Batman brings it up again, Diana's frustration is evident. How she handles it will likely impact her personality and relationships going forward.
The Justice League will guest star in issue #39, as Superman has descended into a volcano to find out what is destroying villages in Peru. Overall, Wonder Woman is in for some rocky times ahead.
Meredith Finch (W), David Finch (A) • DC Comics, $2.99
– Karen O'Brien