A harrowing spy thriller that pits the "wickedest man in the world" against Adolf Hitler's Nazi occultists, Aleister & Adolf is a thoroughly well-researched, beautifully illustrated journey through the secret history of World War Two.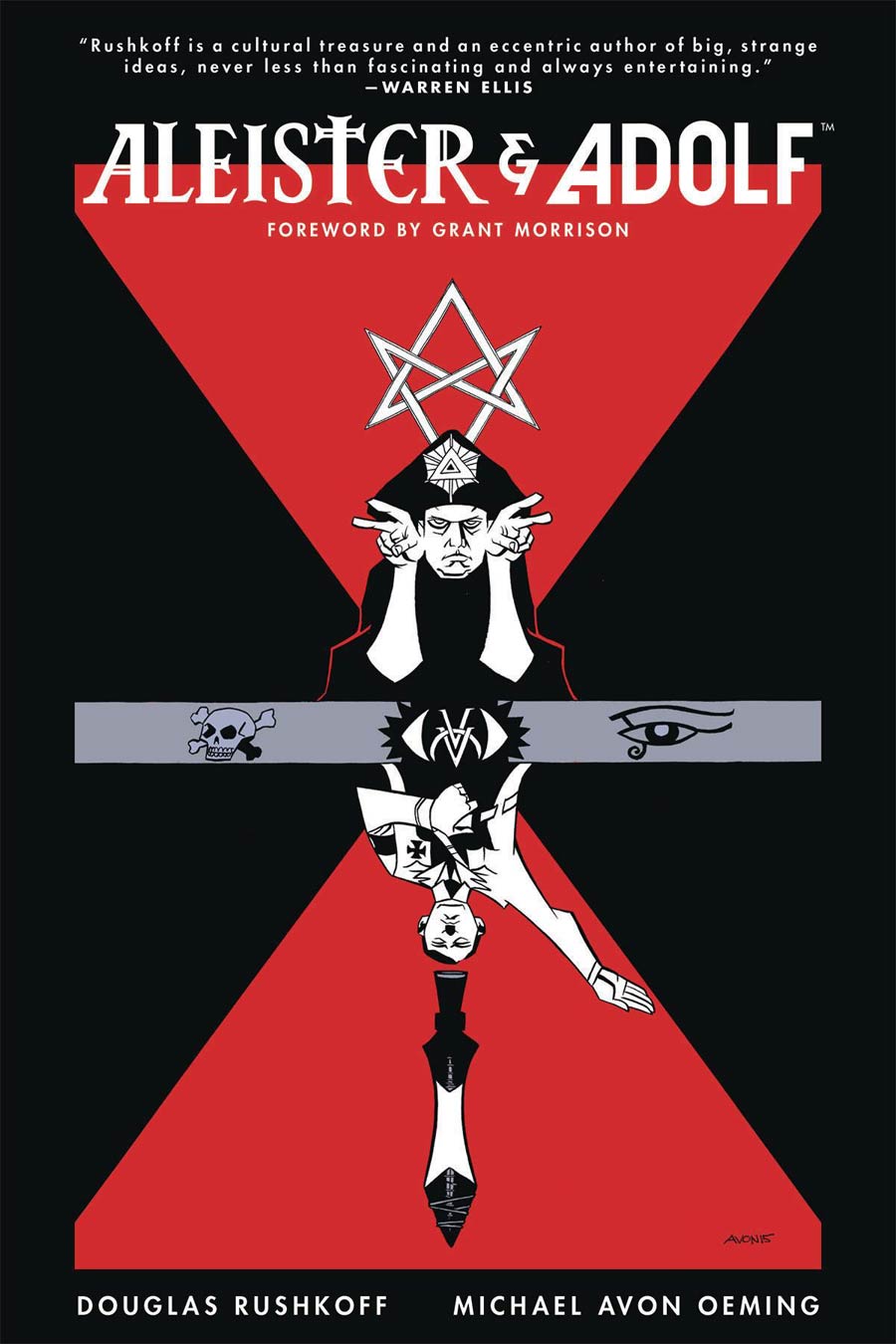 A lot of weird stuff went on behind the scenes during World War Two. Hitler possessed a well-documented fascination with magic and the occult. His quest for the Spear of Destiny is an infamous footnote of the war and hints at a deeper obsession with the arcane than traditional history books would have us believe.
In their new graphic novel from Dark Horse, acclaimed media theorist Douglas Rushkoff (Testament) and award-winning cartoonist Michael Avon Oeming (Powers) embark on a bizarre journey through a dark underworld of ritual sex magic, sigils of power, and magical warfare. Told from the point of view of a young man with special insight into alternative religions, the book explores the power our beliefs have over the world around us and on our own perceptions.
Here are three wicked-good reasons to invoke the Beast and crack the spine on Rushkoff and Oeming's Aleister & Adolf.
#1 It's Impeccably Researched
Both Oeming and Rushkoff possess a healthy interest in the history of the occult, especially as it pertains to symbolism and iconography. Countless hours of research went into the development of Aleister & Adolf to ensure it was infused with a stark, grounded verisimilitude that lures the reader in with its historical settings and personages.
Rushkoff peppers his story with numerous actual people who will be familiar to students of history and popular culture alike. Most notably in this vein, Ian Fleming turns up representing British intelligence and acting as a liaison between his government and Crowley. Real battles and events – the seemingly interminable shelling of the Blitz, for example – are referenced or depicted throughout the book, often injected with new, more sinister significance.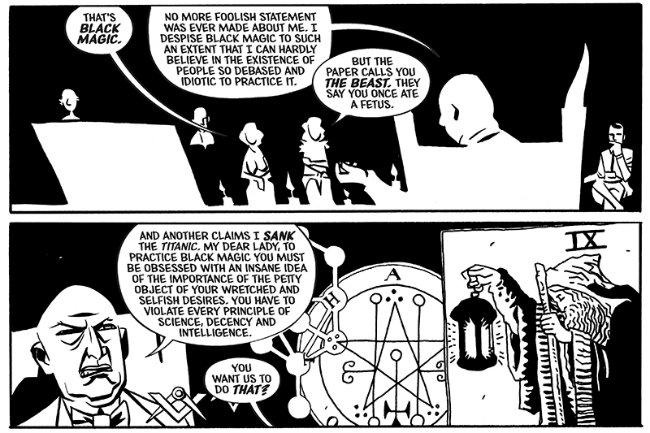 Beyond matters related to the war, both creators also invested serious time and effort into researching the multitude of mystical symbols used in Crowley's complex magic rituals. Their familiarity with the not only the iconography of Crowley's Thelemite religion but its rituals and way of thinking is remarkable and allows them to initiate the reader into the mysteries of the occult more completely.
#2 It's Beautifully Illustrated
Aleister & Adolf boasts some of Oeming's best work to date. His bold lines and masterful use of negative space in his page compositions are perfectly matched to the book's stark black and white format. The choice to go colourless also lends the book a documentarian feel that further grounds it in its historical setting.
Oeming uses innovative page designs throughout the book, capturing the more surreal aspects of Crowley's magical endeavours with odd panel shapes and a dark, robust energy that invokes the fierce intellect of the Beast himself. Lurid imagery draws the reader into a kaleidoscopic journey through a bizarre, secret front of the war that wouldn't be out of place in a Hellboy comic.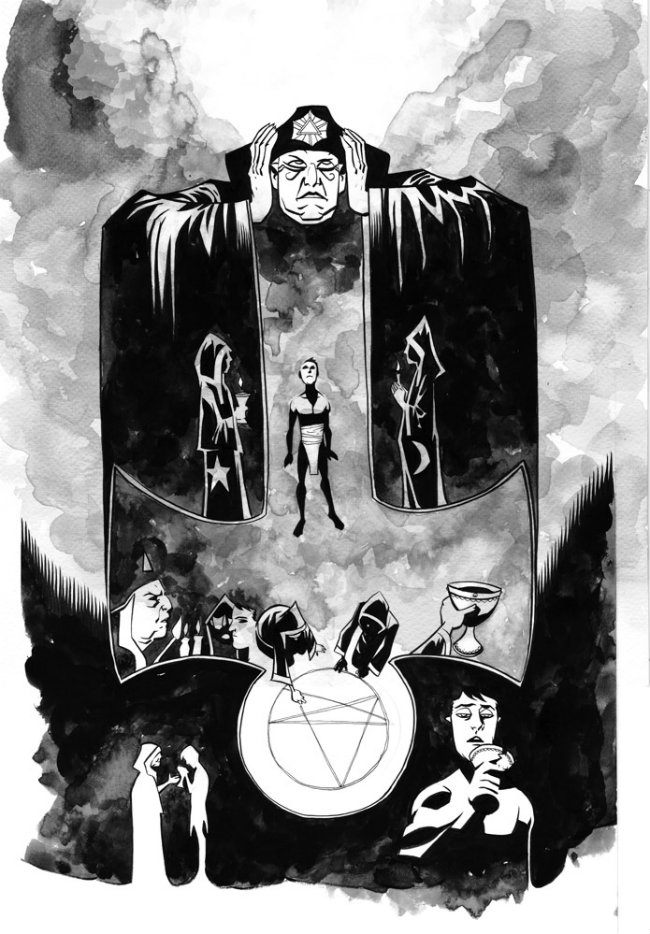 The sheer absurdity (and audacity) of some of the events depicted in the comic would feel ridiculous if they weren't so scary, making Oeming's cartoony style a wonderful vehicle for Rushkoff's script.
#3 It's Deliciously Subversive
It's no accident that Rushkoff chose the dawning of the Digital Age as the setting for his framing story. By the end of Roberts' story, as he reveals the final endgame of events set in motion half a century earlier, it becomes clear to the reader that there is much more at stake than a raving madman's sanity.
Without going into too much detail, Rushkoff's conclusions about modern mysticism and our increasing reliance on digital iconographic shorthand will make you think the next time you read a billboard or watch a commercial or tap an icon on your smartphone. Rushkoff and Oeming do more than subvert our perceptions of modern media and our reliance on symbols to disseminate information. They also cause us to question the veracity of their own fictionalized account of Crowley's arcane dance with Hitler's occult agents.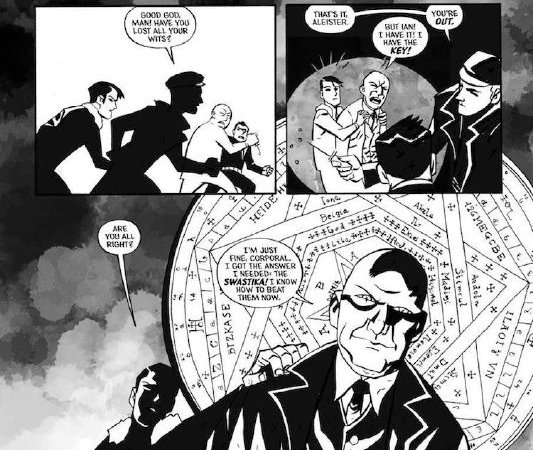 Roberts is an unreliable narrator, his perceptions of how events played out during the war skewed by drugs and a history of emotional abuse only exacerbated by Crowley's manipulations. By subverting our trust in their narrator, Rushkoff and Oeming deepen their subversion of our perceptions of the world around us.
And everybody thought Crowley had a way with magic…
Aleister & Adolf retails for $19.99 USD and is available wherever fine books and comics are sold.