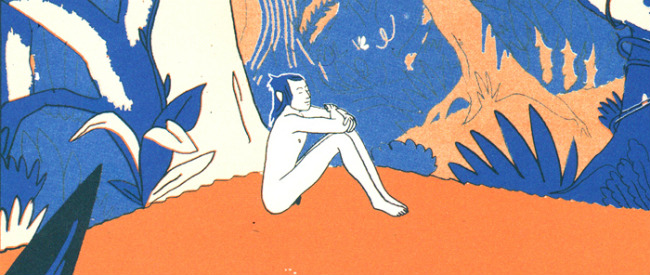 A SAFARI FESTIVAL TIE-IN
Here at Broken Frontier we're long-time fans of Retrofit Comics, a boutique publisher established by prolific cartoonist Box Brown via a successful Kickstarter campaign in 2011. Since then, with the support of retail chain Big Planet Comics, Retrofit has published around 40 titles from some of the most exciting talents in the alt-comics universe.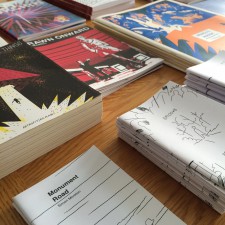 If you're heading to the Safari Festival in London on August 22nd and you're not already a Retrofit subscriber (or you're a digital subscriber who fancies the rich pleasure of running your fingertips over some lovely inky goodies), the estimable Simon Moreton will be selling some of the publisher's titles alongside his own – highly recommended – swag, in a scene that'll probably look something like this (right).
Anyway, here's a quick run-down of the six titles up for grabs – a range of books that highlights Retrofit's diversity in creators, format and subject matter.
Mowgli's Mirror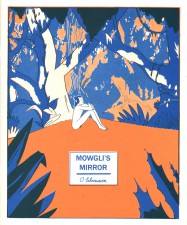 Perhaps none of Retrofit's titles embody the value of a print edition more than this 44-pager by Belgian artist Olivier Schrauwen, creator of the critically acclaimed graphic novel Arsene Schrauwen (published in English last year by Fantagraphics). The oversized (25cm x 30cm) pages showcase Schrauwen's bold sense of design, including the book's vibrant orange and blue palette.
In this wordless take on Kipling's Jungle Book, the young human boy Mowgli lives alone in the jungle. When he befriends an orangutan, Mowgli thinks he has found his partner for life. However, when fate separates them, he has to continue his odyssey through the jungle, looking for companionship.
Drawn Onward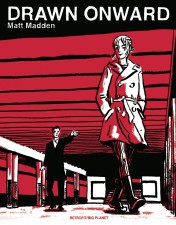 In Drawn Onward (which I was lucky enough to review earlier in the year) cartoonist and formal comics theorist Matt Madden creates a captivating little graphic palindrome as he tells the story of the shifting balance of power in a relationship between a man and a woman who meet on the New York subway.
Recalling the 'Fearful Symmetry' issue of Watchmen, the two halves of the book emanate like slightly warped mirror images from a pivotal central spread. In his structure, Madden draws on the musical form of the "cancrizan" – a melody that runs backwards and forwards simultaneously – to highlight the vicissitudes of our relationships.
Sea Urchin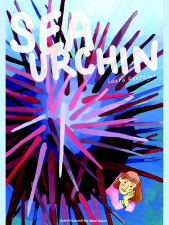 Another book that I had the privilege to review was Laura Knetzger's Sea Urchin, which I described at the time as "an honest but hopeful look at the experience of depression".
Over the book's 60 pages, Knetzger uses her airy cartooning style to create a number of potent and imaginative metaphors for depression, centering on the "sea urchin" of the title – a venomous, spiky intruder that she imagines as an unwelcome and obstructive presence in her brain.
However, Knetzger also uses the book to suggest the possibility of hope in the darkness and – particularly – the healing power of art in general, and comics in particular.
Eyelash Out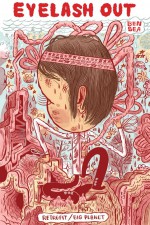 One of Retrofit's more intense recent releases was Eyelash Out – a very singular collision of style and substance by Australian cartoonist Ben Sea. The work has a uniquely sweaty, itchy, busy underground style that is slightly grotesque, slightly exhausting and probably keeps the Queensland ink industry afloat single-handedly.
The story involves a young junkie-ish couple who ingest a magic eyelash plucked from some sort of guru. From there the already psychedelic art plunges even further into a beautiful but also terrifyingly accurate vision of being lost and totally out of control in a druggy state. It's an easy shorthand to describe a comic as "trippy", but this one really does fit the bill.
An Entity Observes All Things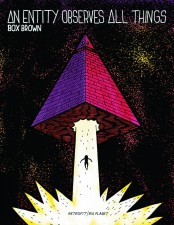 In a perfect bit of timing, this collection of Box Brown's sci-fi short stories has just been nominated for the 2015 Ignatz Award for Best Collection. And a quick thumb through the square-bound 152-page book soon highlights how Brown's cool geometric line, genius for design and stylish use of colour accents are perfectly suited to the genre.
The collection includes 'Memorexia', a little gem produced in 2013 for Ian Harker's 'Sacred Prism' series of risographed zines, which uses a familiar sci-fi conceit to explore a very recognisable human emotion, and 'New Physics', produced for Yeah Dude Comics, which I reviewed last year and which demonstrates Brown's talent for print design, in its satirical tale of a social media cult.
Ink for Beginners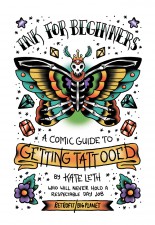 I've always seen getting tattooed as akin to deciding that you'll wear exactly the same clothes every single day for the rest of your life. However, along with pulled pork and DH Lawrence cosplaying, it seems to have become very important to the Young People. So while the rest of us wait for the term "bingo sleeve" to enter the dictionary, Kate Leth has knocked up this comic guide to getting tattooed, based on her own experiences and interviews with tattoo artists.
Ink for Beginners touches on all sorts of tattoo topics, like choosing designs, booking consultations, aftercare, tipping policies, how to prepare for your appointment, and even – as if you couldn't guess – where it hurts most to get a tattoo.
BUT THE RETRO-FUN DOESN'T STOP THERE!!!
Well, possibly. Two other Retrofit alumni – Antoine Cosse and Jack Teagle – are also exhibiting at Safari, so there's every chance that they'll have packed a few copies of their titles too…
Harold
As packs of wild dogs roam through a quiet city, a mysterious man and his hulking driver Harold wait outside a luxury hotel. When their car is surrounded by paparazzi looking for a princess staying at the hotel, Harold begins to tell the tale of the rebellion against the princess's father. Mysteries of the past slowly unfold against the strangeness of their present.
The Unmentionables
Lizard Woman and Vulturella are natural foes in the wrestling ring, but outside of it, Lizard Woman is just Lizz, a struggling single mom.

Until one night when Vulturella starts going all out against Lizard Woman! Why is Vulturella trying to tire out Lizard Woman?! Wrestling action and superheroics from Jack Teagle, creator of Fight! from Nobrow Press.
Of course, if you can't get to Safari, the full range of Retrofit titles (including digital copies and subscription offers) is available at the publisher's webstore.