SAFARI FESTIVAL FORTNIGHT!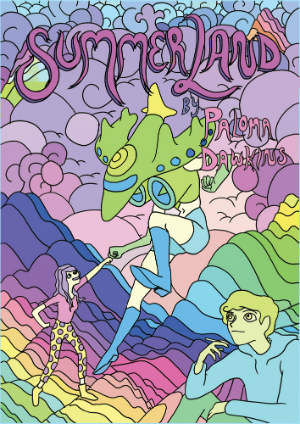 Paloma Dawkins' Summerland – one of the latest batch of releases for those who backed US micropublisher Retrofit's most recent Kickstarter campaign – is a comic that should ideally be enjoyed less as a formal, structured narrative and more as a senses-stimulating, immersive experience.
The plot surrounds protagonist Santana making her annual trip to the book's titular location to visit her cousin Gwen. Participating in the production of a local play, Santana strikes up a friendship with artist Chucho and the pair make a profound and magical connection at an evening beach party the same night.
Years later, the trio have moved in very different directions. When Santana makes a trip to the city to visit Gwen – now a commercial actress – a chance encounter with Chucho allows them to briefly rekindle that fleeting friendship of yesteryear and reflect on where life has taken them since the days of Summerland…
Summerland is slight in plot and, even as a character study, it's a less pronounced piece in terms of deeper insights or conclusions. Instead, Dawkins' 48-page comic invites us to live in the moment with its cast, to share the intensity of isolated yet interlocked pockets of time with them, and to lose ourselves in its hypnotically hallucinogenic ambiance.
To that end it's Dawkins' kaleidoscopic use of colour and shape – a swirling, flowing blur of motion – that is so remarkable in its evocation of mood and tenor. The younger Santana's day in Summerland, as depicted in the first half of the book, gradually shifts through the colour spectrum as the bright vibrancy of the day transitions into dusky evening and then into an eerie phantasmagorical journey of discovery, as Santana and Chucho explore the beauty of the beach at night.
Individual panels are full of details that dreamily drift into each other in this coastal sequence as the two characters' existential ruminations are counterpointed by the fragility and sprawling splendour of the natural world. It's here that the smallest shard of the relative now seems to encompass infinity as Dawkins' spectacular colouring forges an unbreakable link between the character's conceptions of space, time and memory. The second half of Summerland is an intriguing revisitation of some of those themes with the hindsight of life experience; an echo of affirmation that spans the years since Santana and Chucho first met.
Undeniably beautiful, strangely melodic and, in its own quiet way, rather life-affirming, Summerland is a stunning celebration of the vitality of the colourist's art.
Follow Paloma Dawkins on Twitter here and Retrofit Comics here. You can buy Summerland from the Retrofit store here priced $9.00 for print or $4.00 for PDF. UK readers can buy it via the Avery Hill Publishing store here priced £7.50.
Retrofit Comics will be exhibiting at Safari Festival on August 27th.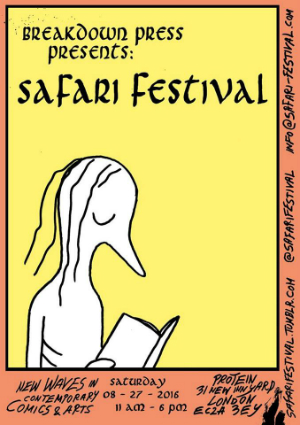 For regular updates on all things small press follow Andy Oliver on Twitter here.