SAFARI FESTIVAL FORTNIGHT!
From the introductory moments when we're introduced to the self-deprecatingly skewed on-page personas of Krent Able and Julian Hanshaw – one squatting Gollum-like in his subterranean kingdom of effluent and filth, the other prone and surrounding by empty beer can trophies in the most unlikely of locations – it's readily apparent that few, if any, holds will be barred in the pages of BadTwin Presents Krent Able & Julian Hanshaw.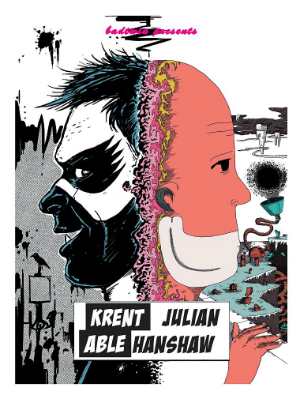 Limited to just a 50-copy print run, and available only at this weekend's Safari Festival, this one-shot double-header features the work of British Comic Award-nominated Hanshaw (Tim Ginger) alongside that malevolently mirthful master of the macabre Krent Able, whose Big Book of Mischief punctures the pretensions of the world of pop culture with a stinging ease. With an underground vibe in format, style and availability, this newspaper-sized publication looks set to be one of the most popular Safari debuts.
On one level these two artists have markedly different approaches to the page. Hanshaw's work is precise, meticulously paced, reflective and profound. Able's is visceral, free-flowing, unrepentant and uncompromising. Yet placed together it's those elements that the pair have in common that become more pronounced rather than those obvious presentational contrasts; the darkest of humours and the bleakest of wits complementing each other in a fitting union of symbiotic cynicism.
Hanshaw's opening tale 'Death from Above' begins with a moment of the most unlikely and gruesome slapstick, all perfectly timed for the maximum sinister dramatic impact. The story comprises a fatalistic monologue from an astral escapee. This disturbed protagonist's survivalist-type tendencies have led him in a different direction than the traditional bunker-dweller and to a new life in the stars, with violent repercussions. If you're a fan of the deliberately downbeat rhythm of Hanshaw's comics shorts then the nihilistic nature of this one will not disappoint.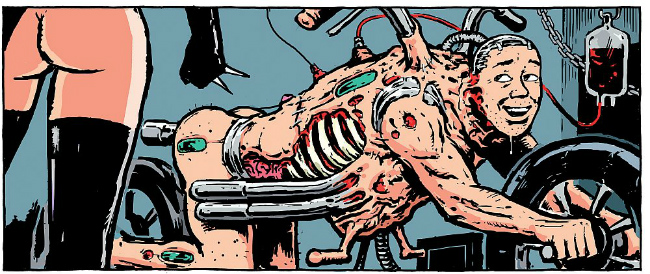 Able counters with 'Test Drive' (above) – his trademark body horror taken to a new level of glorious gratuitousness in a sexually charged piece of visual metaphor. It's unashamedly unapologetic in its crude, lewd and raucous depiction of cyborg motorcycles. Able's extravagant imagination, unfettered by editorial constraints mixes shocking spectacle and cutting social commentary. There's a thematic convergence in the final act 'Epilogue' (below) where Hanshaw returns to the events of 'Death from Above' and similarly explores the interconnections between sex and technology in a hauntingly pessimistic coda.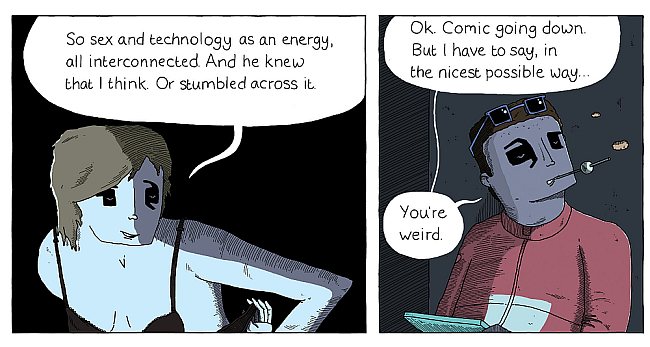 With such a limited number of copies on offer, BadTwin Presents Krent Able & Julian Hanshaw recaptures an era of indie underground comix in both its visual style and its potential hard-to-find collectability. Make Able and Hanshaw's table your first stop this Saturday to ensure you grab hold of this unyielding exercise in ostentatious outrageousness.
BadTwin Presents Krent Able & Julian Hanshaw is published by Your Days Are Numbered and priced £3.00. Follow Krent Able on Twitter here and Julian Hanshaw here.
Krent Able and Julian Hanshaw will be exhibiting at Safari Festival on August 27th.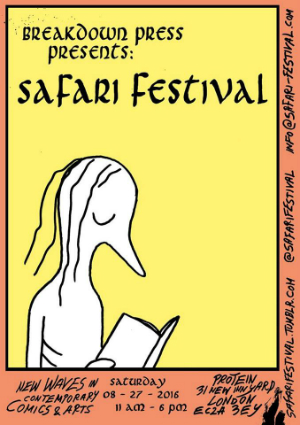 For regular updates on all things small press follow Andy Oliver on Twitter here.