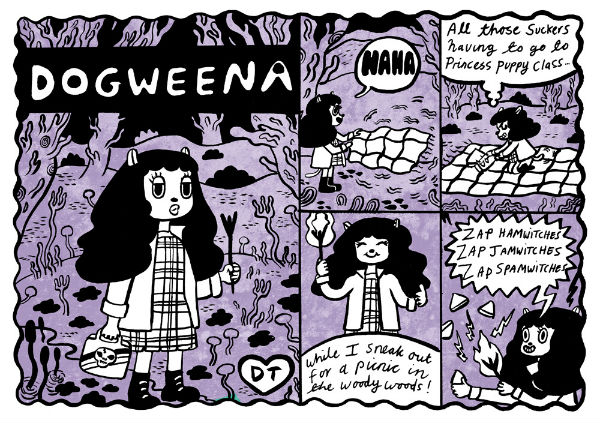 A SAFARI FESTIVAL TIE-IN!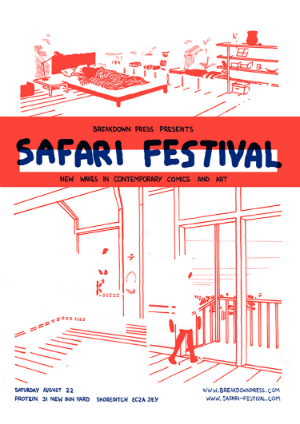 "It's not often I get the opportunity to describe a creator as a true original but in Donya Todd's case it would be criminal not to ascribe that term to her." – Broken Frontier Buttertubs preview
It's the second coming of Breakdown Press's Safari Festival on August 22nd and we're joining in with this celebration of the "new waves in contemporary comics and art" over the next fortnight at Broken Frontier. Each day we'll also be shining a spotlight on the work on exhibitors who have had consistent coverage here at BF in the past.
Today we're looking at Donya Todd who has both self-published her often trippy, stream-of-consciousness narratives and had a longer-form graphic novel Death & the Girls published by Blank Slate Books. Todd's new book Buttertubs will also be published later this year by acclaimed UK micropublisher Avery Hill Publishing.
Donya is also the driving force behind Bimba – her showcase comic for "kick-ass female artists" – and part of Comic Book Slumber Party, as well as being a contributor to various anthologies like Tiny Pencil and Team Girl Comic. Today at Broken Frontier, in anticipation of her Safari Festival appearance, we take a look back at some of our past coverage of her work and projects here…
Review – Bimba #1

In her own words British comics artist Donya Todd created the anthology Bimba as a showcase for "kick-ass female artists". The titular Bimba and chums are the slightly psychedelic lead strip courtesy of Donya Todd herself. If you've ever experienced it before then you'll know that one of the great joys of Todd's work is the delicious incongruity between style and content inherent therein. The worlds her characters inhabit are childlike in appearance, yet that same apparent stylistic naivety is merely a cunning mask for the knowingly morbid and often unrepentantly explicit narratives she constructs. This issue includes work from Lizz Lunney, Emma Raby, Sarah Burgess and Sophia Viney.
Read Andy Oliver's full review here… 
Review – Bimba #2

The theme of this collection is a supernatural one with a series of diverse shorts on the subjects of witches, sorcery and magic from the likes of established self-publishers like Donya Todd herself and Kristyna Baczynski, alongside emerging talents like Brigid Deacon and Sophia Viney. The great success of Bimba #2 is its ever eclectic patchwork quilt feel of styles and interpretations of the anthology's core premise. The perfect taster for the work of the fourteen creators involved and one of the most appealing group efforts I've covered in 'Small Pressganged' in 2015.
Read Andy Oliver's full review here…
Review – Death & the Girls

Betsy, Bunny and Batstone – they're the hard partying Nubian Sisters, never afraid of a tequila-based binge or of embracing the joys of hedonistic excess. But after a particularly extreme evening of alcohol consumption Betsy ends up in a threesome with a sentient washing machine and the spirit of Death itself. When the Grim Reaper subsequently becomes obsessed with his newfound object of lust, the girls are forced to flee his bony grasp…
Todd's art here is a delightful mix of the childlike and the disturbing. Her characters have that innocent, wide-eyed manga appeal but they inhabit an eerie hallucinatory world of violence, vomit and voyeurism, all infused with the distinctive imagery of Mexican folklore. It's a reality where rainbow ponies and mouldering monsters sit side-by-side and where coarse humour is elevated to artform.
Read Andy Oliver's full review here…
Preview – Buttertubs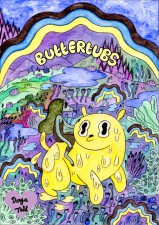 In the words of publisher Avery Hill: "Buttertubs is a dog who always wants to save the dudes and damsels in distress, but who always mucks it up on account of his inability to stop sweating butter. Running becomes flailing and crashing, everything he touches becomes greasy and strangely flammable, and even simple tasks become fraught with slippery danger.
"His nemesis, The Hotdog Queen, needs to watch her back, his friend Hester is always trying to stop his foolish escapades, and there are many, many damsels in distress. All in a day's work for Buttertubs!
"Yeah, it's Donya Todd…"
See the preview here…
Sample art from Donya Todd's work including two pages from her The Sea Witch minicomic
One of Donya's pages from Bimba #2 and a preliminary sketch from the upcoming Buttertubs
For more on Donya Todd check out her site here and her online store here. You can also follow her on Twitter here. 
For regular updates on all things small press follow Andy Oliver on Twitter here.