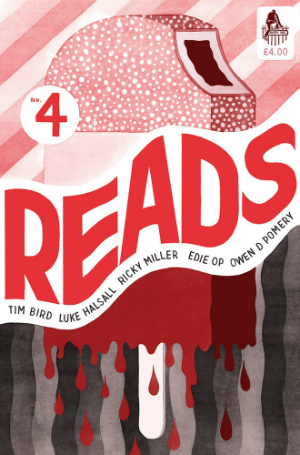 When you get as many small press books submitted for review as I do then it's inevitable that sometimes more than the odd title will slip through the cracks, only to be remembered at a later date. Such is the case with the final issue of the second volume of Avery Hill's Reads series; a title positively packed full of some of the top names in UK small press comics and one that features as part of AHP's bargain bundle packs on their online store at the moment.
Full disclosure first – this issue features a story by EdieOP who recently joined the Broken Frontier team as a staff writer. I'm not going to ignore 25% of the issue for that reason but obviously it's an important point to underline upfront.
Throughout this incarnation of Reads EdieOP has been providing "complete-in-one" short stories featuring some of the darkest creatures to come from her ever wittily warped imagination but, without a doubt, she saved the creepiest to last with 'The Night-Time Ice Cream Man'.
As ever, it's the visual incongruity of her colourfully child-like world with the most sinister and disturbing nightmare creations that gives this tale of a supernatural nocturnal iced confectionery purveyor roaming the darkened streets its edge. Think of the Child-Catcher from Chitty Chitty Bang Bang but infinitely more scary.
Its telling in verse also adds an extra chill and a finale full of bleeding garish colours and spilt ice cream hammers home the horror and ensures that OP's final Reads entry is by far her most memorable. Eleni Kalorkoti perfectly captures the thematic core of the story in her symbolic cover re-imagination.
Ricky Miller and Tim Bird's 'Hitchcock & Film' sees Hitch hit Hollywood as this biographical strip comes to a close. This has, perhaps, been the most overlooked Reads serial with Miller neatly summarising Hitchcock's career in an easily digestible format and Bird's busy page layouts giving a sense of forward motion to the director's career. Hitchcock's near fourth wall-breaking guarantees the reader feels a part of the proceedings but this still seems a project that deserves expansion and repackaging in future.
The debauched gentleman adventurers of 'The Megatherium Club' continue to be locked in conflict with their mortal enemy paleontologist Othneil Charles Marsh in Owen D. Pomery's re-jigging of historical fact. The sepia-tinged conclusion finally sees the adversity between the warring factions end in a tale wherein the 19th century scientific fraternity deal with a rampaging bison, a destroyed drinks cabinet, Scotch eggs and public humiliation. Pomery's creations have been nothing less than laugh-out-loud funny since their AHP debut in 2013 and this is a fine (and hopefully temporary send-off) for the crew.
Finally, Luke James Halsall and Tim Bird's 'The Bullpen' ramps up the tension in this story of Silver Age comics creators, creative machinations and backstabbing. Neatly arriving at its obvious destination this time round we see the truth behind the Bullpen's creative team of Jack and Bill both obscured and revealed with obvious dramatic resonance for anyone with even a passing knowledge of US comics history. Halsall's pacing is perfection in building up our sympathy for stitched-up artist Bill while Bird's visual characterisation is excellent in engaging our pity.
In many ways this second volume of Reads did feel like something of a structural throwback to another era of AHP entirely but it's been a cracking read from start to finish and a marker of just how far the micropublisher had come since that first incarnation of the anthology.
The serial comic nature of Reads probably ensured it had a far less noticeable profile than some of its contemporary AHP books but you really can't go wrong with the established talent in these pages which includes both a British Comic Award winner and a nominee. You can pick up the entire run of four issues from the AHP store here at a discounted price of just £12.00.
For more on Avery Hill Publishing check out their site here. You can follow all of the Reads team on Twitter at the following links: Eleni Kalorkoti, Ricky Miller, Luke Halsall, Tim Bird, EdieOP, Owen D. Pomery and follow Avery Hill Publishing here. 
For regular updates on all things small press follow Andy Oliver on Twitter here.