Nicole Goux has become something of a semi-regular presence here at Broken Frontier over the last four years. Goux's collaborations with Dave Baker in Fuck Off Squad, Everyone is Tulip and Forest Hills Bootleg Society have combined compelling narrative with pure "language of comics" visual storytelling to great critical acclaim. Her latest book Pet Peeves, though, marks her debut longer-form solo work. We recently reviewed this story of a young woman who finds escape from her aimless post-college life via sinister stray dog called Barkley, calling it "an evocative allegory of aimlessness, self-sabotage and the creative struggle." I caught up with Nicole to chat about finding our paths in the world, visual storytelling, and the importance of interacting with your audience…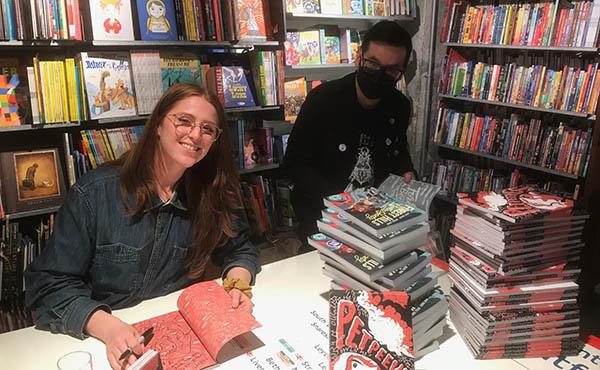 Nicole Goux and Dave Baker at Gosh! Comics in April
ANDY OLIVER: We've covered a number of projects you've been involved in at Broken Frontier over the last few years but usually you work in collaboration with others, notably of course Dave Baker. What were the challenges and differences of working entirely solo on Pet Peeves? How did your process evolve here in comparison?
NICOLE GOUX: Well the biggest difference of course is that I wrote the script for Pet Peeves. I have quite a bit of story input on most of my previous projects, particularly my work with Dave, but I am very rarely the one actually putting pen to paper. I have some experience writing, but it's mostly been limited to shorter projects in the past. So taking on a work this size is a new experience and a bit of a challenge for me. I really wanted to flex my storytelling muscles with no safety net, no one to fall back on or to blame if things didn't go as planned. This work started as an exercise, initially intended to be a shorter piece, but as I put more and more work into the story and it grew to it's current size I realized I did want to share it. Of course when you're not working with anyone else everything is all on you, the story, the characters, and well, the deadlines. I'm a very deadline driven person and when I have them, I always meet them. The problem is when the deadlines are all self defined they seem a bit unimportant. Other work, or play, can take precedence, even when it's a story you truly care about and want to make. So it did take a little longer than intended! But eventually I got it done and it's very satisfying to have a work that's all my own.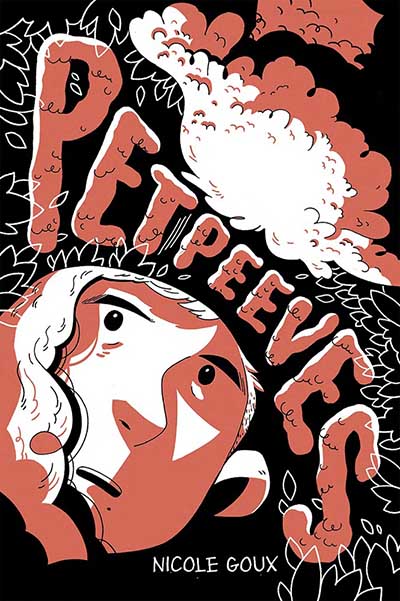 AO: How did Pet Peeves come to Avery Hill Publishing?
GOUX: As I mentioned before, when I started the project I wasn't even sure I wanted to put it out in the world. When I did think about releasing it, I really wanted to find a good home for it and the first publisher to come to mind was Avery Hill. They put out a lot of really lovely books that felt very in line with what I was trying to do with Pet Peeves. They seemed to put a lot of time and attention into their books. I had met Ricky of Avery Hill before at SPX so when I completed Pet Peeves I reached out to him and a few other cool independent publishers. Fortunately they were excited about the book and I ended up with my top choice!
AO: Pet Peeves is one of those books that it's difficult to talk in too much detail about because there are both literal and metaphorical levels on which this tale can be read. You can interact with it as a kind of urban horror in one way or as an allegorical exploration of co-dependency, creative struggle and self-sabotage in another. Would that be a fair assessment of the narrative? How would you describe its premise to a potential new reader?
GOUX: I think that's definitely accurate! I've had a bit of a struggle figuring out how to talk to people about the book. On the surface it's a pretty simple story: Struggling musician adopts a stray dog, said stray dog starts ruining her relationships and home life while simultaneously giving her love and support she isn't seeing from the people around her, musician starts to let dog take over and supersede any previous goals or plans she had. But you're right, it's about so much more than that, and is definitely a bit creepier than that sounds. I often just tell people directly that it's about struggling to find your path as a creative in your twenties who no longer has the structure of school or work to tell you where to go, and how in this vulnerable time, it's very easy to let outside influences derail you.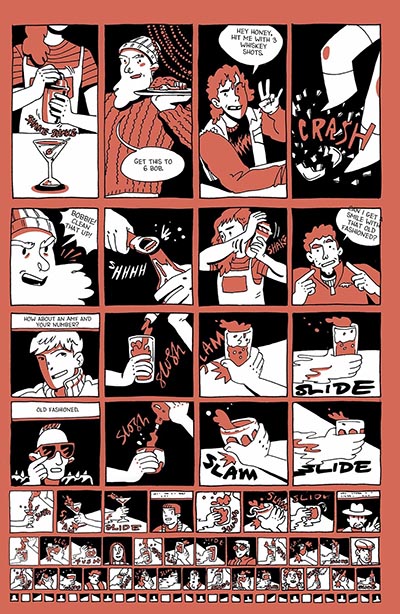 AO: There was one element of Pet Peeves that particularly resonated with me, especially given that my first degree was non-vocational. It was the way you so perfectly captured that kind of existential No Man's Land between leaving college/university where you've been building up to this one big point (graduation), and then finding yourself out there in the "real world" and feeling suddenly lost and aimless. How much of Pet Peeves has an autobiographical element to it?
GOUX: Ah it seems I've pre-empted this question! I mean, yes, you caught me. This is a very personal story for me, that's one of the reasons I was so hesitant to put it out in the world. I was always good at school, a straight A (mostly) student, good at testing, most of it came pretty easy to me, and even when I chose a slightly unconventional path (art school) I had a road to follow, and I was good at following that road. But when you graduate from art school, you have all the skills of the trade, but very little skills in business or networking or making a living with this thing you've spent so long developing. It's not like being a lawyer or a doctor where you always have a next step. So when I graduated, I floundered a bit. I knew I wanted to make a living with my art, but how felt very unclear and there was all of a sudden no one guiding me or telling me where to look for work. When you feel that lost, it's very easy for people to come into your life and distract you from what little motivation that you have. So did I have a creepy stray dog taking over my life? No. Did I struggle with direction and apathy and a loss of motivation? Absolutely.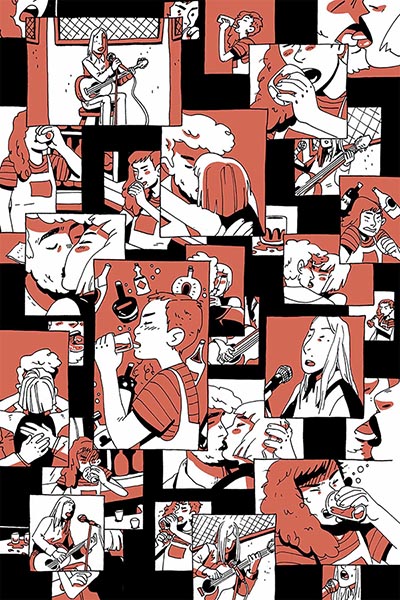 AO: Every time I have reviewed one of your collaborative projects with Dave Baker I've spoken about how you both deftly manipulate the language of comics to its full potential. From inventive page layouts to clever use of comics' relationship with the passage of time, through to the way you quietly manipulate the reader's relationship with the page with a profound effect, Pet Peeves is another masterclass on the unique storytelling tools of the form. So, after that long run-up, I want to ask you about those visual decisions. Do they go through multiple incarnations in the thumbnailing phase? Do you ever revisit certain sections and redesign and redraw? How does it feel when you know you have really hit those emotional beats?
GOUX: Wow, thank you for those words! Comics language is very important to Dave and me. We really want to tell stories that are essentially comics, and use the beautiful and expansive possibilities available in the medium to tell our stories. So of course this carries through to all my work, solo or not. I really do my best to use the medium to its fullest. There are so many ways to tell a story in comics, most of which I will never think of or come close to. That means that in my exploration, sometimes yes, pages do go through multiple incarnations, often pages or scenes get added to the story after everything is drawn or at various stages in the process, sometimes things get scrapped. I do my best to plan as much as I can ahead of time, but you always have to leave room for the ideas that come from the making of the book. I wish I could say that I ever really "know" that I've hit emotional beats. Emotional beats is 100% what I'm here for and put most of my focus on, but I don't think it's my job to say whether they're successful. I don't think I ever really know if it works until a book is out with readers and people are connecting with it.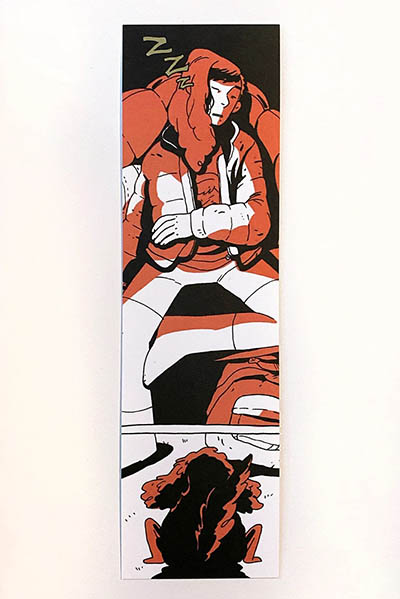 AO: We met recently at London's Gosh! Comics when the book was launched in April where I got to see you interacting with readers in person. How rewarding as an artist is that experience of speaking with your audience directly, given how creators can often feel like they're working in something of a bubble?
GOUX: I don't necessarily want to say it's "everything", but it's definitely a big part of the reason that I make comics. I've made art all my life, but it wasn't until I started making mini-comics and going to zine fests and comic shows that I really had an opportunity to connect with the people consuming (ew gross word, but you get what I mean) my work. It changed everything, I was completely hooked. To be able to make a work, especially something as personal as Pet Peeves, and be able to talk to someone who enjoys it, can see themselves in it, that it's special to, well that's a high like nothing I'd ever experienced before. Like you said, you make work alone in a void for so long, comics take forever to make, and then you put all this hard work out into the world not knowing if anyone at all will care, so to be able to talk to the ones it means something to is just an incredible feeling.
AO: I don't want to finish without talking about Rituals, your recent artzine-style collection of illustrations (above) from Silver Sprocket. Can you tell us a little about what you were trying to capture in the imagery of that title?
GOUX: Interesting that you focused on the title. The book actually went through a few iterations of titles trying to get the right one. I couldn't be happier with what we landed on. I really wanted the book to be about the quiet moments, the personal routines and rituals that go into putting on your face, your look, your armor to go out and face the world. The way that we look is by no means everything or all important, but it's an opportunity to show the world who we are. I like the idea of creating that through a spiritual ritual, kind of like some magical rite. Going from who you are with your armor down, to what you want the world to see.
AO: It's been a prolific few years for you but what are you thinking about next in terms of comics? What are you going to be working on next?
GOUX: Oh I'm always thinking about comics. Right now I'm waist deep in two very large projects, which unfortunately it will be a while until they make it out into the world. I love making big books, but the problem is that means I don't get to put out much in the meantime. I can tell you that one of them will be with Dave, and another with a very cool writer who you all know and love but that book is still currently a big secret. I do have some plans for some solo work, but with two books already on my plate those will have to wait until I'm a little more free!
Buy Pet Peeves online from Avery Hill Publishing here
Interview by Andy Oliver