ELCAF WEEK!
Because there were just so many ELCAF debuts that they would have swamped the regular Broken Frontier weekly Staff Picks we decided to cover just the tiniest handful of the books launching at the festival in their own separate round-up here today. It's a small selection of what's on offer but it does contain some unmissable new work finding its way into the world this weekend.
But also don't forget – the joy of an event like ELCAF is in making those all-important discoveries for yourselves as well. So hunt around, make a point of visiting every table and unearth your own personal gems of the small press in East London this Friday, Saturday and Sunday…
Comic of the Festival
Something City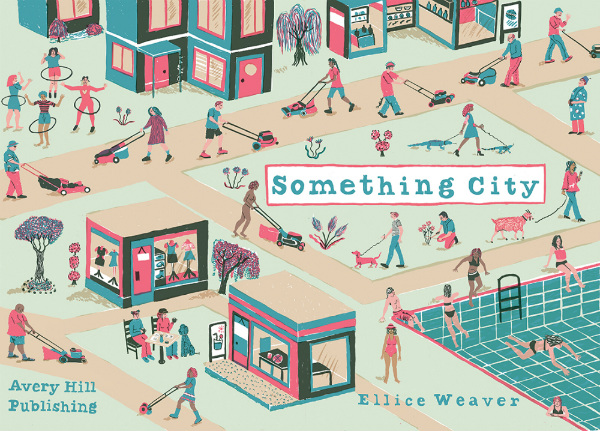 Ellice Weaver is just one of a number of artists from our various Broken Frontier 'Six Small Press Creators to Watch' initiatives whose work will be a highlight at ELCAF this year. Her debut graphic novel Something City will be launched there by her publishers Avery Hill Publishing and it marks the advent of a breathtakingly original voice on the UK indie comics scene.
A collection of inter-linked tales of the various communities that make up the titular location, this is a stunning showcase for a remarkable new talent whose distinctive page layouts and evocative use of colour will, no doubt, be her trademark stylistic signatures in the years to come. Weaver is a talent who is going places. Make sure you're there at the outset of what will, no doubt, be an amazing body of work in comics.
You can pre-order the book here.
Ellice Weaver (W/A) • Avery Hill Publishing, £10.99
Buy from Avery Hill Publishing at ELCAF Table 55 from Friday-Sunday
– Andy Oliver
Human Garbage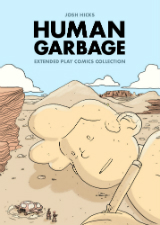 ELCAF is awash this year with creators from all three of our Broken Frontier 'Six Small Press Creators to Watch' initiatives. From this year's intake, Josh Hicks – whose splendidly offbeat Glorious Wrestling Alliance first gained him notice last year – will be debuting Human Garbage, a collection of his strips that were either previously self-published or appeared in anthologies.
Showcasing Hicks's impressive versatility as a storyteller and his engaging cartooning style, Human Garbage contains tales that range from self-deprecating autobio to detective fiction and is published by Good Comics, those champions of some of the newest and most exciting rising talents on the UK small press scene.
You can order the book online here.
Josh Hicks (W/A) • Good Comics, £6.00
Buy from Josh Hicks at ELCAF Table 53 from Friday-Sunday.
– Andy Oliver
Time May Change Me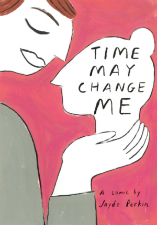 Jayde Perkin's autobiographical comic mixes slice-of-life storytelling with graphic medicine in a poignant account of coming to terms with the loss of a parent. Set around the time of David Bowie's death it uses the lyrics of the iconic singer to further its explorations of grief and acceptance.
Perkin has a distinctive visual storytelling style with angular, disproportionate characters and skewed perspective giving her work an added level of humanity. This is a raw, stark and brave piece of work that deserves your attention over the ELCAF weekend. Look for a full review tomorrow at Broken Frontier.
Jayde Perkin (W/A) • Self-published
Buy from Jayde Perkin and David McMillan at ELCAF Table 44 Saturday-Sunday
– Andy Oliver
Badger Vs. Tiger!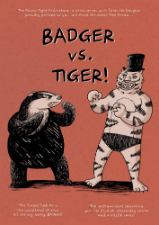 If you know John Cei Douglas's name through his lyrical, self-reflective and poignant slice-of-life comics like Show Me the Map to Your Heart & Other Stories and Static then you're about to discover an entirely different side to his storytelling repertoire at ELCAF this weekend!
Badger Vs. Tiger! is a delightful all-ages offering that pits the amiable Badger against the ostentatious showman Tiger in a woodland wrestling grudge match in the Great Tree Arena. Employing Douglas's deft "silent" narrative skills and intuitive panel-to-panel pacing it's a fine example of the pure craft of his storytelling. And it's also a comic that adults will have the utmost pleasure in sharing with much younger (and newer) comics fans.
One animal triumphs in this grappling extravaganza but the true winners are the audience of readers who will be entranced throughout. Look for a full review at BF soon.
John Cei Douglas (W/A)
Buy from John Cei Douglas at ELCAF Table 16 Saturday-Sunday
– Andy Oliver
Tantra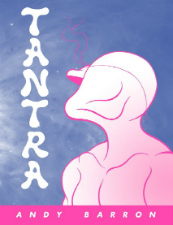 Andy Barron's OM universe is a genuinely alien (but occasionally disturbingly familiar) environment full of its own rules of reality, strange rituals, shifting sense of time and bizarre inter-relationships between characters. Vividly coloured and largely silent in delivery, there's an animated visual style to the minicomics that is complemented in strange and slightly undefinable ways by its often uncompromising brutality. It really is a genuinely unique reading experience.
This week at ELCAF Barron debuts a new OM comic with Tantra – the first risographed instalment of the saga. He'll have the collected Mantra OM tales as well and if you're up for an entirely different comics experience you can enjoy his OM story 'The Lamp' (below) made up of wooden dioramas on his table.
Andy Barron (W/A)
Buy from Andy Barron at ELCAF Table 44 Friday
– Andy Oliver
Silica Burn #2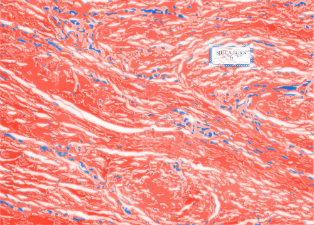 When last we covered Silica Burn at Broken Frontier (the first issue in 2015) our Tom Murphy was full of praise for the project and said of Liam Cobb, Will Tempest and Tom Kemp's offering here that "each [story] offers an intriguing and individual vision of a possible future… to weave a dense graphic depiction of a complex technological future that brings pros and cons – a depiction that warrants multiple readings."
In this second anthology outing they're joined by Rachel Sale, Benni Bosetto and Iris Erlings for another collection of mindbending tales that genuinely push the boundaries of the medium with their expectations-challenging approach. You can see preview pages from the book below but, having read a preview, I can guarantee that for that vast section of our BF audience who embrace the experimental in their comics consumption this will be an essential buy.
Anthology – Various Creators
Buy from Silica Burn at ELCAF Table 41 Friday-Sunday
– Andy Oliver
The Lighthouse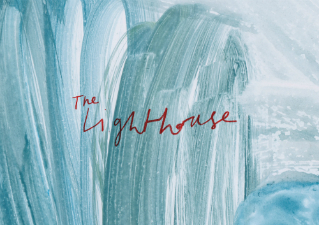 The Lighthouse is more a zine-style graphic narrative than a comic but we often blur those lines here at Broken Frontier and this is also an offering from Lizzy Stewart – children's illustrator and also a particular favourite slice-of-life comics storyteller here who has appeared on frequent occasions at BF (most recently for the excellent It's Not What You Thought It Would Be).
A personal essay on the Smeaton's Tower Lighthouse in Plymouth this is an accessibly reflective and quite beautiful piece of writing that touches on childhood, memory and the passage of time, all with a maritime twist. It's complemented, of course, by Stewart's ever dreamy and wistful visuals.
Festivals like ELCAF exist to broaden our aesthetic horizons. If you only know Lizzy Stewart's work through her comics then pick up The Lighthouse this weekend for an opportunity to see another side of her always engaging practice.
Lizzy Stewart (W/A)
Buy from Lizzy Stewart at ELCAF Table 6 Friday-Saturday
– Andy Oliver
Boxes #3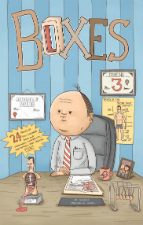 Todd Oliver's extreme body horror slapstick returns for a third issue of inventive gore and clever, playful uses of the form with both self-contained stories and his recurring cast of colourful (and often ill-fated) characters.
Watch out for more human flesh-feasting foibles from The Accidental Cannibal, the suggestive antics of Worm Man, a cast of willingly doomed farmyard animals and many others as Oliver once again projects his dark but remarkable imagination onto the comics page.
You can order online here.
Todd Oliver (W/A) • Self-published, £4.00
Buy from Boxes/Todd Oliver at ELCAF Table 1 Friday. 
– Andy Oliver
For more on ELCAF visit the site here and follow the festival on Twitter here.