ELCAF FORTNIGHT!
Our Inside Look feature at Broken Frontier provides creators with the opportunity to share exclusive commentaries on their comics projects with our readers, giving insights into the genesis, process and themes of their work. Today, as part of our ELCAF Fortnight of coverage, we have rising star Scott Jason Smith talking to us about Marble Cake, his debut graphic novel from Avery Hill Publishing which you can pick up at the festival in June. Over to Scott after AHP's short publishing blurb below…
Marble Cake
Have you ever wished you could glimpse into the lives of strangers – those anonymous faces passed in the produce aisle of the local supermarket, those shadows lurking behind the closed curtains of their homes? Would you be surprised by the rich mixture of personalities, the strange habits and the unexpected insecurities? Perhaps like you they're also baking blind, no recipe to follow. You might produce a perfect cake, or you might end up throwing the mix in the trash and starting again. And again. And again.
The Cover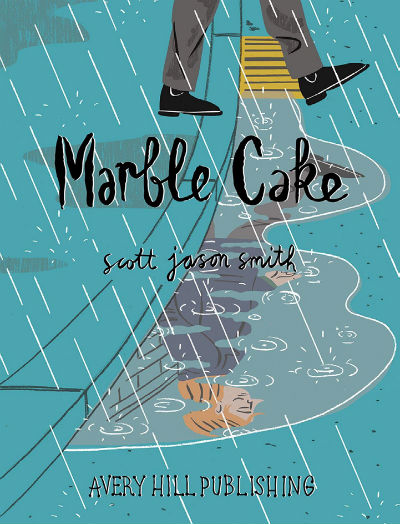 There are a few occasions in the book where characters are looking at themselves in the mirror, so I wanted some sort of reflection on the cover.  Also, the rain could represent bad things being washed away or life going down the drain or neither… depends which way you want to look at it.
Page 3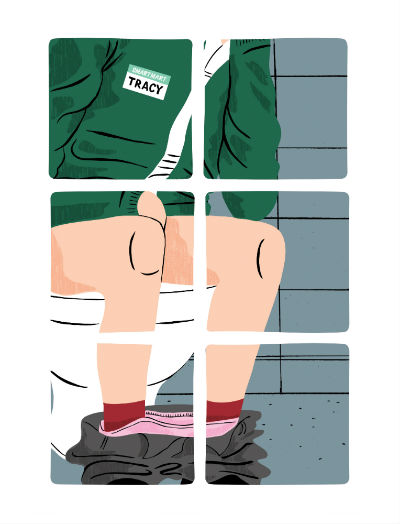 I decided to start off really close.  I went for a private moment since the book follows the characters' private moments and thoughts.  There's not a lot that's more private than sitting on the loo.
Page 9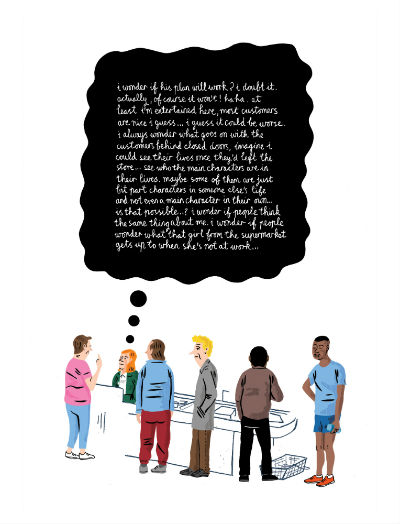 This page kind of sets the book up I guess.  I thought a supermarket would be a good place to meet several characters at the same time and hear the start of their stories.  Most of the content in the book is stuff I've overheard in public, I'm not taking the mickey out of people, I just find it interesting to write stories around.
Page 13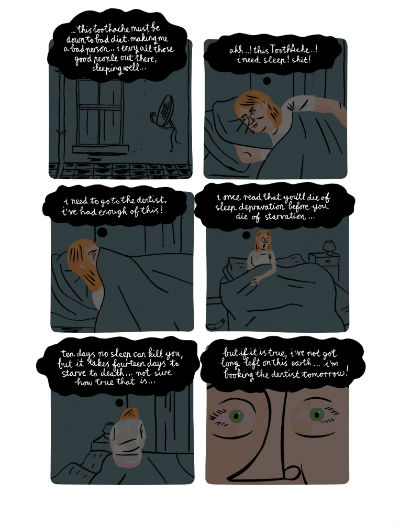 Toothaches are pretty horrific, they keep you up at night and the pain can be more or less constant.  To make matters worse it means a trip to the dentist is needed, and no one likes the dentist. It's not like one goes to the dentist to hang out and meet new people…
Page 29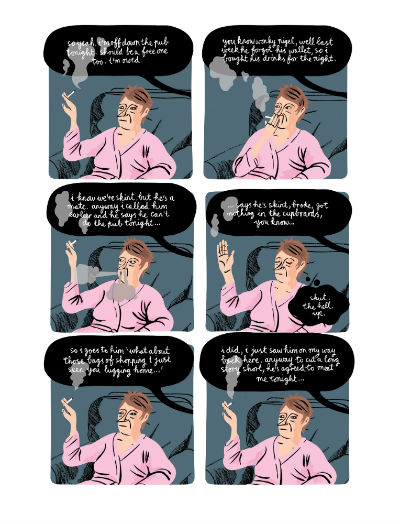 I overheard a guy saying this to his mate years ago. Like I said, a lot of the dialogue is stuff I hear out and about.  She's watching TV here and doesn't look over once whilst he's talking to her. I kept the composition of each panel roughly the same to amplify the mundaneness of it all.
Page 68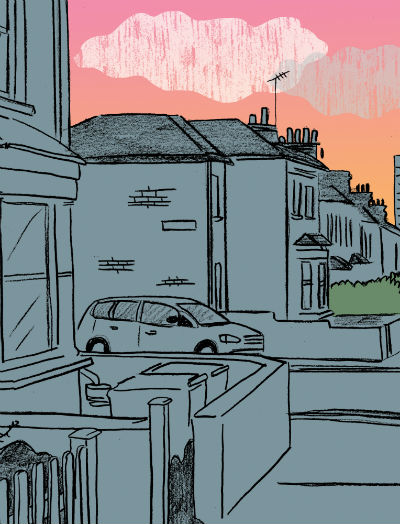 Pink (or red) sky in the morning shepherds' warning.  It rains during most of the book's ending.  So, I thought this would be a nice way the begin the last part of the story.
Page 103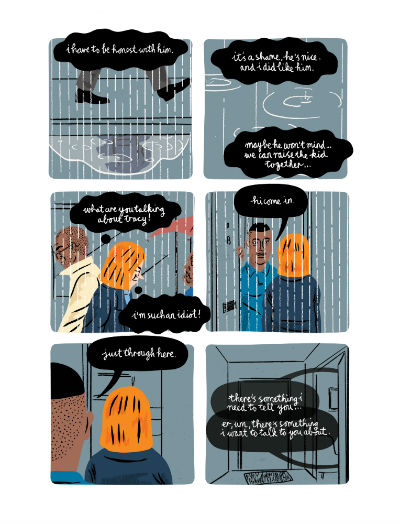 So, here's that rain I was talking about.  I snuck in a couple of panels where it stops momentarily, but then starts right back up again.  The rain adds to the atmosphere…  Miserable weather, sad moments in the story.  But rain also help things grow, so who knows what happens to everyone in the future.
You can find out more about Scott Jason Smith's work on his wensite here. Avery Hill Publishing will be exhibiting at ELCAF on Saturday June 8th-9th. For more on Avery Hill check out their website here and their online store where you can pre-order Marble Cake here. You can follow them on Twitter here.  For more on ELCAF 2019 visit the festival site here and follow them on Twitter here.