Before the weekend we provided details about three new book announcements from Avery Hill Publishing for the latter part of 2019. You can find out all about Alabaster Pizzo's Mimi and the Wolves, B. Mure's The Tower in the Sea and Lizzy Stewart's Walking Distance here at BF.
As previously announced, however, Avery Hill also have books by George Wylesol, Shanti Rai, Scott Jason Smith and Claire Scully being released next year. We have further details on those debuts with brand new preview images below via the AHP team. And, again, don't forget you can buy Avery Hill Publishing books online here.
Internet Crusader
By George Wylesol
140 pages, full colour, 239 x 160 mm, p/b
£11.99 / $15.95
Release date: 5 September 2019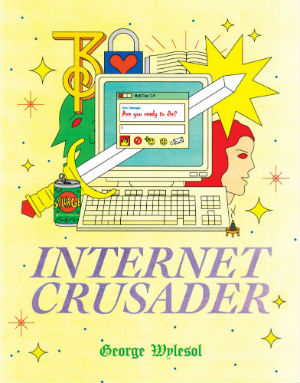 Ever have one of those days where you're talking to a smokin' hot chick online and she turns out to be a robot working for an evil cult… and that hot chick sends a computer virus masked as dirty pictures… and that computer virus allows Satan to come through everyone's computers and hypnotise them… but the family computer has parental locks on it so you don't get the virus… and then God messages you to say you're the only person on earth who can save human existence?
Anyway, that's the set up for this part art book, part graphic novel and 100% true, deep dive into early internet culture from creator of Ghosts, Etc. George Wylesol!
"yo. ur abt to read 1 of the greatest storys ever told. its the story abt how i went on the internet and single handedly saved the world, killed the devil and made friends w god. i call this story Internet Crusader."
– BSKskator191
George Wylesol is an illustrator/designer/writer from Philadelphia, living and working in Baltimore. He has an MFA in Illustration Practice from Maryland Institute College of Art.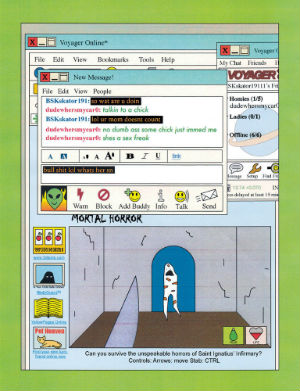 Praise for Ghosts, Etc:
"A tour force… one of those books which defies description, and stays with you long after you have finished it."
Alex Thomas, Pipedream Comics
"Haunting… compelling and strange. A bold artistic and narrative statement."
Philippe LeBlanc, Comics Beat
"Readers may be unsettled by Wylesol's comics while delighting in their effects."
Greg Hunter, The Comics Journal
"A very accomplished trio of stories that showcases someone who is seemingly without any fear whatsoever when it comes to the arduous artistic process of making comics. Bravo George Wylesol."
Jonathan Rigby, Page 45
Sennen
By Shanti Rai
100 pages, full colour, 239 x 168 mm, p/b
£11.99 / $14.95
Release date: 5 September 2019
Sennen's life is mostly perfect – spending her days tending the fields in her idyllic village and her evenings with her beloved family, all tucked into the crook of a green and beautiful valley. And if it wasn't for the masked figures descending from the hills with increasingly regularity to take their harvested food to deliver to their Gods, she'd have no worries at all. But when the demands for tribute strike closer to home, Sennen is forced to flee the paradise of her valley and venture into the home of the Gods to save her family and their way of life – only to discover that those we worship are not always what they seem, and the lives we lead are not always so simplistic after all.
Sennen, the debut graphic novel from exciting new British author and artist Shanti Rai, tells a timeless tale of adventure, and the discoveries we make as we explore beyond the boundaries of our childhood, into the uncertainty of the adult world.
Shanti Rai is a London illustrator who graduated from Camberwell in 2017. Her work has appeared in Day Dreams, KO and Persephone. She was one of Broken Frontier's 'Six to Watch in 2018'.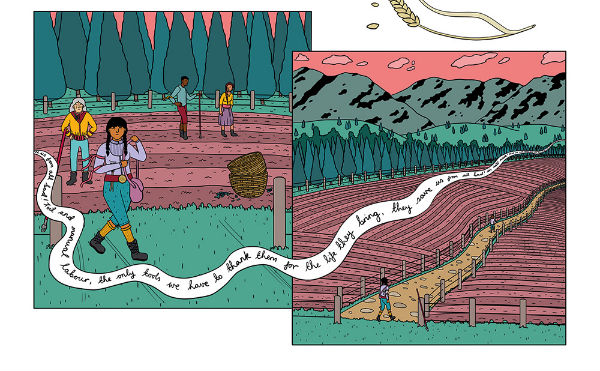 "There's no denying the intrinsic strengths of Rai's visual storytelling or the poignant and heartrending impact that KO has on the reader. A perfect introductory entry point to the style and work of a newer creator who I suspect we will be hearing a lot more about in the coming months."
Andy Oliver, Broken Frontier
Marble Cake
By Scott Jason Smith
108 pages, full colour, 239 x 168 mm, p/b
£11.99 / $15.95
Release date: 3 June 2019
Have you ever wished you could glimpse into the lives of strangers – those anonymous faces passed in the produce aisle of the local supermarket, those shadows lurking behind the closed curtains of their homes? Would you be surprised by the rich mixture of personalities, the strange habits and the unexpected insecurities? Perhaps like you they're also baking blind, no recipe to follow. You might produce a perfect cake, or you might end up throwing the mix in the trash and starting again. And again. And again.
Marble Cake, the debut graphic novel from acclaimed British author and artist Scott Jason Smith, cuts a slice through everyday life and takes a bite out of the layers concealed beneath the icing, all told with the acerbic wit and keen eye of a truly exciting new creator.
Scott Jason Smith's work has appeared in 69 Love Songs Illustrated and Passing North, and in exhibitions in London and Vienna.
"Well-observed humour… There's plenty of funny moments, pathos and intelligence in this book to keep the most jaded stalwarts happy, and the artwork is really nice."
Sean Duffield, Paper Tiger (on Smith's Up a Blind Alley)
"A superb, darkly funny, well written collection of strips, with some very interesting characters. The tone and feel, I would say, was kind of like a lovechild of Dan Clowes and British small press veteran Paul Rainey."
Sean Duffield, Paper Tiger (on Smith's Paunch)
Desolation Wilderness
By Claire Scully
32 pages, full colour, 102 x 152 mm, p/b
£7.99 / $10.95
Release date: 3 June 2019
Desolation Wilderness is part of an ongoing project looking at landscape and memory – our relationship with the environment, effects we have on the world and space around us and in turn it's profound affect on our own memory and emotions. Each of these landscapes is a starting point to a much bigger adventure that strives to answer the question of what lays beyond the horizon.
This book is the second part of a series that began in Internal Wilderness, Claire's 2016 piece examining memory and imagination through visual ideas and explored the idea that within the space on each sheet of paper a world can be created either from a distant memory of a childhood holiday or from the desire to see parts of the world that for now are only dreamed about.
Claire Scully is a London-based freelance illustrator working in pen, ink and digital with a heavy focus on drawing. Her work explores a variety of themes including the relationship between humans and the environment.
Praise for Internal Wilderness:
"One of the most beautiful artefacts I've beheld this year."
Stephen Holland, Page 45
"Each page is different but also very similar. It really is like going through your own memories after time has passed, as everything seems like something you know until you look at it closer. Check it out – if you're interested in something more out of the box, something that will be a wholly different experience for you than it will be for everyone else, Claire Scully's wordless landscapes pulled from memories and dreams might be right up your alley."
Amelia Wellman, Rogues Portal
"Claire's love of nature and high attention to detail is what makes this book mesmerising… the dark, mono colours emphasised through the light of the moon brings a sense of calm and harmony to the pages. Its open-ended nature triggers discussions and gets its readers to think, all without speaking a word. Internal Wilderness is a piece of art that deserves your time as the huge level of detail is simply something to observe and marvel at."
Connor Filsell, A Place to Hang Your Cape