After Tim Bird's much deserved 2015 British Comic Award win for Grey Area: From the City to the Sea, anticipation was high for this fourth issue of his psychogeographical musings. Bird's work explores the link between environment and memory and he has been a mainstay of the Avery Hill Publishing creative stable since the micropublisher's very early days on the UK scene.
Bird certainly didn't let his readers down with last year's Grey Area: Our Town which adopted a more narrative approach than previous editions of Grey Area. I said of it here at BF that "Avery Hill's commitment to their stable of regular creators has reaped dividends because Our Town represents Bird at his most confident as a graphic storyteller yet."
He's also a contributor to Avery Hill's Reads anthology and the Over the Line poetry comics collection as well as a regular face in UK small press group efforts like A Bit of Undigested Potato, Dirty Rotten Comics and Off Life. Today – in the latest of our semi-regular 'Small Press Inside Look' creator commentaries here at BF – he gives some very personal insights into that most recent Grey Area offering and elaborates on their autobio elements…
Cover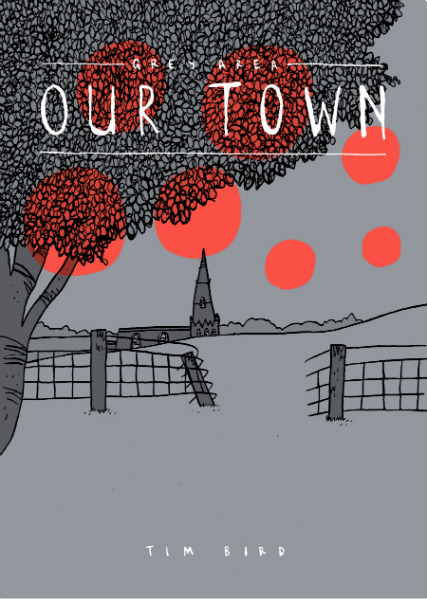 Grey Area – Our Town draws on personal experiences much more than previous issues. I remember going to a playing field near my grandparents house to play football and fly kites when I was young. I'm interested in how these memories of places can change over time. The playing fields where I went seemed enormous – stretching as far as I could see. I didn't really think about how they fitted in to the local geography – I just knew the route from my grandparents' house, past the shops, through the woods, through the gap in the fence. To revisit them now would be a totally different experience. For this comic, I changed the idea of the playing fields to a hill where I could look out across a town full of places relating to different memories from different periods of my life.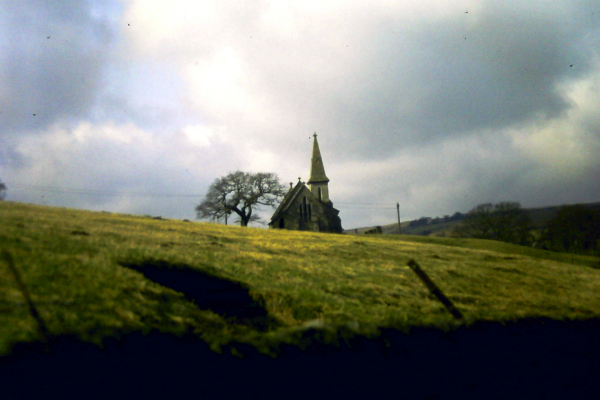 Most of my previous comics have been drawn digitally in Manga Studio, but for this one I wanted to try using more traditional methods. I used a dip pen and ink, adding simple blocks of colour digitally in Manga Studio. I like to use a muted palette, and the greys on the cover seemed like an obvious choice for the Grey Area series. The red spots reflect the shapes of a page in the comic (see below) and hopefully make the cover more visually interesting. I like to write all the text by hand, rather than using computer fonts, as it fits better with my style of drawing. I kept the Grey Area text small, as I want each issue to stand on its own. It's nice that the Grey Area series has become reasonably well known within the small press scene, but I don't want new readers to feel that they've missed out on previous issues – the latest one is as good a starting point as any.
Kite Flying
This page shows me flying a kite with my grandfather when I was 5 or 6 years old. Kite-flying takes an element of expertise – you have to judge the wind speed and direction, know how much string to let out and be able to launch the kite as the wind is right. It felt nice that my grandfather took the time to teach me how to do it. Using unfamiliar drawing materials, like the dip pen, also requires time to learn. I like how the mistakes I made in learning to draw with a pen and ink are evident on the page, and become part of the comic.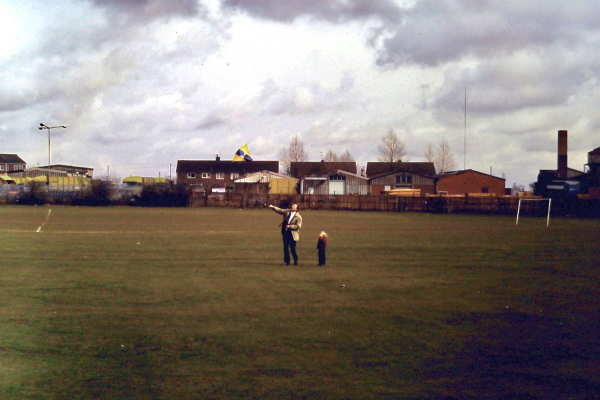 I like to use regular grids like this one. I think it works well in controlling the pace of the comic and gives the design of the overall page a good look.
I don't write very detailed scripts for my comics – I tend to just start drawing and see what happens, reworking pages until they fit. This was much easier when I was drawing digitally and could rework something without having to scrap pages that weren't working. I do, however, always have key scenes in mind from the start, and this was one of those. It turned out pretty much how I imagined it from when I first started thinking about the comic.
Cranes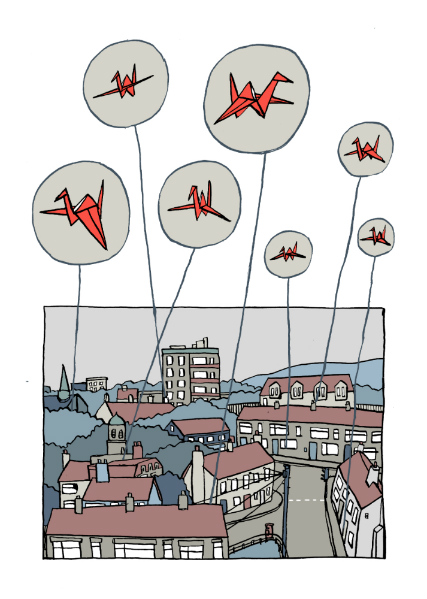 My wife made 1000 origami cranes to decorate the room where we held our wedding reception. An ancient Japanese legend suggests anyone who does this will by granted a wish from the gods or eternal good luck. In the comic I show my wife hiding the cranes around the town where we live, giving us a sense of ownership over it – sort of like graffiti artists tagging buildings. I think people develop this connection to the place where they live, and often feel fiercely proud of it. I gave away cranes with the pre-orders of the comic, and included instructions on how to make them in the inside cover. Its nice to think of my comics spreading good luck to people who I've never met and being read in towns that I've never been to.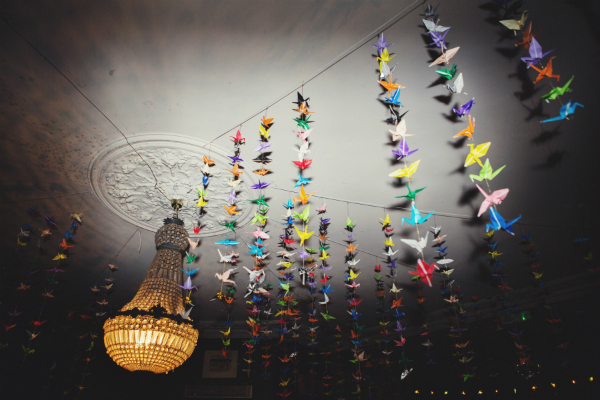 The street that I've drawn doesn't really exist, but is a collection of buildings that are significant to me – the block of flats where I live, my daughter's school, our local library, the church that I can see from my window.
I made the cranes the same colour as the kite in an earlier page, to try and create a connection between these different memories which are depicted in the same landscape. The idea of psychogeography – that memories and landscapes are interconnected – really interest me, and is a theme that I've explored throughout the Grey Area series.
The circles showing the locations of the cranes are repeated on the front cover of the comic.
On The Train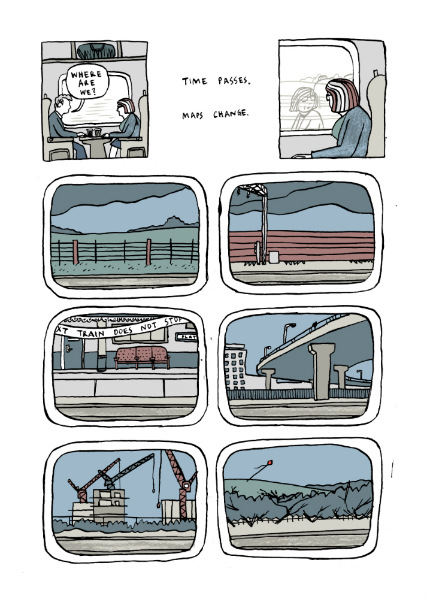 In the final part of the comic, I show my wife and I revisiting the town after some time away. Places change through planned redevelopment and nature working over time. But they also change in our memory. When I revisit places from my childhood, they often seem to be on a smaller scale. Sometimes places seem completely different. Often, a memory is so closely associated with a place that its hard to revisit and see an area out of context.
In this page I use a train window to frame a changing landscape. The panels are supposed to be snapshots of a couple passing through a familiar place, but also of them looking back over their lives.
Some of the smudges and drops of ink in this comic were cleaned up after I passed it on to Dave at Avery Hill Publishing, but I like it with them left in!
Frank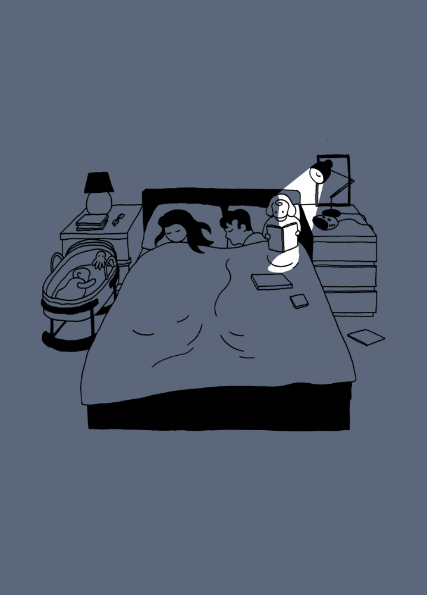 My son was born on my birthday last year, and my mum bought me a new pen as a birthday present. I drew a few little comics, including this one, as a way of trying out the pen (a Rotring ArtPen for pen geeks!).
I'm a big fan of diary comics. One of the first I discovered was Adam Cadwell's The Everyday. It inspired me to start drawing regularly. I used to keep an online diary comic of my own (It's a Bird's Life) and still draw comics about my family now and then, usually as a way of trying out new pens and things. I'm thinking about self-publishing a collection of them at some point.
For more on Tim Bird visit his site here and follow him on Twitter here. You can buy Grey Area: Our Town from the Avery Hill site here priced £7.00 and Tim's other work from his online store here.
For regular updates on all things small press follow Andy Oliver on Twitter here.