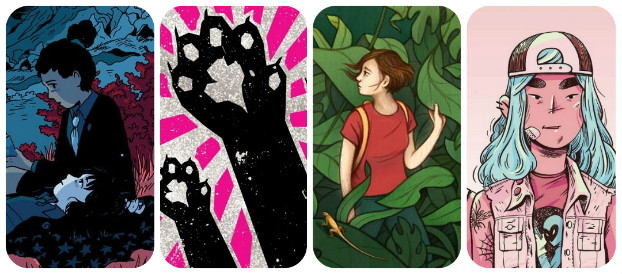 It's Wednesday, and you know what that means: a fresh load of comics and graphic novels! With so many publications hitting your local comics store, comics event or digital storefront, the BF team are here to lead you through the woods with our weekly staff picks. Satisfaction guaranteed!
Comic of the Week
Follow Me In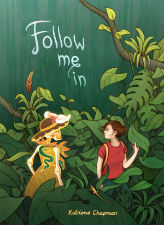 It was our Thought Bubble debut 'Graphic Novel of the Festival' and this week Katriona Chapman's gorgeously illustrated graphic memoir is available to a wider audience from Avery Hill Publishing. This handsome hardcover details a point in Chapman's life post-university when she took a year-long trip travelling around Mexico with her then partner Richard.
The journey of discovery is a multi-layered one indeed in this deeply personal book that acts as both travelogue and an account of a disintegrating relationship, as Richard's worrying level of drinking reaches a crisis point. I described the book as "a beautiful, devastating and hauntingly fragile triumph" when I reviewed it here at Broken Frontier. There's also a London launch for it later this week at Gosh! Comics.
Katriona Chapman (W/A) • Avery Hill Publishing, £18.99
– Andy Oliver
Infidel TPB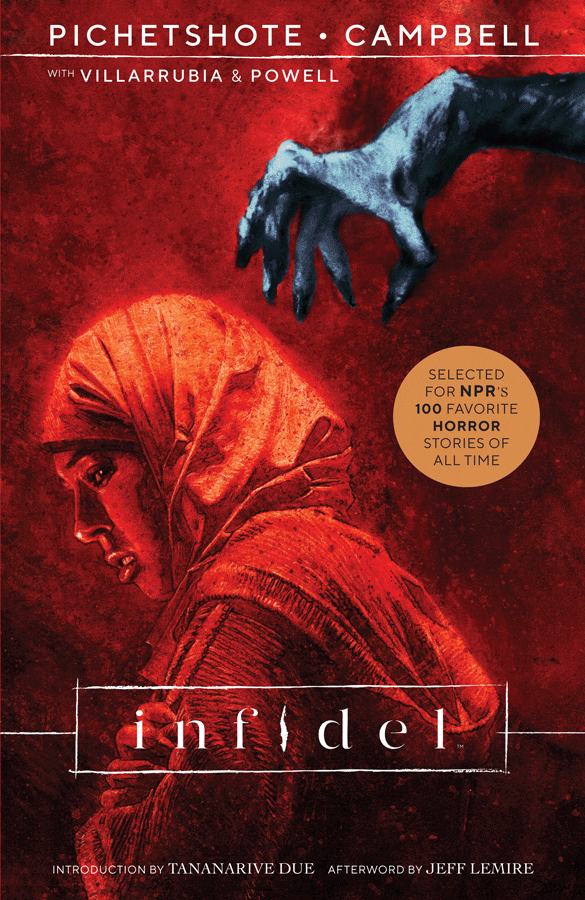 I recommended this series as my staff pick for both the debut and final issue, so if you still haven't read what NPR lists as one of its 100 favorite horror stories of all time, now's the perfect time to read the complete volume.
This modern take of the classic haunted house tale follows Aisha, an American Muslim student, who's moved into a building haunted by entities that feed off xenophobia. When bad things start to go down, Aisha is the mostly likely suspect and the dangers of bigotry and racial profiling are taken to a terrifying new level.
Pornsak Pichetshote (W), Aaron Campbell (A), José Villarubia (C), Jeff Powell (L) • Image Comics, $16.99
– Tyler Chin-Tanner
Retrograde Orbit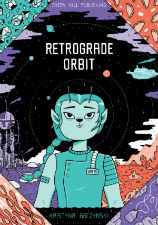 Kristyna Baczynski's Retrograde Orbit is the second of three major Avery Hill Publishing releases this week and marks the Eisner Award-nominated artist's first longer-form comics offering. This quietly powerful tale centres on the story of Flint who we follow from childhood to adulthood on the mining planet her family were displaced to when their own world was rendered uninhabitable by a nuclear disaster.
Retrograde Orbit touches on themes of home, identity, family and belonging, and it's a book I described in my recent review as "a delicately crafted character study with a beautifully realised central theme about finding our place in the world. Poignant, touching and unforgettable. it's arguably Kristyna Baczynski's greatest achievement in the medium to date." It's also part of the London Avery Hill Publishing launch at Gosh! Comics this Friday.
Kristyna Baczynski (W/A) • Avery Hill Publishing, £11.99
– Andy Oliver
Friendo #1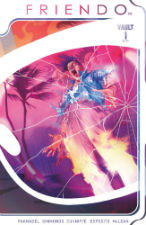 I hadn't come across Vault Comics before, but they're a sci-fi and fantasy specialist that is harnessing work from a host of emerging and established talent.
In the new ongoing series Friendo, writer Alex Paknadel (Arcadia, Turncoat) and artist Martin Simmonds (Punks Not Dead) bring us a timely and cautionary tale of what technology can do to our minds if we let it. It's the story of Leo Joof, a failed actor whose behaviour is dragged off the rails by 'Jerry' – a malfunctioning AI presence in a pair of augmented reality glasses that pulls him down an algorithmic rabbit hole of "unhinged violence"
Paknadel, Simmonds and their collaborators have created a chilling 20-minutes-into-the-future world to highlight the degree to which people's perceptions and behaviour can be warped by increasingly intrusive data-driven 'influencers". In an advance review, Broken Frontier's Andy Oliver tagged Friendo as "one of the most prescient and disturbing serial comics of 2018 so far." This week you can check it out for yourself.
Alex Paknadel (W), Martin Simmonds (A), Dee Cunniffe (C), Taylor Esposito (L) • Vault Comics, $3.99
– Tom Murphy
On a Sunbeam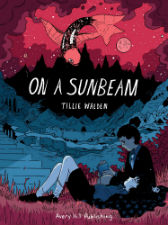 Avery Hill Publishing released the UK version of On a Sunbeam over the weekend at Thought Bubble, marking their fourth book with Tillie Walden; indisputably the greatest comics discovery of the 2010s.
This queer space opera made its debut online as a webcomic a couple of years back (you can read a full interview with Walden about On a Sunbeam here at Broken Frontier) and has been collected in a hardcover edition that has clearly been an absolute labour of love for every last person involved.
Whether you first read the adventures of Mia from childhood to her spacefaring exploits in digital form and want to own the story in print or whether you're coming to the tale for the first time there are just two words that sum up why this is going to be on your must-buy list this week. The first is "Tillie" and the second is "Walden".
Tillie Walden (W/A) • Avery Hill Publishing, £24.99
– Andy Oliver
Man-Eaters #1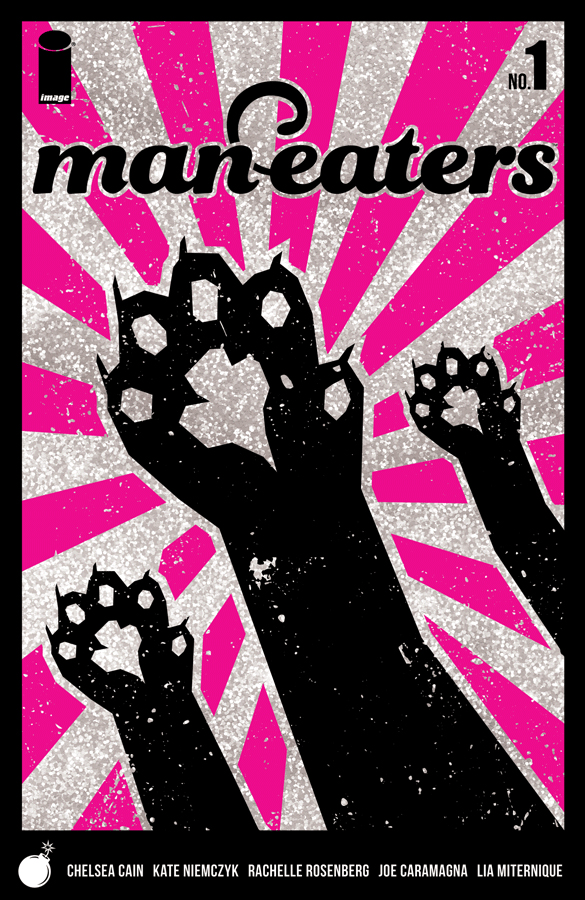 Now that Chelsea Cain is officially done at Marvel, the Eisner-nominated author who made the line "Ask me about my feminist agenda" famous (on the Joëlle Jones Mockingbird cover) launches a creator-owned series at Image in the same vein as Bitch Planet.
It's a thinly-veiled, but perfect analogy for the stigma and fear placed on women's emotions and sexuality. A mutation known as toxoplasmosis causes menstruating women to turn into ferocious, killer wildcats – easily provoked and extremely dangerous.
The cover by Lia Miternique also comes in a "glitter edition" so keep an eye out for extra sparkles at the comic shop this week.
Chelsea Cain (W), Kate Niemczyk (A), Rachel Rosenberg (C), Joe Caramagna (L) • Image Comics, $3.99
– Tyler Chin-Tanner
Fearscape #1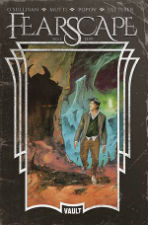 Writer Ryan O'Sullivan started his comics journey on the more genre comics-based side of the UK small press scene with the last year being a true breakout one for him. Books including Void Trip (his Image Comics collaboration with Plaid Klaus) and this week's Fearscape from the emerging Vault Comics have cemented his place as one of the up-and-coming stars of the serial comics world.
With moody visuals from Andrea Mutti, Fearscape features a plane of existence beyond this one inhabited by "manifestations of our worst fears". Earth's greatest storyteller is the only person who can take on the threat of these beings but what will happen when, instead of that distinguished soul, Henry Henry (a hack with delusions of grandeur) is selected to deal with the denizens of the Fearscape instead?
Ryan O'Sullivan (W), Andrea Mutti (A) • Vault Comics, $3.99
– Andy Oliver
F*ck Off Squad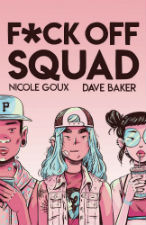 Following three queer teens approaching young adulthood F*ck Off Squad is described as the "greatest comic ever made about skateboarding, Instagram, and low-key trying to date someone while you're still in a relationship."
After the last several months worth of essential releases we're pretty much at the point where a new Silver Sprocket book is a foregone conclusion in these weekly listings. They continue to put out some of the very best alt comics material on the shelves and today's offering looks like being no exception. Plus we rather like the in-yer-face no-nonsense attitude of the book's title…
Dave Baker (W), Nicole Goux (A) • Silver Sprocket, $15.00
– Andy Oliver