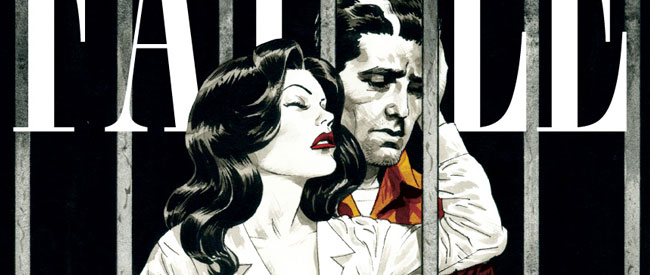 Fatale #15 is a modern noir knuckle sandwich with less Lovecraftian horror and more pulp in its fiction.
After a revealing several-issue sojourn into Josephine's past, Brubaker and Phillips return to the present (mostly) and drop us into the incarcerated life of Nicholas Lash. While perusing his Uncle Dominic's now-published manuscript, Nicholas makes a discovery that only he can—material is missing. He becomes obsessed with recalling the passages, "Because somewhere in those empty spaces was the reason for everything that had happened to me…And the secret to her…to Josephine."
Obsession is merely the calm before the storm in this title, however. A courthouse meeting with his attorney isn't going well when fellow inmate Nelson appears to violently liberate Nicholas—courtesy of her. When last we see the pair of fugitives, they are hiking toward the river as Nicholas laments, "And this is how I begin life on the run…Hobbling down a rocky trail to the river, following a madman."
We are then treated to Chapter 1, which takes place in 1995. Lance is committing bank robbery so the band can afford to stay in its mansion—just another day of the glamorous life for our former rock star. While making his getaway, Lance meets a naked and bleeding Josephine. How could he resist taking her in?
This issue is all about getaways, and Brubaker masterfully crafts three different takes on the theme that will likely lead our characters astray before bringing them any measure of solace. Nicholas escapes from incarceration, Lance escapes from a successful bank robbery, and as we learn in the final pages, Josephine escapes from Wulf the serial killer. Reading Fatale is like watching Pulp Fiction, you have to pay attention and keep the intermingling storylines and crossing characters clear in your head. And if you have to go back and read a few issues to get it all straight, it's time well spent. Brubaker isn't telling you a story with Fatale, he's crafting one.
Fatale's time jumps work in part because Sean Phillips makes excellent use of backgrounds and vehicles. While most depictions of vehicles in comics are presented as afterthoughts, Phillips literally elevates them to time machines. But time is relative to the immortal Josephine and those who revolve around her, and Phillips uses vehicles to cross eras as with the vintage pickup truck driven by Skip in 1995. And kudos to Elizabeth Breitweiler's tasteful colors, the muted tones and deep shadows are beautiful complements to Phillips' art.
Fatale is a thinking fan's comic, and if you haven't read the series, I highly recommend you pick up the trades and see for yourself why it deserves its Eisner nominations.
Ed Brubaker (W), Sean Phillips (A), Elizabeth Breitweiler (C), Image Comics, $3.50, Released June 27, 2013.