It's almost Wednesday, and you know what that means: a fresh load of comics and graphic novels! With so many publications hitting your local comics store or digital storefront, BF is here to lead you through the woods. These are the books that need to be on your pull list this week.
Comic of the Week
Fatale #24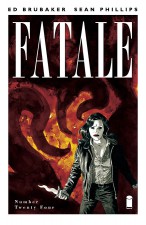 Sex and truth. Love and pain. These recurring themes converged in Fatale's penultimate issue in a visceral and very naked fashion. These past couple of issues, at long last, Ed Brubaker and Sean Phillips offered key elements of the personal cost to Josephine herself of her curse. In brilliant fashion, Jo reveals these truths to Nick in their transcendent conjoined state as she grants him access to her memories.
Phillips celebrates these climactic twists with more nudity than he has delivered in any previous issue, but it's all appropriate to the raw and unfiltered nature of the story that Brubaker's playing out. Phillips' art throughout it all has been a powerful celebration of the human form and a gorgeous culmination of the influence Jo wields through connections physical and emotional.
Which brings us to the grand finale in Fatale #24. Despite the revelations of issue #23, there are a lot of loose ends to wrap up in this special 48-page conclusion. I'm expecting tragedy and bloodshed paired with redemption and sacrifice. Oh, and this Lovecraftian modern noir wouldn't be complete without some serious horror. Brubaker and Phillips are operating at the highest level of craftsmanship in sequential storytelling, and this concluding issue should be the ultimate reward for longtime readers.
Ed Brubaker (W), Sean Phillips (A), Image Comics, $4.99
– Karen O'Brien
Bodies #1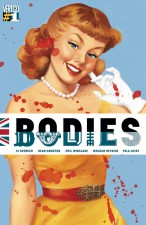 This summer, the crime thriller gets a nifty sci-fi twist in Si Spencer's (The Vinyl Underground) latest Vertigo offering. Featuring not one but four different murders, each occurring at a different point in time, Bodies has at its heart, a mystery that literally spans decades. From the grit and grime of Victorian London to the post-apocalyptic society of 2050, it falls to four different detectives to solve the inter-connected crimes.
With each issue split into four six-page chapters chronicling each temporal epoch, it's only natural to rely upon the stellar talents of four top artists to bring this potentially history-ending murder mystery to life. Join Spencer and his artistic partners in crime as they take the reader on a noir journey through the ages in this one-of-a-kind thriller that will keep you guessing until the end.
Si Spencer (W), Dean Ormston, Phil Winslade, Meghan Hetrick and Tula Lotay (A) • DC Comics/Vertigo, $3.99
– Jason Wilkins
Low #1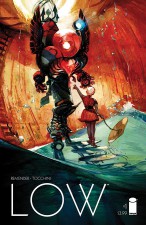 Rick Remender (Uncanny X-Men, Captain America) once again teams up with artistic accomplice Greg Tocchini for an intense yet intimate portrait of humanity during its greatest hour of need in this far-flung sci-fi epic from Image Comics. Set thousands of years in the future, Low is the story of one woman's endless optimism in the face of certain extinction, even as her own family is torn asunder by marauding pirates the Scurvie Horde.
Featuring stunning visuals and a truly unique take on a far-future society relegated to the depths of the planet by an ever-expanding sun, this high-concept sci-fi opus from the team who brought you Last Days of American Crime explores many of the same themes as Vaughn and Staples' space opera Saga but manages to retain its own voice thanks to the ever-hopeful protagonist Stel Caine.
At once wondrously alien and all-too familiar, Low will challenge our perceptions of what it means to keep hope alive in the face certain doom.
Rick Remender (W), Greg Tocchini (A) • Image Comics, $3.99
– Jason Wilkins
How to Be Happy HC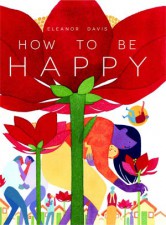 Eleanor Davis has been turning out comics and short stories since the mid-2000s, cementing her reputation as one of the finest and most imaginative cartoonists of this era with her wide-ranging talents. From sketchy drawings to elegantly graphic constructed colour panels to quietly, devastatingly gorgeous pen-and-ink outlines on clean white backgrounds, Davis' meticulous, wry and occasionally eyebrow-raising surrealist works are unfailingly imaginative and poignant.
How to Be Happy is the artist's first collection of short stories and comics, collecting work Davis has done for the likes of Mome, Nobrow and Lucky Peach as well as her own self-published efforts and web comics. This is set to be a remarkable and unique collection of comics that will delight, bemuse and satisfy over multiple reads.
Eleanor Davis (W/A) • Fantagraphics, $24.99
– Conori Bell-Bhuiyan
Hugh Howey's Wool #1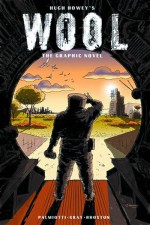 Based on the best-selling novel of the same name, Wool #1 is the first print installment in the miniseries which debuted digitally in June, written by frequent collaborators Jimmy Palmiotti and Justin Gray (All-Star Western, Jonah Hex), and drawn by Jimmy Broxton, who gets to explore the visual potential of Hugh Howey's post-apocalyptic future.
Earth's surface has been completely devastated, leaving it uninhabitable. The survivors retreat underground, residing within the massive subterranean settlement known as the "Silo". And for those in the Silo who dare to speak or hope of life on the surface, they are given exactly that as punishment. Intrigue, danger, and secrets lie around every corner as the true nature of the Silo and the world outside come more clearly into focus.
Jimmy Palmiotti, Justin Gray (W), Jimmy Broxton (A) • Cryptozoic Entertainment, $3.99
– Reid Vanier
Words for Pictures: The Art and Business of Writing Comics and Graphic Novels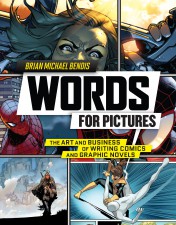 Even if you're not a big fan of Brian Michael Bendis, you can't argue that he hasn't walked the walk down the years. As well as a gazillion key comics for Marvel, he's also produced acclaimed creator-owned books – most notably Powers (with artist Michael Avon Oeming). He's also talked the talk, teaching courses on the comics form at Portland State University and using social media to offer advice and pointers to aspiring creators.
Now he's collected that experience into a guide for prospective comics writers. He's stated that this isn't a manual for writing books his way; instead, he acts as a 'host', introducing other creators and key figures as he walks the reader through the various aspects of comic production. So the book includes a 'How I Write Hawkeye' chapter by Matt Fraction, an editors' round table (discussing the ways writers should and shouldn't conduct themselves) and a chapter by his wife and business partner, Alisa Bendis, on how to run a freelance career.
Greg Rucka is usually credited with the quote, "Comics are like sausages – you should never see how they're made". However, even if you don't have ambitions to bash out your own scripts, this sounds like a useful peek behind the creative curtain that should offer at least a bit of insight into the more commercial end of the Ninth Art.
Brian Michael Bendis (W) • Random House, $24.99
– Tom Murphy
Doom Patrol Omnibus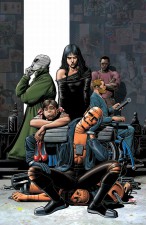 It's well over a quarter of a century since Grant Morrison's revolutionary take on DC stalwarts the Doom Patrol – alongside his definitive Animal Man – would forever change the face of super-hero comics. The DP were a fondly remembered '60s super-team whose cult status may have secured them a post-Crisis relaunch series but couldn't prevent disappointing sales pushing them perilously close to cancellation.
When writer Morrison came on board in the late '80s with issue #19 he focused on the Patrol's defining factors – their oddball enemies and fractious personal relationships – to create one of the strangest runs in super-hero history. DC's latest omnibus collection allows us to revisit those heady days when Doom Patrol was populated by the likes of hermaphrodite hero Rebis, transvestite sentient roadway Danny the Street, the multiple personalities of Crazy Jane, hero of the beach Flex Mentallo, the bizarre Brotherhood of Dada, and so many others…
Unpredictable and dangerous – and referencing everything from the literary, the pop cultural and the arcane – Morrison's Doom Patrol is essential reading for anyone with even a passing interest in super-heroes. A fitting, and perhaps poignant, reminder of a time when innovation and not cynicism was at the forefront of mainstream comics publishing.
Grant Morrison (W), Richard Case et al. (A) • DC Comics/Vertigo, $150.00
– Andy Oliver
Deep Gravity #1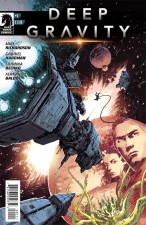 When Steven Paxon hops on board the space cruiser Vanguard for its three-year interstellar journey, he isn't doing it for the money. Instead, he's looking to rekindle his romance with Michelle, the woman he loves, the woman who left him six years ago to work on the distant planet Poseidon wrangling the galaxy's most dangerous creatures for game hunting on a planet where the gravity can turn your bones to powder.
With concept by Dark Horse head of publishing, Mike Richardson, Deep Gravity is written by Corinna Bechko and Gabriel Hardman, the same team who the Star Wars: Legacy and Planet of the Apes comic series.
Corinna Bechko, Gabriel Hardman (W), Fernando Baldo (A) • Dark Horse, $3.99
– Tyler Chin-Tanner